Every year, audiobook lovers rejoice in AudioFile's Sync Audiobooks for Teens summer listening program. It's free audio, thoughtfully curated, and there are always SO many good titles that I start to have audio anxiety (Audio anxiety (noun): The state of panic and fear that arises when an audiophile realizes there are more audiobooks that one yearns to listen to than there are hours in a day/week/year/lifetime/geologic time scale.) This summer, I foresee an especially bad case of audio anxiety coming on.
"Sandhya Menon's writing is cinematic and makes for a fun read."—Narrator Sneha Mathan
OF COURSE, what makes Sync even better, at least for the week of May 24-30 specifically, is that we have a ROMANCE to discover. Now, newsflash. Many people who claim not to like romance Actually. Like. Romance. (Ahem, Sarah Maas. Ahem, THE HUNGER GAMES. Ahem, Rainbow Rowell.) So, no matter your usual genre preferences, you'll want to check out WHEN DIMPLE MET RISHI. When a romance is all about dialogue, you know it's perfect audiobook material. And narrators Sneha Mathan and Vikas Adam ensure that listeners are as in love with the story as the characters are with each other. Listen in as Sneha talks about the audiobook with our Behind the Mic video above!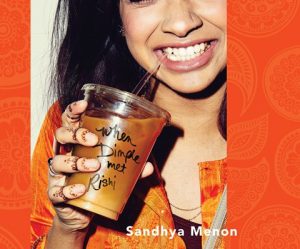 WHEN DIMPLE MET RISHI
by Sandhya Menon, read by Sneha Mathan, Vikas Adam
Dreamscape
Dimple and Rishi both enroll in a web development summer program with different goals. Dimple wants the opportunity to add to her resume at Stanford University and gain a mentor, and Rishi relishes the chance to meet the young woman his parents think would make a good wife. Mathan's smooth narration has hints of humor and exquisite pacing matched with a youthful tone and hilarious character voices. Read more about WHEN DIMPLE MET RISHI and its paired title, BAKER'S MAGIC by Diane Zahler.
How to access the audio? Visit the Sync website and follow the instructions! WHEN DIMPLE MET RISHI and BAKER'S MAGIC are available until May 30 (after which time, new titles become available, so yay!). What are those new titles, you ask? Check out the complete list.