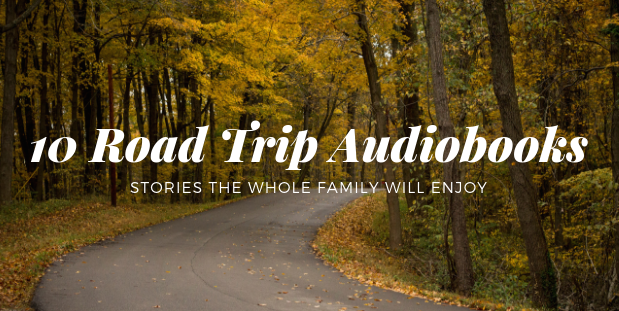 If a road trip is in your Thanksgiving plans, pack some audiobooks to keep everyone entertained in the car. Choosing from a mix of classic favorites and new titles, I picked these because they are extra-special on audio and have wide appeal for kids and adults. My favorite thing about listening to audiobooks with kids in the car is the priceless connection that can come from experiencing a good story together. I hope that listening to one or more of these audiobooks will become a treasured memory from your Thanksgiving trip. Safe travels and happy listening!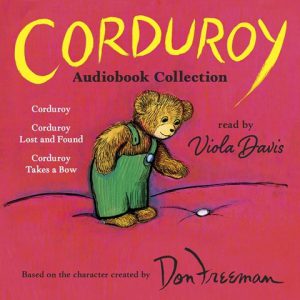 CORDUROY AUDIOBOOK COLLECTION
by Don Freeman, B.G. Hennessy, Viola Davis, read by Viola Davis
Listening Library
Ages 4-6, 22 minutes
Oscar, Emmy, and Tony Award-winning actress Viola Davis brings to life the innocence and enthusiasm of the teddy bear named Corduroy who lives in a department store waiting for a child to take him home. Reading three stories, Corduroy, Corduroy Lost and Found, and Corduroy Takes a Bow, Davis's rich, dramatic voice adds sophisticated dignity and heartfelt emotion to the lovable toy's adventures. Her voice is soothing and lovely to listen to, which is good, because kids will want to listen over and over again.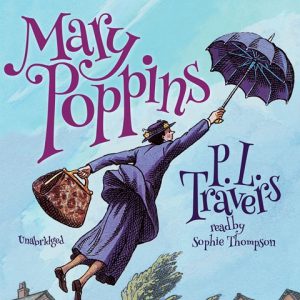 MARY POPPINS
by P.L. Travers, Read by Sophie Thompson
Listening Library
Ages 6+, 3.75 hrs.
Get ready for the new Mary Poppins Returns movie coming in December by listening to the original. Narrator Sophie Thompson conveys the story's sense of wonder and provides a diverse range of voices for the numerous human and animal characters frolicking in Poppins's magical outings. See also the sequel Mary Poppins Comes Back.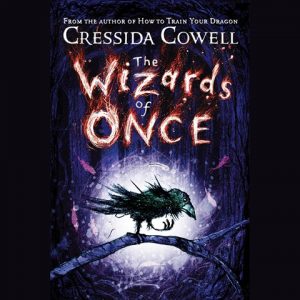 THE WIZARDS OF ONCE
by Cressida Cowell, read by David Tennant
Hachette Audio
Ages 8+, 6 hrs.
The son of a wizard king must team up with his sworn enemy, the daughter of a magic-hating warrior queen, to fight an even greater threat. Music, sound effects, and Tennant's glorious narration all enhance a fantasy world full of funny and engaging characters. See also the laugh-out-loud-funny How to Train Your Dragon series. You can't go wrong with any of them!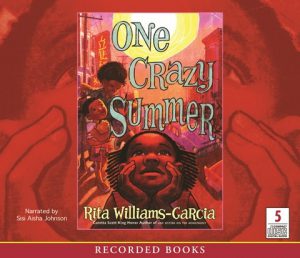 ONE CRAZY SUMMER
by Rita Williams-Garcia, read by Sisi Aisha Johnson
Recorded Books
Ages 8+, 5.25 hrs.
Sisi Aisha Johnson sensitively embodies 11-year-old Delphine as she and her two younger sisters are sent to visit their absent mother during the summer of 1968, and unwittingly become involved in the Black Panther movement. See the sequels P.S. BE ELEVEN and GONE CRAZY IN ALABAMA.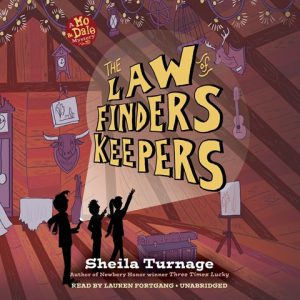 THE LAW OF FINDERS KEEPERS
by Sheila Turnage, read by Lauren Fortgang
Listening Library
Ages 10+, 9.25 hrs.
Fortgang's varied accents and voices give even more personality to Turnage's cast of zany characters in this final book in the Tupelo Landing series. A city-slick treasure hunter enters town to find a lost pirate's booty, and sixth-grade Mo and the Desperado Detectives set off on a race to find it first. Fortgang infuses each character with lively Southern charm, making this a pitch-perfect delight for listeners new to the series and old fans alike. See also the other books in the Tupelo Landing series THREE TIMES LUCKY, THE GHOSTS OF TUPELO LANDING, and THE ODDS OF GETTING EVEN.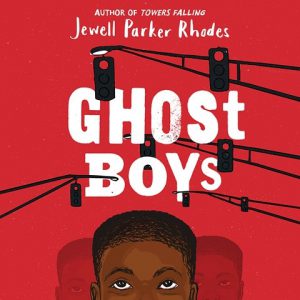 GHOST BOYS
by Jewell Parker Rhodes, read by Miles Harvey
Hachette Audio
Ages 10+, 3 hrs.
In a stirring narration, Miles Harvey brings to life an American story that is chillingly familiar. When 12-year-old Jerome is killed by a police officer, he becomes a "ghost boy" alongside Emmett Till and other boys killed due to racial injustice. The author soberly narrates the afterword, inspiring listeners to bear witness to the truth underlying fiction.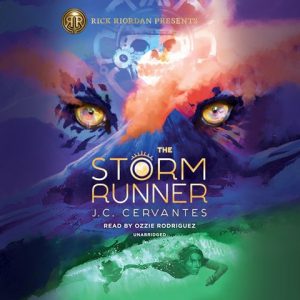 THE STORM RUNNER
by J.C. Cervantes, read by Ozzie Rodriguez
Listening Library
Ages 10+, 11 hrs.
Narrator Ozzie Rodriguez perfectly manages a mix of Spanish and English in this Mayan mythology-inspired adventure. Zane, a contemporary 13-year-old, discovers that he is at the center of an ancient prophecy that could mean the destruction of the world. Reluctantly, he embarks on a dangerous quest that introduces him to feisty heroes, tricky gods, murderous demons, and spirited giants. Fans of Rick Riordan's Percy Jackson series will love this.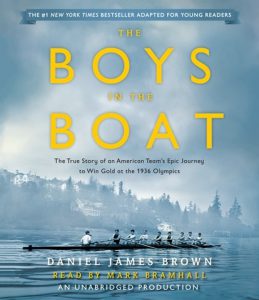 THE BOYS IN THE BOAT: The True Story of an American Team's Epic Journey to Win Gold at the 1936 Olympics (Young Readers Adaptation)
by Daniel James Brown, read by Mark Bramhall
Penguin Audio
Ages 10+, 5.5 hrs.
I didn't think an audiobook about rowing would be so compelling, but this story of the nine American college students who won Olympic gold in 1936 grabbed me and wouldn't let me stop listening. There is plenty of racing action, but you don't need to be a crew fan to get caught up in the excitement. Young athletes and armchair Olympics fans alike will be inspired by the grit, heart, and courage these guys put into their sport.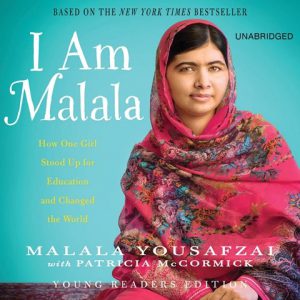 I AM MALALA: How One Girl Stood Up for Education and Changed the World (Young Readers Edition)
by Malala Yousafzai with Patricia McCormick, read by Neela Vaswani
Hachette Audio
Ages 12+, 7.5 hrs.
Malala won the Nobel Peace Prize for speaking out against the Taliban, and this young readers edition of her autobiography is a moving, powerful experience. Vaswani's accent renders an authentic interpretation of Malala's inspiring story.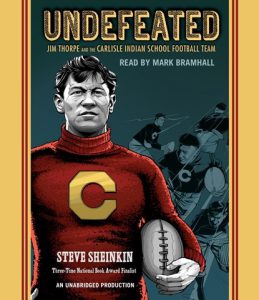 UNDEFEATED: Jim Thorpe and the Carlisle Indian School Football Team
by Steve Sheinkin, read by Mark Bramhall
Listening Library
Ages 12+, 6.5 hrs.
I will listen to anything by Steve Sheinkin, so while not a football fan, I devoured this audiobook. It is both a history of football from the first Rutgers-Princeton game in 1888 (so brutal!), and the story of coach Pop Warner and the Native American high schoolers (including Olympic gold medalist Jim Thorpe) who changed the game forever. This audiobook is perfect for sports fans, but it doesn't gloss over the prejudice against Thorpe and his teammates, and it definitely made me think about the Washington football team name controversy.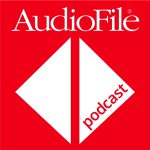 Discover more family listening on AudioFile Magazine's Behind the Mic podcast, including recent favorites FRONT DESK and ROSIE REVERE AND THE RAUCOUS RIVETERS.