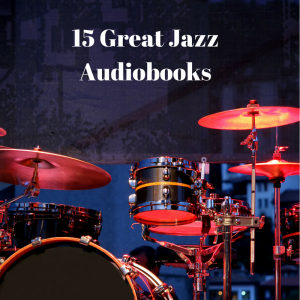 Jazz is on my mind. Just a few weeks ago, I attended the tribute to the 2018 NEA Jazz Masters—Todd Barkan, Joanne Brackeen, Pat Metheny, and Dianne Reeves—at the John F. Kennedy Center in Washington, DC. It was such a treat—first listening to podcasts from the NEA, "Art Works," about each musician, and then getting to be part of the tribute celebration—you can actually watch it in full:
When I got home, I looked up which audiobooks about jazz and jazz musicians we could recommend. Jazz books, and audiobooks, are a bit scarce—perhaps we listen to jazz more than we read about jazz. And in many cases, actual music is not included in audiobook programs. Nevertheless, I've put together a list of 15 audiobooks that explore and celebrate Jazz in America.  There are some biographies and memoirs of jazz greats; a few histories on the culture and music of jazz; and, not to be overlooked, engaging jazz stories for young listeners and families.
Let's start with an iconic audiobook: MILES by Miles Davis and Quincy Troupe. For many listeners, the brilliant performance by Dion Graham epitomizes the way that an audio experience can engulf you. WHAT HAPPENED, MISS SIMONE? offers a different approach to a life portrait with Alan Light's carefully researched biography. Yet Adenrele Ojo's performance is no less riveting.
Of course, that's not all . . . explore audiobooks about Bessie Smith, Herbie Hancock, Billie Holiday, Duke Ellington, and Charlie Parker in our Jazz Audiobooks list. Strangely, no biography of Louis Armstrong has been recorded—get with it, publishers!
Taking  a broader look at jazz, MARIAN MCPARTLAND'S JAZZ WORLD is narrated by the author Marian McPartland as she chronicles and revisits her "Piano Jazz" radio show that ran for 30 years on NPR. In Kareem Abdul-Jabbar's "Jazz Lights Up Harlem," volume 4 of the ON THE SHOULDERS OF GIANTS series, listeners get a chance to hear an array of different voices—with critic Stanley Crouch, Quincy Jones, Herbie Hancock, and others sharing insights.
For great family fun and an opportunity to engage young enthusiasts, don't miss our 7 great audiobooks for the kids. My two-year-old grandson loves "Shorty" —that's TROMBONE SHORTY, with Troy Andrews's music and a great narration by Dion Graham. Walter Dean Myers's JAZZ is also a favorite, and the 2008 Odyssey Award winner. In it, James "D-Train" Williams and Vaneese Thomas read and sing a collection of poems.
Treat yourself and explore our entire list of Jazz Audiobooks, and let us know which you enjoy!