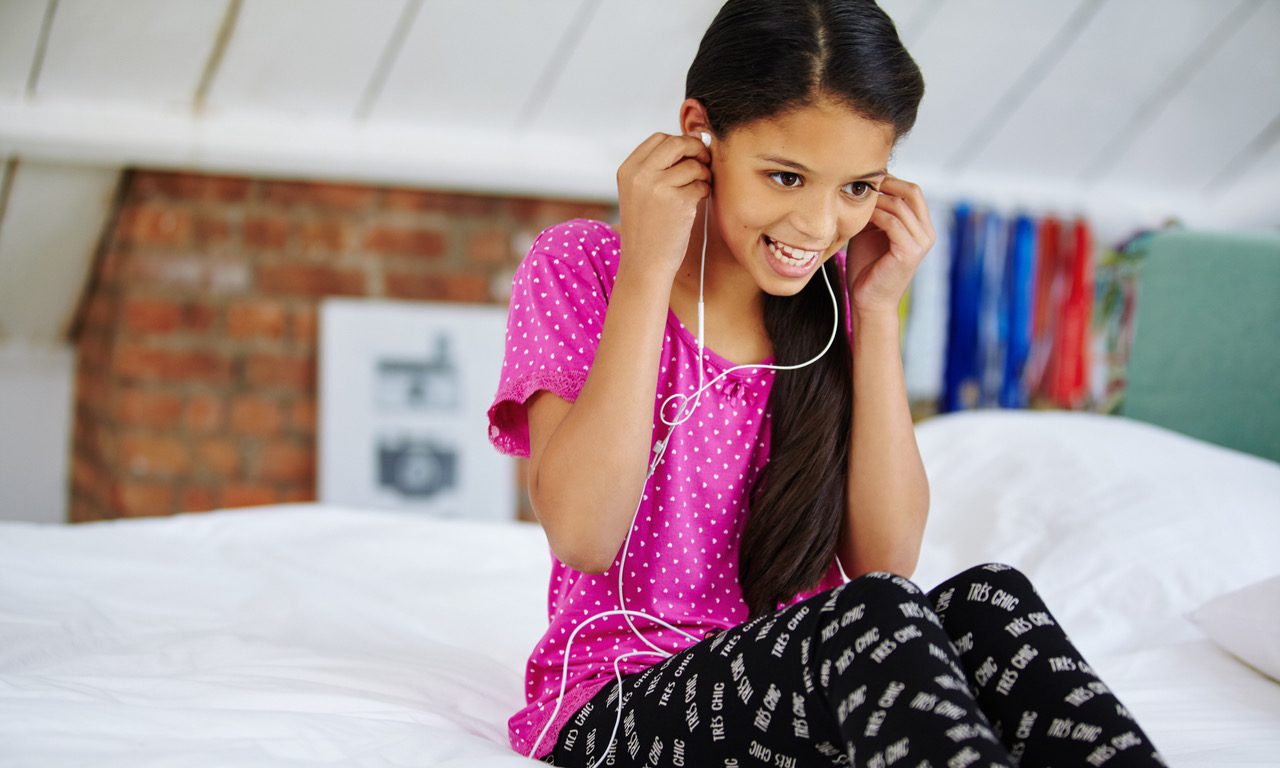 What do you listen to when you've heard all of the Harry Potter and Rick Riordan audiobooks multiple times? We've paired up 16 excellent audiobooks for ages 8-12+, titles that share a theme, subject matter, or narrative style. Each of these "listen-alikes" is a great choice for middle graders looking for fresh listening.
Know the Present by Looking at the Past
Two #OwnVoices stories recall horrific and fearful events of the past by unfolding present dramas that demonstrate how little has changed as two middle school boys discover the heartbreaking pain of racial animosity. Strong performances by stellar narrators enhance the energy, humor, and grief in these Earphones Award-winning productions. In a stirring narration of Jewell Parker Rhodes's GHOST BOYS (10+), Miles Harvey brings to life an American story that is chillingly familiar. And in Nic Stone's CLEAN GETAWAY (8+), narrator Dion Graham's soft voice evokes the tenderness between biracial middle schooler "Scoob" Lamar and G'ma, his white octogenarian grandmother. 
LISTEN IF YOU LIKE…
Emotionally connected
Engrossing
Well-characterized
Serious
Bittersweet
Escape to the Unknown
Unloved and unwanted, two young people run away to start new lives. Along the way, they have surprising encounters with the supernatural in the form of Norse gods. Effective use of locale and vivid character details, hallmarks of these two master storytellers, are expanded through the richly voiced and perfectly paced performances. In Neil Gaiman's ODD AND THE FROST GIANTS (8+), Viking boy Odd journeys between his world and Asgard, helping the gods and growing up along the way. And Narrator Jessica Almasy provides a haunting delivery of a story that weaves historical fiction, Scandinavian fairy tales, and a coming-of-age theme in Margi Preus's WEST OF THE MOON (10+).
LISTEN IF YOU LIKE…
Immersive
Intense
Unhurried
Richly detailed
Strong sense of place
Breaking Away
The measured rhythms of these expressive performances highlight the lives of 12-year-olds Liberty and Abigail, dealing with death, divorce, deafness, depression, and denial in these stories of loving families that just cannot contend with all that life has thrown at them. Intense scientific interests give each girl the confidence to assert her needs. In THE YEAR WE FELL FROM SPACE (10+), Narrator Stephanie Willing's bright, youthful voice establishes the conflicts and complex characterizations inAmy Sarig King's poignant story. In Lynne Kelly's SONG FOR A WHALE (8+), Iris, a 12-year-old deaf girl, prefers American Sign Language to speech, but listeners can still hear her every thought and sign. Abigail Revasch expressively narrates Iris's ASL conversations and mental musings.
LISTEN IF YOU LIKE…
Warm
Gentle
Understated
Character-driven
Emotionally intense
Surrounded by Germs
In 2018, we noted the 100th anniversary of the devastating Spanish Flu pandemic, and the winter of 2019-2020 brought us the spread of a deadly new coronavirus. Two solid works of nonfiction, narrated with the seriousness warranted by the fascinating details, outline how deadly germs are spread and how to avoid getting sick. Kenneth C. Davis's MORE DEADLY THAN WAR (10+) is a compelling true story presented with perfect pacing by dual narrators. In Susan Campbell Bartoletti's TERRIBLE TYPHOID MARY (10+), Donna Postel uses an even voice as the facts of Mary's involvement in cases of typhoid fever become clear.
LISTEN IF YOU LIKE…
Somber
Sincere
Approachable
Issue-oriented
Journalistic
A Scientist in Each of Us
Engaging biographies pair with compelling, well-paced performances that will enchant listeners with the stories of an artist whose careful observations of insects and butterflies made her one of the earliest entomologists and a young mathematical genius who became the father of modern physics. Catherine Ho transitions deftly between the different voices in Joyce Sidman's audiobook THE GIRL WHO DREW BUTTERFLIES (8+). Using primary sources and reasoned conjecture, Mary Losure chronicles the difficult formative years of Isaac Newton in ISAAC THE ALCHEMIST (12+). Narrator Steven Crossley bubbles with reverent enthusiasm for his subject.
LISTEN IF YOU LIKE…
Approachable
Brisk
Commanding
Accessible
Thoughtful
Everyone's Extraordinary
A slew of outstanding narrators take their turns performing stories of young people going about their daily lives while making impacts large and small that change the world around them. The wide range of characters and emotions, skillfully portrayed by this impressive group of voice actors, will thoroughly engage reader-listeners. Fourteen stellar narrators each read one short story in THE HERO NEXT DOOR (8+), an anthology by a diverse group of authors. In LOOK BOTH WAYS (10+), author Jason Reynolds's vibrant language, delivered by the narrator ensemble with style, makes every situation and detail feel genuine, relatable, and full of heart.
LISTEN IF YOU LIKE…
Multiple narrators
Warm
Feel-good
Heartwarming
Reflective
Love Is Love Is Love
Two audiobooks demonstrate that friendship and love come in many different forms. Providing youthful portrayals of the protagonists are Cassandra Morris paired with Tessa Netting in REDWOOD AND PONYTAIL (10+) and with Imani Parks in TO NIGHT OWL FROM DOGFISH (10+), as a bevy of notable, diverse performers supply voices for the other characters in these stories of personal growth.
LISTEN IF YOU LIKE…
Full Cast
Brisk
Energetic
Engaging
Character-driven 
It's Okay to Be Different
These audiobooks capture problems endemic to our society today, problems from which young people are not exempt. The emotionally-charged controversies are underscored by authentic cultural accents from Priya Ayyar in COUNT ME IN (8+) and Vikas Adam in SAVE ME A SEAT (8+), with absorbing performances from all four narrators.
LISTEN IF YOU LIKE…

Engrossing
Multiple narrators
Character accents
Plot-driven
Issue-oriented
For even more recommendations, browse our curated list of Audiobooks for Kids & Teens, organized by a full age range, from the youngest listeners to older teens.
Sharon Grover is a Youth Services and Audiobook Literacy Consultant based in Janesville, Wisconsin. Sharon has collaborated on AudioFile's "Audiobooks for Kids and Teens" since its inception.