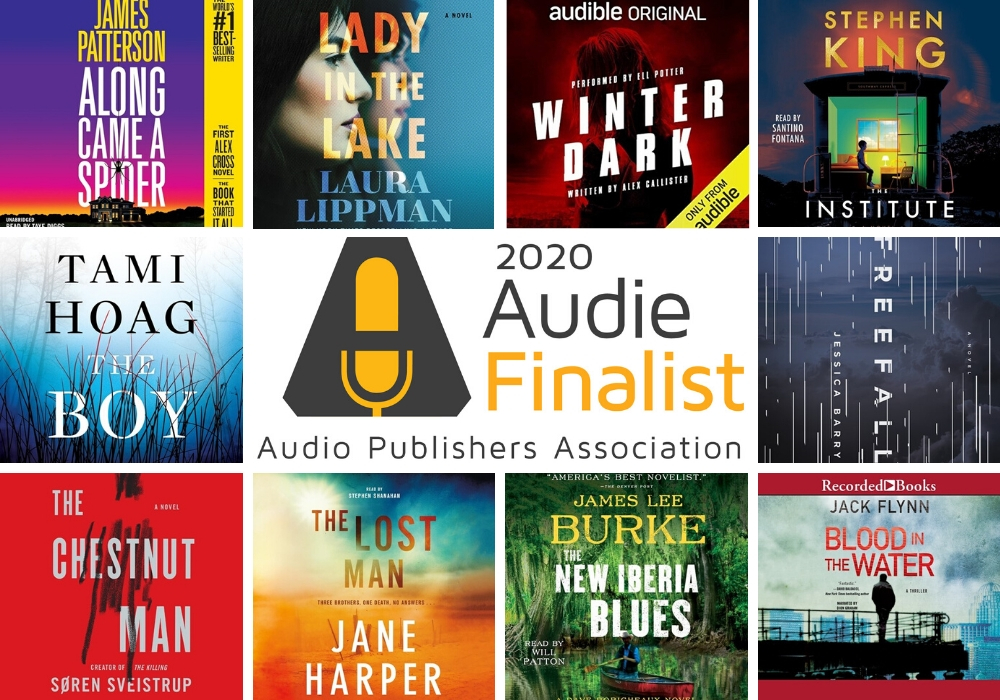 It's Audie Awards season. The Audie Gala, where the winners will be announced, will be held March 2 in New York City. In preparation for the 25th anniversary of the annual awards, I want to share with you the finalists in the categories of Mystery and Thriller/Suspense.
2020 Audies Mystery Finalists:
James Patterson's ALONG CAME A SPIDER, first published 25 years ago, is one of the books that got me hooked on mysteries and thrillers and introduced fans to Alex Cross. Taye Diggs provides a fresh voice for Alex and his cronies. The audiobook provides as much tension and entertainment as it did 25 years ago.
This is a big year for narrator Hillary Huber, who is a finalist in both the Mystery and the Best Female Narrator categories for Tami Hoag's THE BOY. Huber demonstrates her talents in performing the varied and distinct accents required to create the world of the Louisiana bayou. Huber is also a finalist in the Thriller category for FREEFALL by Jessica Barry, which she narrates with Karissa Vacker and MacLeod Andrews. Plus, she is a finalist in the History/Biography category for FURIOUS HOURS: Murder, Fraud, and the Last Trial of Harper Lee by Casey Cep. Good for you, Hillary!
THE CHESTNUT MAN is narrated by Peter Noble, whose performance of this audiobook earned him an Earphones Award. This thriller is a first novel by screenwriter Søren Sveistrup. I actually called it out in recommendations for truly creepy listens for Halloween.
I had the pleasure of listening to Jane Harper's THE LOST MAN in my research for an earlier post on this blog on mysteries and thrillers coming out of Australia. Stephen Shanahan's native Australian accent and his ability to differentiate the characters and portray men and women earned him an Earphones Award. Personally, I found this book a totally engaging listen, and I was thrilled to see it showed up as an Audies finalist.
Finally, we have Will Patton, returning to narrate Detective Dave Robicheaux in James Lee Burke's NEW IBERIA BLUES. Fans of the series appreciate the depth of the characters and Patton's ability to portray a host of personalities.
2020 Audies Thriller/Suspense Finalists:
BLOOD IN THE WATER by Jack Flynn is narrated by Golden Voice Dion Graham. The audiobook required Graham to perform characters with Boston accents, Latin American drug lords, and women and men of all ages. As usual, Graham does a masterful job.
FREEFALL by Jessica Barry, narrated by Hillary Huber, Karissa Vacker, and MacLeod Andrews, earned an Earphones Award. The narrators provide a unique voice for each of the main characters, providing listeners with a truly engaging performance.
In THE INSTITUTE by Stephen King, Earphones Award-winning narrator Santino Fontana masterfully performs the children and adults from varying backgrounds. And he manages to keep listeners engaged through the 19 hours of this audiobook.
Narrator Susan Bennett expertly meets the challenge of voicing the very different points of view of the main characters in Laura Lippman's LADY IN THE LAKE. In this thriller Lippman explores themes of race, socioeconomic class, and feminism.
WINTER DARK by Alex Callister, narrated by Earphones Award winner Ell Potter, introduces us to a new series featuring titular agent Winter Dark.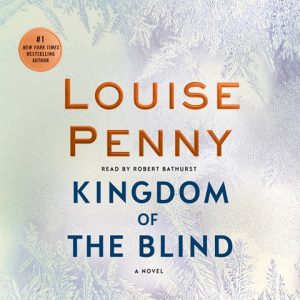 I want to mention one other audiobook that is up for an award in the Best Male Narrator category: KINGDOM OF THE BLIND by Louise Penny, narrated by Robert Bathurst. Fans of Louise Penny's Chief Inspector Gamache series will be pleased to see that actor and Earphones Award winner Robert Bathurst is being recognized for successfully taking over the narration of this series.
I'm wishing the best of luck to all of the finalists. As an audiophile, I already feel like a winner for having the opportunity to listen to all of these amazing performances that demonstrate such variety of theme, approach, location, and point of view.