I don't know anyone who has a simple, straightforward, easy relationship with the places and people they come from. Going home is almost always complicated, whether you're a seventeen-year-old visiting your family's hometown for the first time, or a depressed twenty-something hoping a few weeks at your parents' house will get your life back on track. This is probably why stories about going home are so appealing to me and to lots of other readers. They can be uncomfortable, but also cathartic. Here are three recent audiobooks I've loved that feature characters going home—and all the messes and surprises they find there.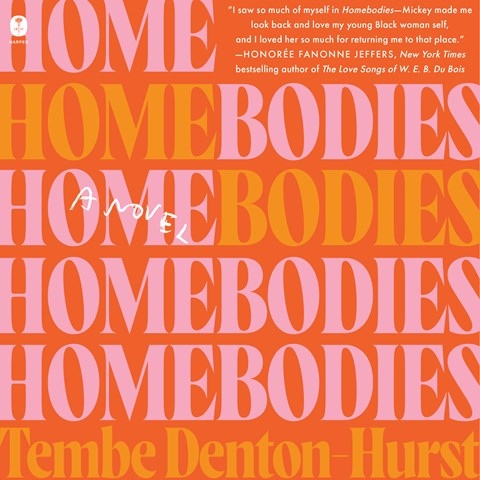 In Tembe Denton-Hurst's debut novel, HOMEBODIES, a young Black fashion writer goes home after losing her job at a big-name New York magazine. Marcella Cox reads this quiet but moving novel with the perfect mix of wistfulness and anger. Mickey's life is exactly what she dreamed of as a kid, when she was desperate to escape small-town Maryland. She has a great writing gig, a stylish apartment, and a girlfriend she loves. But when she's suddenly fired, that life begins to spiral out of control. Unmoored and depressed, she returns home, hoping some time away will give her some clarity. But being home in the midst of everyone she left behind there, including her first love, best friend, and grandmother, is far from easy.
Denton-Hurst explores so many issues in this novel—racism, exploitative office culture, burnout, the gig economy—but Cox keeps listeners firmly grounded in Mickey's immediate reality. She captures the feeling of being back in a familiar place, and how it can be both disorienting and comforting. Cox voices Mickey's grandmother with a wonderful mix of warmth and sharpness, and she gives Mickey's first girlfriend a suave coolness that highlights the differences between her and Mickey. Her performance adds a lot of spirit to this story about the joys and challenges of growing into yourself—at home and away from home—in your twenties.
Listeners looking for a going-home story that's a little weirder and a lot eerier will appreciate BAD CREE by Jessica Johns, a haunting ode to sisterhood, aunties, and the power of Cree kinship. Indigenous narrator Tanis Parenteau gives a wonderfully nuanced performance, ratcheting up the tension in all the right places.
After her beloved grandmother dies, Mackenzie runs away from her home and family in rural Alberta. Living and working in Vancouver, she's plagued by increasingly upsetting nightmares, all of which vault her back to one particular night before her sister Sabrina died. When she almost drowns in one dream, then wakes up holding a dead crow after another dream, she realizes that she's going to have to go home in order to confront her memories and her grief.
At home, Mackenzie is surrounded by aunties, uncles and cousins, as well as her sister and mother. Parenteau brings this large extended Cree family to life with slightly different voices for each. She beautifully conveys the love they have for each other, especially during the dialogue-heavy scenes when they're all together talking, cooking, and eating. She also moves easily between the novel's many tones—her voice is warm and inviting and full of laughter in some scenes and dark and ominous in others. She's as good at voicing monsters and ghosts as she is at capturing the quiet banter among kin. It's a chilling, moving performance of a heartbreaking but beautiful story.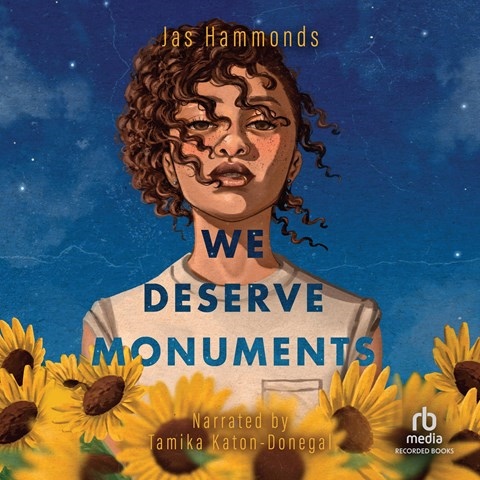 Sometimes going home means visiting a place you've never been before, or one you only have vague memories of. This is the case for Avery, the protagonist of Jas Hammonds's YA novel WE DESERVE MONUMENTS. Narrator Tamika Katon-Donegal captures all the joys and heartbreaks of queer Black coming-of-age in her tender portrayal of Avery and her family and friends. Avery isn't thrilled when her mother announces they're leaving DC and relocating to the small Georgia town where she grew up, and where they'll be taking care of Avery's ill grandmother, Mama Letty. Avery hardly knows Mama Letty, and she's pretty dubious about life in Georgia. But it turns out Georgia has a lot to teach her.
As she gets to know her grandma, makes new friends, and falls in love with her neighbor, Simone, she realizes just how much family history her mom has been keeping from her—and how important it is that they all start talking. Katon-Donegal portrays all of these characters so well, especially the cranky but lovable Mama Letty. But it's the believability of the way she voices Avery that makes this such a compelling listen. She easily expresses Avery's bitterness about moving and anger toward her mother and the nervous-but-excited intensity of her growing feelings for Simone. This is such a thoughtful novel about small-town racial tensions, Southern history, family secrets, matrilineal lineage, and Black queer joy.