I love books that put setting front and center. Some of my favorite novels are the ones that are as much about a particular city or stretch of coastline as they are about particular characters. I love nonfiction that delves into all the weird, wonderful, complicated idiosyncrasies of places and how we relate to them. These are also my favorite kinds of books to listen to. There's something about hearing them read aloud that intensifies the feeling of being transported far away from wherever you are. These three books are all about place—from Hong Kong to the Arctic—and they all make for sublime listens.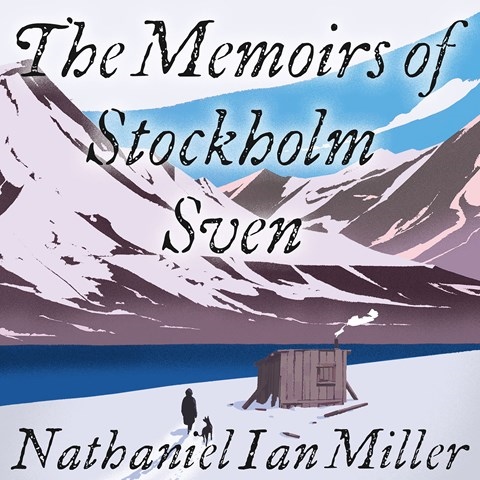 I picked up Nathaniel Ian Miller's beautiful historical novel THE MEMOIRS OF STOCKHOLM SVEN because of the setting alone. I've always been drawn to cold, remote landscapes, so a book about Svalbard, an archipelago in the Arctic Ocean, was irresistible. Icelandic actor Olafur Darri Olafsson brings this world of glaciers, polar bears, and endless night to vivid life. There's an undercurrent of awe that runs through his narration. Olafsson fully inhabits Sven, with his gruff voice, his shy laugh, his steady kindness, and his careful way of thinking. He gives the kind of effortless performance that makes it easy to believe it's Sven himself reading his memoirs aloud.
Restless and unsure what to do with himself, Sven Ormson leaves Stockholm in 1916 for a mining job in Svalbard. After an accident ends his mining career, he decides to stay on the island. He builds a hut on a remote fjord, and, over the course of the next thirty years, falls in love with the land and its creatures: the harsh northern winters and the midnight sun, the polar bears and foxes, the ever-present ocean. But Sven also finds surprising company on Svalbard and cobbles together a found family of adventurers and exiles. These fiercely independent people welcome Sven as one of their own, and with them he finds the ease and belonging he craved as a young man back in Stockholm. Olafsson voices each of these characters with care, from the quick, excited patter of the Finnish fur trapper who teaches Sven how to survive in the Arctic to the deep, comforting rumble of the Scottish engineer who mentors Sven through many challenges. Olafsson's various Nordic accents are spot on, and the warmth in his voice reflects the warmth of the story. It may be about one of the coldest places on the planet, but it's full of humor, compassion, gentleness, and genuine human connection.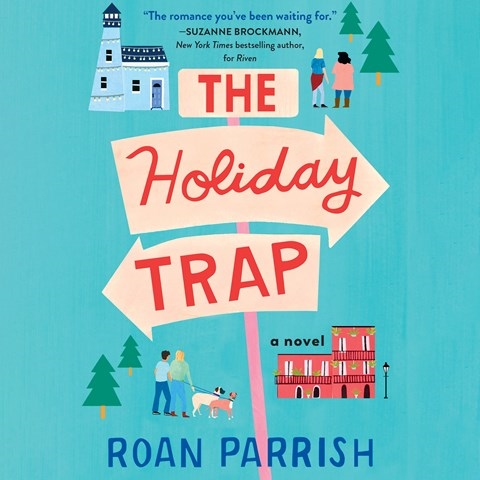 Another book featuring a cold place—and a warm one—is Roan Parrish's delightful double romcom, THE HOLIDAY TRAP. This heartwarming holiday story stars two young queer people who, unhappy in their own homes, swap houses for a month. Greta, voiced by Natalie Duke with bubbly exuberance, is tired of her tiny Maine hometown and her well-meaning but overly involved family. Truman, warmly voiced by Pete Cross, is desperate to get out of New Orleans after discovering his boyfriend has a husband and kid he didn't know about. So their mutual friend Ramona suggests they swap houses.
Truman is surprised to discover just how much he likes the rhythm of small-town life on an island in Maine. He soon meets the local florist, a very kind and very stressed-out man named Ash, and before he knows it, he's helping Ash get his failing store back on track and falling in love with him. Cross's fluid narration perfectly reflects Truman's character. When he gets excited, he gets excited, and he doesn't stop talking. Cross delivers these monologues in a fast, breathless rush of words that makes it feel like you're right there. But there are some moments of pain and pathos, too, and Cross leans into them, his voice edging into panic and real despair.
Greta immediately falls in love with everything about New Orleans: the people, the food, the plants, the climate, the architecture . . . and, of course, there's also a girl. Duke is so good at capturing Greta's newfound joy as she tumbles headfirst into life in a place she loves. Greta simply cannot contain her excitement, and you can hear it in Duke's voice. Greta has also rarely been around so many queer people, and she's often rendered speechless, mostly with happiness, about the overwhelming sense of possibility. Duke's comedic timing during these moments is absolute perfection.
Though their mutual friend Ramona isn't central to the plot, Hilary Huber reads her periodic text messages with an air of playful mystery. Her caring presence and her desire to see her friends happy permeates the whole book.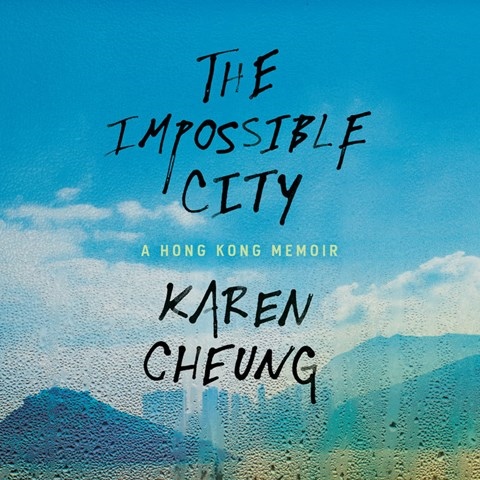 For fans of place-based nonfiction, Karen Cheung's beautiful memoir about Hong Kong, THE IMPOSSIBLE CITY, is a must-listen. It's a blend of personal stories about her life in the city and an exploration of the history, culture, art, and geography of a complicated place. Cheung's narration is measured and serious, but, like her writing, it's also emotional. She lets her guard down, letting listeners know just how much she cares about her home city, despite the many ways it has failed her. The audiobook unfolds in a series of linked nonlinear essays in which Cheung reflects on the moments, ideas, experiences, people, and places that have shaped her life. She writes about the Umbrella Movement and the 2019 student protests; attending an international school; the intersection of language, race, class, and identity; housing insecurity and mental health; the underground music scene; and coming into herself as a writer. There's nothing better than listening to someone tell you about what they love, what they wish for, what matters to them about the place they live in. This is a vibrant, intricate book that does exactly that.