A truly amazing thing happened on the bookish internet in March: the Trans Rights Readathon. During this decentralized fundraiser, organized by author Sim Kerns, more than 2,500 bookish people on Bookstagram, BookTok, and BookTube read trans books and raised money for organizations supporting trans people and fighting for trans rights. Participants read more than 7,000 trans books and raised over $250,000. It was an incredible example of the online book community coming together in a real and tangible way to support a community that is currently facing incredible hostility and violence in the United States. I listened to several amazing audiobooks during the readathon, and I want to keep the momentum going, so I thought I'd highlight a few of my recent favorite listens by trans and nonbinary authors. It's always a good time to pick up these books—you don't have to wait for the next readathon!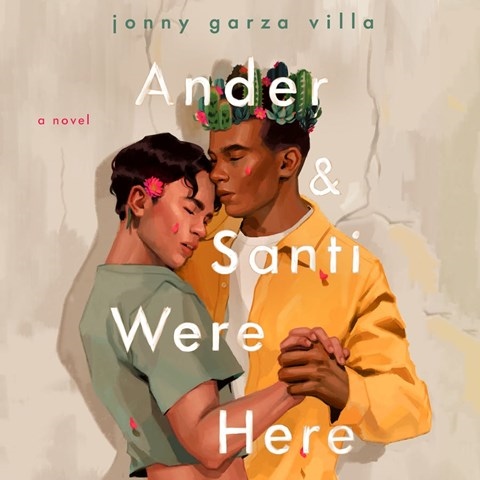 If you're looking for a beautiful, celebratory listen that will break your heart right open and then stitch it back together, you're going to want to pick up Jonny Garza Villa's new YA novel, ANDER AND SANTI WERE HERE. Nonbinary voice actor Avi Roque gives one of their best performances yet—Villa's characters combined with their emotional narration had me in tears. The story follows Ander, a Mexican American teenager on a gap year before college. They're working at their family's taqueria in San Antonio, interning with a nonprofit that paints murals all over the city, and soaking up everything they love about home before moving away. When they fall in love with Santi, the taqueria's newest employee, who is undocumented, it shakes up their life in ways big and small.
Sometimes a book feels like it's made for audio, and that is the case with this novel. Roque moves easily between Spanish and English, and between Mexican and Mexican American characters of all different ages, giving everyone their own voice. They fully embody Ander (who narrates the novel in the first person), capturing their exuberance, their campy humor, their tenderness, and their passion for art. Villa deals with some tough themes and puts his characters through the wringer, but at heart, this novel is a love letter—to San Antonio, queer love, family, art, friendship, food, and Mexican culture.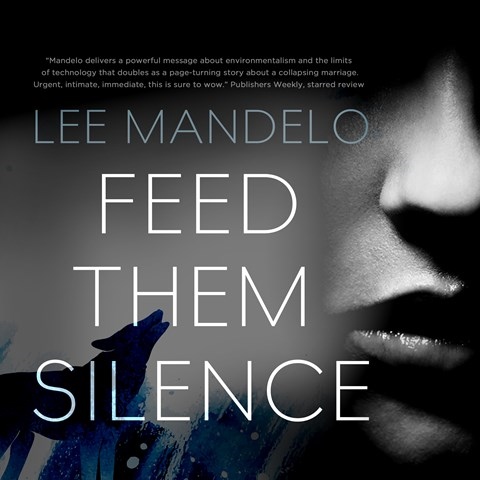 If you're in the mood for something less celebratory and more melancholy, Lee Mandelo's eerie novella FEED THEM SILENCE is a great listen. Natalie Naudus gives a quietly powerful performance of this beautiful speculative story about loss, community, the natural world, and human nature. Sean, a scientist studying animal behavior, has found a way to link her brain with a wolf's, in order to experience the world as the animal does. As she becomes attached to her wolf, her connections to the human world—her wife, her career, her colleagues—become more tenuous. There is a deep sadness at the heart of this book, and Naudus captures it with a lot of tenderness. Her voice gets rougher and rougher as Sean slowly spirals into despair and obsession. This is a slow, contemplative listen that will leave you thinking about what it means to be a human, or an animal, in the world.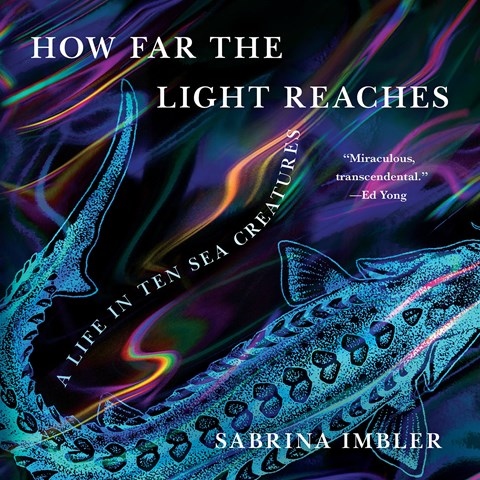 If it's nonfiction you're looking for, well—I can think of a half dozen fantastic nonfiction audiobooks by trans authors that have come out in the last few months. But one of my absolute favorites is HOW FAR THE LIGHT REACHES, written and read by Sabrina Imbler. In this extraordinary collection of essays, a blend of nature writing and memoir, they delve into the depths of the sea to discover wonders. Imbler's narration is wonderfully heartfelt and has that slightly unpolished tone of an author reading their own work. It makes for an intimate listening experience. They're good at clearly explaining all the science concepts, and sometimes you can hear the ghost of a smile or a chuckle in their voice.
Each essay explores a different sea creature or ocean phenomenon—Chinese sturgeon, immortal jellyfish, a mother octopus, the diverse communities of organisms that live around hydrothermal vents. Imbler's engaging writing about these fascinating creatures is brilliant on its own, but it's the surprising connections Imbler draws that turn this book into something new. Through their exploration of the ocean, they also ruminate on queer community, trans and mixed race identity, racism and sexual violence, their Chinese heritage, their relationship with their mother, and more. It's impossible to listen to this book without catching at least a little bit of the love Imbler feels for the ocean.