AudioFile is aligning the stars this June. If you're reading this, you've probably been seeing that we're going all out this month to celebrate the narrators who have been honored with our lifetime achievement award, Golden Voice. We kicked off the celebration with a party—of course—and AudioFile editors welcomed Golden Voice narrators at NYC's John Marshall Media studios. We were dazzled by so many audiobook stars that night, but our five new Golden Voice narrators—January LaVoy, Edoardo Ballerini, Bahni Turpin, Johnny Heller, and Suzanne Toren—got special love. They even "signed in" by autographing our Stars of the Audiobook Universe poster.
Narrators George Guidall, Barbara Rosenblat, Simon Prebble, Barbara Caruso, and Gerard Doyle reminisced with Suzanne Toren and Johnny Heller about days of recording at Recorded Books studios and chatted with producer Claudia Howard. Scott Brick and Penguin Random House Director of Studio Productions Dan Musselman are celebrating 20 years of recording audiobooks—don't miss our special podcast interview with Scott on Monday, June 10.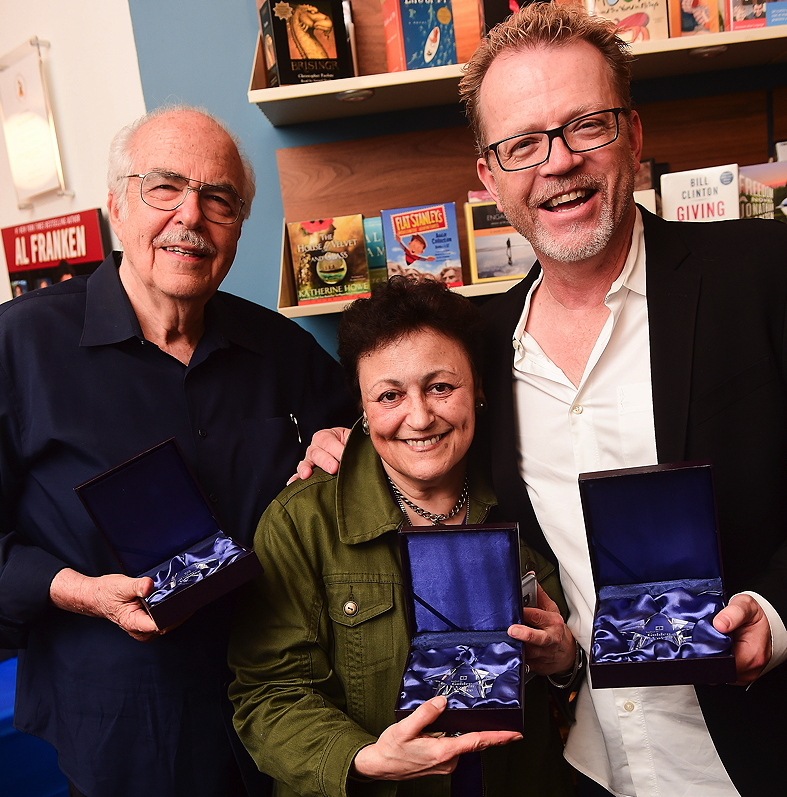 It was a great delight to be among so many brilliant narrators, but one of the best things about audiobooks is that the great performances of these narrators are preserved for listeners. We can check out an audiobook that Edoardo Ballerini recorded in 2012—thinking BEAUTIFUL RUINS—or Suzanne Toren's TEAM OF RIVALS from 2006. The performances are still as fresh and stunning as the day of their release. Among the Golden Voice honorees there are narrators to discover for the first time—have you ever listened to Miriam Margolyes? Her performance of BLEAK HOUSE was a 2019 Audie Finalist. And you can revisit favorite narrators you might not have enjoyed for a long time—Frank Muller's PRINCE OF TIDES had me in thrall earlier this spring.
Our 30 Days of Golden Voices will give you ample opportunities to get to know these amazing narrators. We have designated one day to each narrator and will be posting Essential Listening for each Golden Voice on Twitter. The blog—right here—has new interviews with and articles about many of the narrators. The AudioFile podcast is in on this, too—weekday episodes through June will each focus on one Golden Voice narrator.
And now, more party pictures . . . photos by the talented Max Flatow.
Remember to check AudioFile's Twitter, the Blog, and the Behind the Mic podcast for all the special coverage.