Audiobooks are booming. You know that because you are making it happen. Did you also know that narrators, those glorious voices behind the mic, are being cast as protagonists? And that narrators themselves are writing audiobooks? Well, it's a thing. This month I give you four great listens that put narrators front and center.
Erin Mallon, who's voiced more than 500 romance audiobooks, credits her theater friends with nudging her to write her Earphones Award-winning audio play, THESE WALLS CAN TALK, about an audiobook superfan who falls in love with the voice of her favorite romance narrator. "I'd tell them about the weird, funny stuff—like performing spicy scenes first thing in the morning. They thought it was hilarious, so I decided to turn it into a play."
Mallon recorded the original script on Zoom during Covid with six of her favorite romance narrators. Visualize them: Seven actors in recording booths scattered across three time zones, wearing headphones so that they could hear each other in real time. "We'd count down '3, 2, 1' and press record." Mallon credits Tyler Whitlatch of Plunk Productions with being the "wizard" line editor who spliced everything together into one audiobook.
"There are three books in the series so far, and they're all love letters to the romance community, particularly the narrators," says Mallon. "They spend their days alone in a booth recording romantic stories. They're my stars because no matter what's happening in their personal lives, they sit in those booths and make magic happen for others."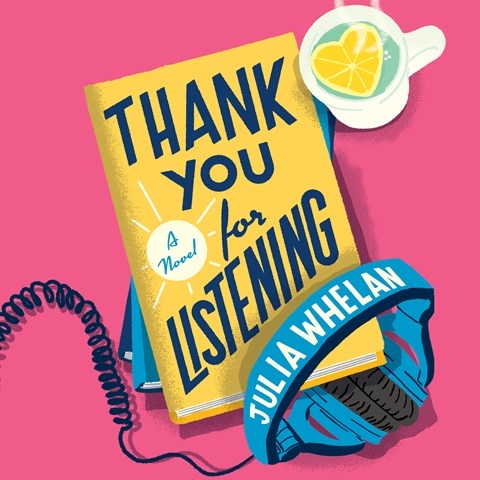 Julia Whelan, a novelist and award-winning narrator, also tapped the romance genre for THANK YOU FOR LISTENING. The story—about an actress turned narrator who meets the man of her dreams while recording a romance novel under a pseudonym—combines swoony action with the narrating life. "The professionalism that narrators bring to their craft—well, it can lead to the funniest conversations. I remember once having a serious discussion with some of my male colleagues about how to pronounce 'clitoris.'"
Whelan, who won an Earphones Award for her performance, says, "Even though we narrators are invisible storytellers, fans come to rely on our interpretation of works. I wanted to give those fans a peek into all the crazy things that can happen."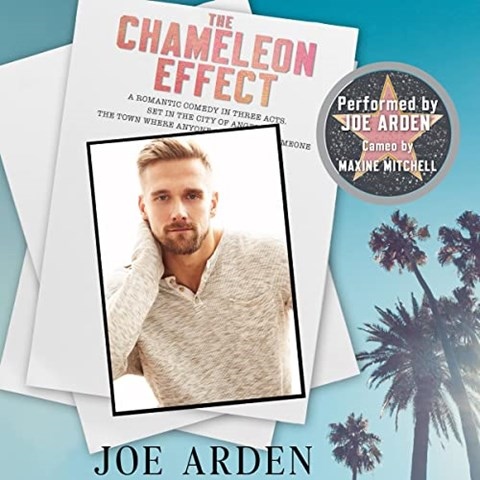 In addition to being one of the profession's most prolific and popular male romance narrators, Joe Arden is the author of a debut novel THE CHAMELEON EFFECT. Arden, who has been in the acting business since the age of 3, records romance titles under a pseudonym. "So, a fake-identity romance about an actor from an actor with a fake identity seemed like a natural fit."
Rather than find an agent, Arden self-published his book. "I've worked with self-published romance authors for much of my career—and seen them create careers on the back of their own hard work. I thought I'd benefit as a narrator, colleague, and producer if I went the self-publishing route. It's been like diving into a pool without floaties," he laughs. "Challenging, but so rewarding." And successful. THE CHAMELEON EFFECT won an Earphones Award.
Suspense novelist Landon Beach felt he'd struck gold when Scott Brick agreed to record his first three books. "Ever since Scott began to perform my books—we just finished our sixth— I've been fascinated by the profession of narration. Then I realized that no one had written a thriller with an audiobook narrator as the protagonist." The result is Beach's 2022 page-turner, NARRATOR, which tells the story of a playwright who turns to narrating thrillers and is then kidnapped and forced to narrate a poorly written thriller.
"So much of the work of a writer or narrator is solitary," muses Beach. "Instead, this was a wonderful collaborative process because Scott offered comments on the first draft and during the recording process to make it more realistic.
"I'll never forget hearing Scott read my words for the first time. Now, when I write, I hear Scott's Golden Voice in my head and wonder how it will sound when he says it." Beach laughs. "It's even affected my style. For instance, when I heard how 'he said,' and 'she said' disrupted the flow, I decided to leave most of them out. My writing is tighter now."
Beach describes NARRATOR, which was nominated for an Audie Award, as a love letter to storytelling and storytellers. "I'm in awe of the art and craft of audiobook narration. Go, narrators!"
Photos courtesy of the narrators