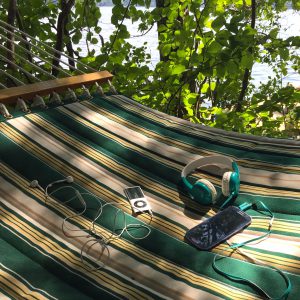 Summer: Hot days, time for play, for laying your head back in a cool lake and looking up at the puffy clouds. Time for barbecues, sangria, and sweet watermelon slices. Time for murder???
What constitutes a great summer mystery/suspense listen? Summer is a time to allow yourself the luxury of being totally captivated and carried away. For me that includes playing audiobooks that are funny, light, and filled with favorite characters, stories that take me away to different parts of the world, and plots that are so engaging you walk an extra mile just to keep listening.
For fans of Lee Child and Karen Slaughter we have the audio novella CLEANING THE GOLD, narrated by Eric Jason Martin and Jeff Harding. It's a perfect summer listen: Characters we know from different series encounter each other in a well-narrated fast-paced plot, with the conflicts and physical action fans appreciate in a Jack Reacher story.
For easy listening entertainment I turn to Golden Voice narrator Simon Vance and his performance of Chris Ewan's THE GOOD THIEF'S GUIDE TO LAS VEGAS (or any other book in the series). These audiobooks provide humorous, action-packed, and well-plotted mysteries, plus the satisfying opportunity to do some armchair travel to different fabulous cities. The other books in the series have the titular good thief, Charlie Howard, stumbling into misadventures in Paris, Amsterdam, Berlin, and Venice.
For those audiobooks that grab you from the first word and transport you for hours, I turn to a narrator who recently joined the ranks of Golden Voices, Edoardo Ballerini. His audio portfolio covers all genres, but for mystery fans, he has narrated recent installments in Jeffery Deaver's Lincoln Rhyme series. The 14th addition to the series, THE CUTTING EDGE, makes great use of Ballerini's talent for accents while providing that level of tension and creepiness that keeps fans glued to their earphones.
Finally, just because summer is about fun and trying new things, why not try some audio theater? LAST SEEN WEARING by David Hewson is performed by a full cast including one of my favorite narrators, Lorelei King. This is a full production with music and sound effects that enhance the atmosphere and drama of the story. Picture yourself relaxing in your beach chair, a frosty glass of iced tea (or a well-chilled can of beer, or whatever), looking out over the waves while you listen to a wonderful cast performing just for you.
My friends, summer moves so fast. Don't hesitate—get out there, load up your audiobook player, hit the beach, escape, and enjoy.