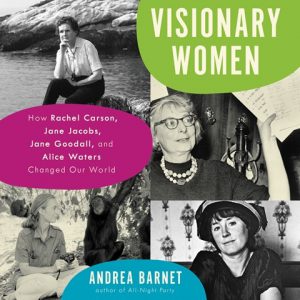 VISIONARY WOMEN is made up of four mini biographies of women who changed the way we look at our world. As I thought about this interesting group—Rachel Carson, Jane Jacobs, Jane Goodall, and Alice Waters—I realized that essays by each of them are also available on audio. Several preserve the voices of the authors themselves.
Chef, food activist, and founder of Chez Panisse, Alice Waters recorded her memoir COMING TO MY SENSES last fall. I love what our reviewer said: "Alice Waters's narration is so approachable that it's as if she walks up to your table wearing an apron, carrying an enticing plate of food, and says, 'Eat this while I tell you my story.'" Jane Goodall has written and read several volumes on conversation, botany, and animals many years after her pioneering work with chimpanzees. Her last volume, SEEDS OF HOPE, did not record Jane's voice, but in her mid-70s she did record HOPE FOR ANIMALS AND THEIR WORLD.
With Jane Jacobs, urbanist and architectural critic, we have an audiobook of her great treatise, THE DEATH AND LIFE OF GREAT AMERICAN CITIES, and her excellent biography, EYES ON THE STREET, but alas, no recording of her reading her own work. I did find her address to a Books and Authors event in a 1962 WNYC recording. Looking for a recording of Rachel Carson was an interesting quest—these quests are what I truly love about doing these posts! There are several films about the biologist/ecologist who rocked the world with dire warnings about the pesticide DDT with SILENT SPRING in 1962. PBS's American Experience aired "Rachel Carson" just a year ago, but only a few samples of Carson speaking are included. Listeners can hear her biography, ON A FARTHER SHORE, but Carson's most important writings, SILENT SPRING and THE SEA AROUND US, urgently need to be re-recorded. The impact of these four women on elements of our culture—food, animals, and environments both natural and urban—will continue for many more generations, and will open the eyes of new readers and listeners.
And one more . . .  Check out a collection of essays by beloved science fiction & fantasy author Ursula K. Le Guin, WORDS ARE MY MATTER. Le Guin writes about the books she loved, and you may have new titles to add to you to-be-read list.