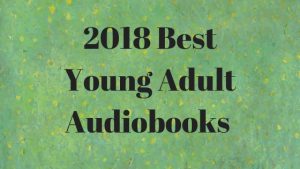 Welcome to December and the winter holiday season. One of my favorite things about the end of the year is reading all the best-of lists, especially those that focus on audiobooks. I love adding to my wish list and discovering great books I might have missed.
Get ready to find your next outstanding listen: Today's Take 5 post is all about AudioFile's Best Young Adult audiobooks for 2018. All the titles that made our list deserve the spotlight not only for their great stories but also for the fantastic narrators whose performances made the audiobooks unforgettable.
Here, I give you a hint of what each audiobook is all about, but don't forget to click through to our full reviews. To see all the winners in all the categories, check out AudioFile's 2018 Best Audiobooks E-Zine.
Now for this year's best audiobooks for young adults:
Tomi Adeyemi's CHILDREN OF BLOOD AND BONE has a West African feel and tells us about a people whose magic was stolen and the teens who undergo a quest to restore it. Bahni Turpin's affecting performance captures the growth and spirit of our heroes; don't miss her singing in Yoruba.
HOPE NATION, edited by Rose Brock, is a collection of personal stories of a diverse group of well-known young adult novelists that demonstrate how none of us is alone in facing troubles and that together we can embrace hope and imagine a brighter future. An impressive group of narrators reads this collection: Michael Crouch, Kate Rudd, Bahni Turpin, Tavia Gilbert, Nancy Wu, MacLeod Andrews, Adenrele Ojo, Erin Spencer, Kyla Garcia, Mozhan Marno, Prentice Onayemi, Rebecca Soler, January LaVoy, Guy Lockard, and Chris Andrew Ciulla.
Galyle Forman's I HAVE LOST MY WAY is about how three troubled teens help each other up from rock bottom after a chance (and dramatic) meeting. The audiobook is performed by Sunil Malhotra, Michael Crouch, and Nicole Lewis, who solidly connect listeners to the protagonists' emotional journeys.
THE LADY'S GUIDE TO PETTICOATS AND PIRACY by Mackenzi Lee, set in the eighteenth century, is all about women power, friendships, and following your dreams despite the obstacles. Narrator Moira Quirk gives each character a distinct voice and amps up the excitement of this adventure-laden historical novel.
THE POET X is a novel in verse written and read by Elizabeth Acevedo. This powerful story introduces us to a Dominican American teen who struggles to balance her family's cultural traditions with the realities of living in twenty-first-century Harlem. Acevedo's experience as a performance poet enhances her reading of this audiobook.
As proved by the titles that made our 2018 Best Young Adult Audiobooks list, today's teens are blessed to find excellent-quality audiobooks that address relatable issues and feature a diverse cast of characters. You don't have to be a teenager to connect to these titles and find a little of yourself in at least a couple of the stories.
To learn even more about the don't-miss audiobooks of the year, be sure to follow us on Twitter (@AudioFileMag), like us on Facebook (@AudioFileMagazine), and check out our new podcast (Behind the Mic with AudioFile Magazine).