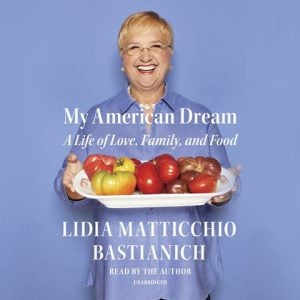 We became culinary rebels the year that no one wanted turkey for Thanksgiving dinner. My parents preferred it cold anyway, especially in sandwiches made with toasted sourdough, Hellman's Mayonnaise, and lettuce. My brother preferred pumpkin pie. And that year, I preferred tofu. So on the day, we made hamburgers and tofu burgers on toasted English muffins, Caesar salad, and pumpkin pie. We giggled all the way through the meal, feeling as if we'd gotten away with something wonderful. In that subversive, liberating spirit, I offer five delicious tales of food and living, because next Thursday you'll want to have options.
Such as Italian cuisine. Lidia Matticchio Bastianich's memoir, MY AMERICAN DREAM, is as engaging as the famed restauranteur and television chef herself. She's not a professional reader, but she's clear, well-timed, and truly, her accent colors the story. She escaped Communist Yugoslavia via a refugee camp in Italy before ending up in Manhattan, so the memoir is full of drama and surprise, as well as deliciousness.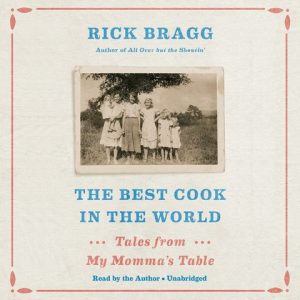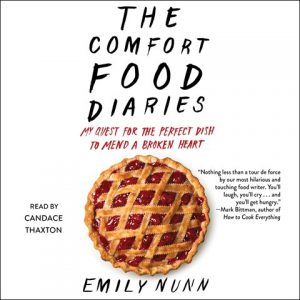 How about grits instead of mashed potatoes? I dare you to listen to Rick Bragg's Earphones Award reading of his tales about his mother's food, THE BEST COOK IN THE WORLD, without succumbing to southern dishes and southern dialect. The Alabama-born journalist narrates with the skill of an actor/raconteur and the enthusiasm of a loving son. Such lines as, "She cooked for big-haired waitresses at the Fuzzy Duck Lounge" charm the ear as much as Mama's sweet potato cobbler.
It's a tiny leap from cobbler to the angel biscuits found in Emily Nunn's terrific memoir COMFORT FOOD DIARIES, which is beautifully read by Candace Thaxton. What do you do when the worst happens? You eat, of course. We should all model on Nunn and find a new lease on life by revisiting family recipes and throwing ourselves into the unexpected. The audiobook is full of laughter, honesty, hope, and yumminess for everyone.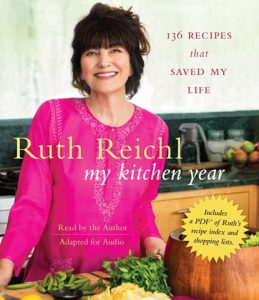 The famous former editor of Bon Appetit, Ruth Reichl, also ate and cooked the year her life came crashing down. The lovely, lovely result, MY KITCHEN YEAR: 136 RECIPES THAT SAVED MY LIFE, is read with straightforward warm clarity by the author, who's full of wisdom throughout. Speaking personally, had I known during my panicked junior year abroad a lifetime ago, that "Chocolate cake is a fine cure, but it doesn't last," I might not have consumed so many rafts of croissants. A pdf of the recipes accompanies the audiobook, which will save you from taking notes. Just listen and savor.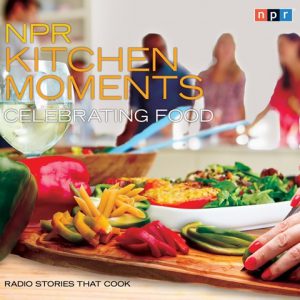 I conclude with two and a half brief-but-tasty hours of NPR KITCHEN MOMENTS: CELEBRATING FOOD. Sip a glass of frivolous bubbly as you revel in all manner of dining stories, kitchen misadventures, and interviews with such entertaining food greats as Julia Child, Alton Brown, Mark Bittman, and — we mention her again — Ruth Reichl. At the end, you'll be laughing and satiated. And maybe, just maybe, ready to contemplate that vital question -— mini marshmallows on the pumpkin casserole or not?
P.S. If you model on the Scott family and opt for burgers next Thursday, the toasted English muffins are essential. No squishy hamburger rolls allowed.