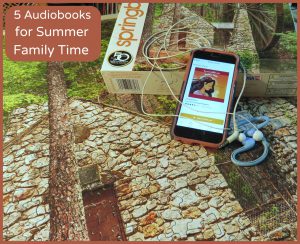 School's out for summer, and the kids are ready for fun. Road trips or plane rides, two weeks at the beach house, or three months of staycation; whatever your plans are, they'll all go better with a family audiobook or two.
This month's Take 5 roundup is your family listening lifesaver. These audiobooks will make the travel go faster and will brighten up a rainy, indoor afternoon. They might even keep your young listeners happy when you send them out to weed the garden or organize the garage. We can always hope, right?
As you might imagine, it wasn't easy to limit my recommendations to just five good stories, so I picked titles based on several criteria. First, all of the audiobooks featured here are under 4.5 hours, which means they can be listened to in a single car ride or while doing a family activity, like working on a jigsaw puzzle.
Second, I focused on audiobooks geared to middle grade readers that would also have teen and adult appeal. Many of these would also be fine for kids a little younger than eight years old, but you should check that they're appropriate for your young listeners. Finally, we at AudioFile Magazine support the We Need Diverse Books movement, and I made sure to keep that goal in mind when making my choices.
Sharon Creech's MOO introduces us to 12-year-old Reena, who tells us the story of how she and her little brother adjust to rural Maine after living in the big city and how they ended up befriending a stubborn cow and her cranky elderly owner. Narrator Brittany Pressley captures Reena's youthful exuberance and highlights the flow of this novel in verse. Pressley even gives voice to Zora the cow!
Middle school is trying for everyone, but Pakistani American Amina feels like she has extra problems. AMINA'S VOICE by Hena Khan recounts the girl's struggles to deal with everyday issues, like shifting friendships, while honoring her religious and cultural heritage. Soneela Nankani's thoughtful performance highlights Amina's growing self-confidence, her reaction to a hate crime, and the ultimate uplifting ending.
Fans of light fantasy and solving puzzles will enjoy A TANGLE OF KNOTS by Lisa Graff. In Cady's world, most people have a gift; hers is baking cakes. Listeners will root for Cady as she helps children who don't seem to have a talent find their own special gifts. Katie Honaker's dramatic performance enlivens story time, and Cady's cakes (complete with recipes) will wake up your sweet tooth. Continue the story with A CLATTER OF JARS!
In Gary Soto's SUMMER ON WHEELS, best friends Hector and Mando plan a laid-back bicycle trip to visit relatives that will take them from their Hispanic L.A. neighborhood to the beach at Santa Monica. Narrator Anthony Perez's youthful voice taps into the fun as the boys' adventure turns out to be anything but ordinary.
"Ghost" is used to running, but not the kind you find at the track. GHOST by Jason Reynolds is about how a boy nicknamed Ghost finds a place on an elite track team and learns that it really is possible to outrun your past, even when you sometimes take the wrong path. The whole family will be drawn in by Guy Lockard's excellent characterizations and expressive delivery. And your family will be happy to know the story keeps going with PATINA and SUNNY, from the perspectives of two more of the track stars from Ghost's team. 
After listening to these audiobooks, your family will be ready for all kinds of new summer adventures. These stories will encourage you to visit the countryside, bake a cake, or get involved in a community project. Or perhaps you'll want to dust off your bicycles or your running shoes and get moving! Enjoy whatever new path you and your young listeners choose to take.