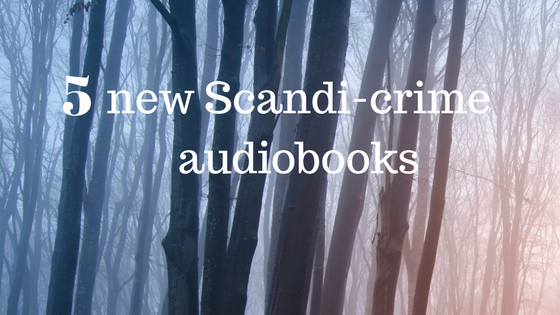 We are still in the chill of winter here in Maine, so these new Scandinavian suspense titles seem right in line. Audiobooks are the perfect medium for Scandi-crime for several reasons, but having the narrators do the heavy lifting with the impenetrable names is a top one for me. Even the authors I'm about to mention— Indriðason, Sigurðardóttir, Sjöwall & Wahlöö—slow me down, and we haven't even gotten to the characters' names yet! Simon Vance has been showered with awards for his narrations of The Millennium Trilogy, and now the continuing Lisbeth Salander saga with THE GIRL WHO TAKES AN EYE FOR AN EYE. Simon completely removes any barrier to staying within the story with his smooth delivery of every Scandinavian name.
Just this week we've got Golden Voice George Guidall in THE SHADOW DISTRICT by Iceland's Arnaldur Indriðason turning in an Earphones-Award performance. An audiobook from another Icelander, Yrsa Sigurðardóttir's THE LEGACY, the first in a series, gets high marks for Lucy Patterson's narration. Nice to have a few more female voices in the mix. We've just reviewed two titles from Danish author Sara Blædel, THE NIGHT WOMEN and THE STOLEN ANGEL, two entries in the Detective Louise Rick series.
Scandinavian crime writers seem to like to write as a team. Two Swedes are behind Anton Svensson, a pseudonym for authors Stefan Thunberg and Anders Roslund. Their audiobook THE FATHER gets a "Do not miss" from reviewer Marc Bona. My first Scandi-crime reading was the Martin Beck mysteries of Maj Sjöwall and Per Wahlöö. Several were made into audiobooks, notably THE LAUGHING POLICEMAN. And another duo: Danes Agnete Friis  & Lene Kaaberbøl wrote the Nina Borg series; the first, THE BOY IN THE SUITCASE, got an Earphones Award, and an Audie—another legacy of our beloved Katherine Kellgren.
A Scandinavian rabbit hole. Yes, there is most definitely a deep-dive option if you are interested in Scandinavian crime writers.  Check out the Scandinavian Crime Fiction web site — it's divided by countries with authors and books listed though, sadly, with no audiobook references. There's an illuminating comment from Peter Rozovsky: Scandinavian writers are not so much interested in the solving of puzzles or the voyeuristic experience of crime, but rather in "the slow, rippling effect of a violent act on the minds, souls and social fabric of those they leave behind." No wonder I love the Scandi-crime audiobooks.