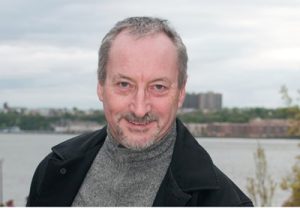 This June has been an exciting month here at AudioFile Magazine as we continue to celebrate Audiobook Month and honor our Golden Voice narrators. If you haven't already, take a moment to catch up on the blog posts, listen to our podcast, and follow us on Twitter so that you don't miss a single moment of this month's celebration.
I'm thrilled to introduce you to the talented Gerard Doyle in today's Take 5 post. Did you know that Gerard was an immediate narrator star? He won an Earphones Award for his very first audiobook, A STAR CALLED HENRY. Since then, he's given voice to dragons and wizards, detectives and killers, and many everyday people, both fictional and real.
It's hard to list all the reasons I love Gerard's work on audiobooks, but his impressive spot-on timing is near the top. I love the way he pulls me along during high-action scenes, amping up the excitement and danger, and that he can also keep me in the present during more poignant moments, giving me time to react and think. I have a weakness for audiobooks set in Ireland, and Gerard's native accent is always welcome, adding authenticity and atmosphere to my listening hours.
To highlight Gerard's Golden Voice talents, I've picked five Earphone Award–winning audiobooks to share with you, each one in a different genre and appealing to readers of different ages.
5 Audiobooks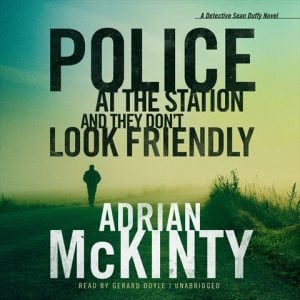 Gerard is the voice of Detective Sean Duffy, the protagonist of a mystery series by Adian McKinty set in Ireland. In the sixth entry, titled POLICE AT THE STATION AND THEY DON'T LOOK FRIENDLY, Detective Duffy is dealing with the Troubles (it's the 1980s), heroin dealers, and murder while on the job and girlfriend problems at home. Gerard's multilayered performance captures the complexities of the mystery, including Duffy's snarky personality and the police department's struggles with the drug culture and social unrest.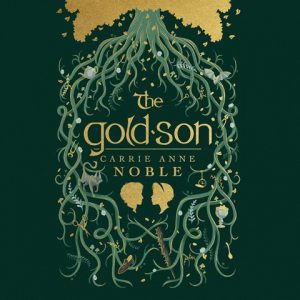 Teen fantasy and fairytale fans should put THE GOLD-SON by Carrie Anne Noble on their listening lists. This audiobook is about a young Irish boy who is stolen by the leprechauns to serve their would-be king. After a troll attack, Tommin falls into a centuries-long sleep, waking up in the new millennium with unfinished business to attend to, including reconnecting with the girl of his heart. Gerard's distinct characterizations enliven the dialogue, leaving no doubt as to who is the bad guy and who is our hero.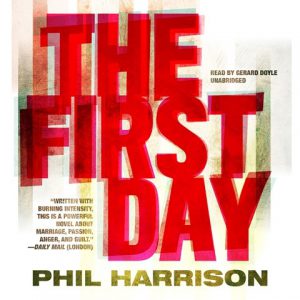 Filmmaker Phil Harrison's debut novel, THE FIRST DAY, begins in modern-day Belfast and ends in New York City, 35 years into the future. This is a story of broken relationships, fatherhood, and half-brothers set against a philosophical and religious backdrop. Gerard meets the challenges of the literary story, helping us forge emotional links to the evangelical father, the violent older son, and the closeted gay younger son, as they try to repair their shattered lives and find redemption and forgiveness.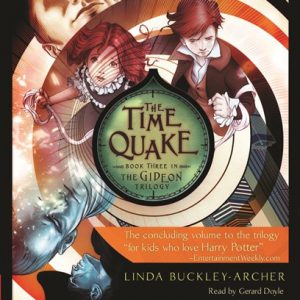 Your whole family will love the middle grade time-travel Gideon trilogy by Linda Buckley-Archer. Gerard reads all three books, ending with THE TIME QUAKE, in which our two modern-day tween heroes must escape from late-18th-century London, but not before defeating the villain and ensuring nothing less than the survival of the fledgling United States. Gerard enthralls his listeners as he taps into the characters' personalities and brings the period details to life.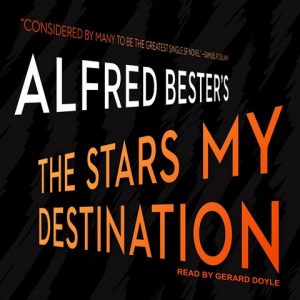 Alfred Bester's THE STARS MY DESTINATION is a classic science fiction story which also serves as a retelling of an older classic, THE COUNT OF MONTE CRISTO. The main character of this audiobook is not, however, entirely innocent, so listeners are caught in the uncomfortable position of rooting for the anti-hero to find a way to escape his lonely space ship, return to earth, and get revenge. According to our reviewer, Gerard is "absolutely mesmerizing" in his portrayals of the characters, making it difficult to hit that stop button.
5 Questions
Have you finished writing down all the Gerard Doyle-read audiobooks you just have to listen to? I bet that's a long list. Now it's time to take a moment to learn more about one of the busiest voice actors around. I'm so pleased Gerard agreed to answer some questions for us.
AudioFile Magazine: What is the one thing you wish you knew before you recorded your first book?
Gerard Doyle: I wish I had known in advance how difficult it is for an absolute beginner to record a book to an acceptable standard. My first audiobook audition was an absolute disaster because I found no connection whatsoever with the material.
For my second audition, three years later and for the same company (my first audition was so awful that the same producer had absolutely no memory of me!), I was far more connected with the material and was offered the book. Even though I was more involved with the story and the characters, my approach to the first 100 or so pages was quite tentative. After a while I got into my stride and, when the book was completed, producer Claudia Howard called me back in and played me both the beginning and the end of the book to demonstrate the difference in my delivery. She then had me sit in the studio and record the first chunk again and matched them seamlessly. That book was A STAR CALLED HENRY, by Roddy Doyle, for which I won an AudioFile Earphones Award and which, 20 years and 300 or so audiobooks later, remains one of my favorite audiobook projects.
Bless you, Claudia Howard! I always try to remember the lessons I learned through that experience.
AFM: Tell us something surprising about yourself.
GD: In addition to my audiobook recording career, I have a full-time job as a teacher of theater-related studies in a private school. The curriculum allows for the  integration of theater into the classroom in grades 6, 7, 9, and 11, and I also direct two extra-curricular theater productions with the students each year.
I'm fortunate in having a comfortable recording booth at home, so I can schedule my recording sessions around my teaching commitments. In a busy recording year (and, thank goodness, most of them are), I effectively have two full-time jobs. This means recording in the evenings and weekends pretty much throughout the year. Exhausting, but very gratifying.
AFM: What are you doing when you're not working?
GD: My answer to the previous question pretty much covers my answer to this question as well. I tend to be so busy that I have very little time for actual hobbies as such. However, we are extremely fortunate to live very close to a number of beautiful ocean beaches and wetlands, and my very favorite thing to do is to sit on a beautiful day in a comfortable beach chair, under a large umbrella, with a picnic lunch and a glass or two of something refreshing, and work on preparing my next audiobook project. Absolute bliss!
AFM: What's your go-to beverage when recording? How about after recording?
GD: My needs in my recording booth are simple. My beverage of choice when recording is bog standard English tea with a little milk. A little clichéd, I know, but it refreshes and sustains me throughout a six- or seven-hour recording session. After recording, if I have the energy, I like to relax (or prepare the following day's session) accompanied by a glass of red wine. Purely medicinal, of course!
AFM: What's the first task you tackle when given a new audiobook project?
GD: I'm such a dinosaur that I still prefer to work from a printed page. Then, if it's a sunny day, I set up my chair and umbrella (and picnic lunch, along with a refreshing beverage) on the beach, and begin the pleasurable voyage of discovery through the story.
I make notes as to character voices and physical attributes as described by the author and also pronunciation queries. If possible, I like to be in direct contact with the author in order to get the information, as it were, straight from the horse's mouth.
I am very fortunate in that there are a number of authors for whom I regularly record, and we have established a pretty good working relationship over the years. One possible exception to that is one of my very favorite authors for whom I have recorded 18 books and who, when we Skype and I ask him for pronunciations of Gaelic and Latin—which he often includes in his books—mostly replies in his still prominent Northern Irish accent, "I don't f*** know! I heard it in a pub and wrote it down. Say what the hell you like."
I love my job!! (Seriously!)
Thanks so much, Gerard, for joining us today. I love the image of you on the beach, picnic at your side and book and notes in hand, as you prepare for your next audiobook project. How wonderful, too, that you are able to share your talents with young students. That's one lucky school.
If you're looking for even more Gerard Doyle audiobooks to add to your wish list, be sure to check out our reviews. No matter which audiobook you pick, you'll be delighted by Gerard's enchanting Golden Voice performance.
For even more on Gerard, don't miss our discussion of his works on the Behind the Mic podcast.