Do you ever pick an audiobook based solely on the narrator? Today's guest, Marin Ireland, is on my short list of audiobook performers I can't say no to. I count on Marin to create an emotionally charged atmosphere that perfectly matches the author's intent, both from scene to scene and for the audiobook as a whole.
Marin links listeners to the story through her spot-on characterizations and her ability to shift her pace, volume, and tone, adding interest and depth to the plot. Her strong performances have earned her multiple Earphones Awards, spots on AudioFile's best-of-the-year lists, and an Audie Award.
Marin is a dynamic solo voice artist, as demonstrated by the award-winning audiobooks I recommend here. That she also plays well with others is proven by a number of multicast audiobooks, such as Aimee Molloy's GOODNIGHT BEAUTIFUL.


5 Audiobooks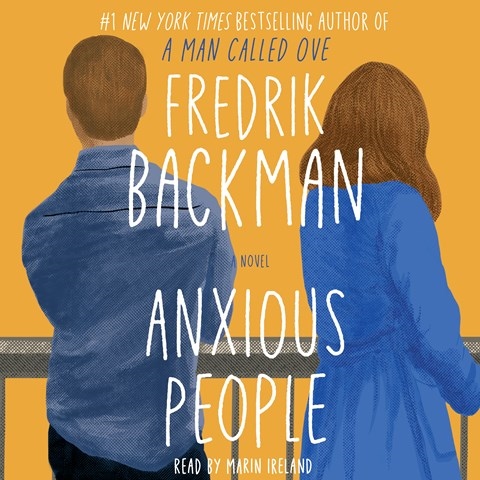 A brilliant narrator–author team was born when Marin was tapped to narrate her first Fredrik Backman novel. Their latest match, ANXIOUS PEOPLE, is part character study and part mystery. The characters meet at an apartment viewing, hosted by a wheeler-dealer real estate agent, but before any contract can be signed, a man fleeing the scene of a failed attempt to rob a bank rushes in, holding the group hostage while he figures out what to do next. Marin captures the personalities of the quirky characters and helps listeners relate to the roller-coaster events of the day.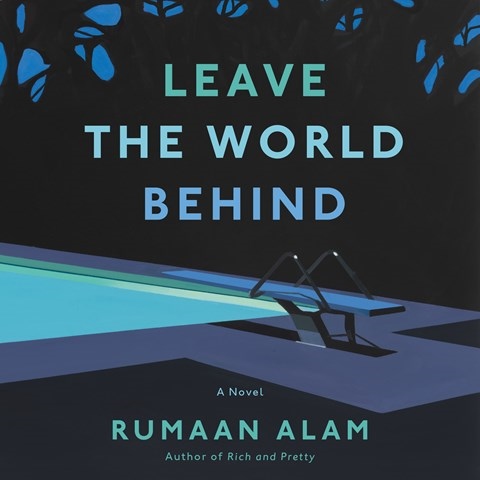 Set in the near future, LEAVE THE WORLD BEHIND by Rumaan Alam explores how two very different families—one Black, older, and rich; the other white, middle-class, and with two teenagers—react to and cope after a sudden major blackout leaves them stuck in the same house in the Hamptons with no knowledge of what may have happened in the world beyond their enclave. Marin underscores the complex responses and surprising alliances among the characters, giving listeners much to think about in terms of age, privilege, race, and gender. You can hear Marin talk about narrating this audiobook on AudioFile's podcast.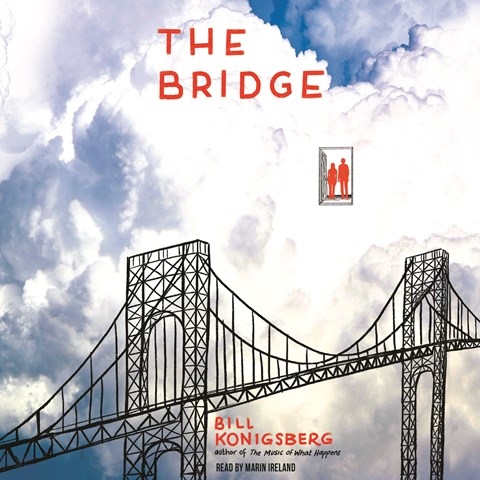 Author Bill Konigsberg draws on his own experience with attempted suicide (at age 27) to introduce listeners to two struggling teens in his novel THE BRIDGE. Aaron and Tillie don't know each other, but both are on New York's George Washington Bridge intending to end their lives. The audiobook looks at the aftermath of the four possible outcomes: only one teenager jumps, witnessed by the other; both jump; and neither does. Marin's sensitive performance connects listeners to Aaron and Tillie's feelings, the sadness and confusion of those who are left to make sense of the deaths, and the tentative hope offered by choosing to live.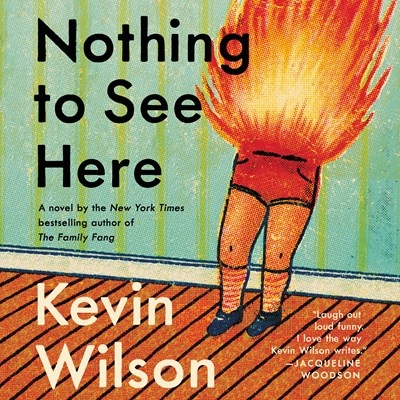 Kevin Wilson's NOTHING TO SEE HERE is about two school friends who reunite after a troubling teenage incident. When Madison needs help with her twin step-children, she calls on her directionless ex-BFF to be their summer nanny. Lillian isn't sure she's cut out to be a caregiver, especially given the children's special "gift": they burst into flames whenever they're upset. Knotty relationships and family dynamics are at the heart of this entertaining audiobook. Marin excels at accurately rendering a variety of regional accents and conveying the characters' ages and genders.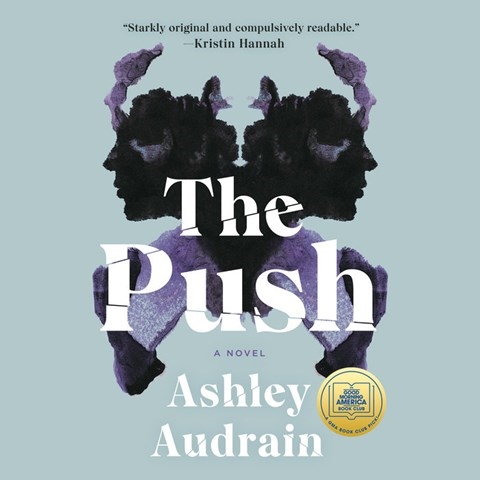 For a very different look at families, listen to THE PUSH by Ashley Audrain, which explores three generations of troubled mother–daughter relationships. This book-within-a-book is told from the perspective of Blythe, who can't understand why she has never been able to connect to her daughter, Violet. Her unease with the girl and the loss of her beloved second child in an accident ended Blythe's marriage. Now that her ex-husband has a new family, she can't stop worrying about how Violet will react to having a step-brother. Marin's performance puts the focus on Blythe's disturbing and conflicted thoughts about Violet and motherhood, adding to the tension of this psychological thriller.


5 Questions
Now that I've introduced you to Marin Ireland's award-winning performances, it's time to learn more about her life as an audiobook performer.
AudioFile: What's your go-to beverage when recording? How about after recording?
Marin Ireland: I have so many beverages! I usually have hot water with honey, and/or a Throat Coat tea, also a black coffee (sometimes decaf, depending on the hour), and a room-temp water. I love a beverage selection. After recording, I might add just a little bourbon to the Throat Coat—it's my own cocktail invention, I just need to find a name for it . . .
AF: What's the first task you tackle when given a new audiobook project?
MI: I really like to look up the writer and learn about them, even if I think I know them. Sometimes learning little things like where they're from gives me a different sense of what meaning might be hidden in the book. And more than that, I feel like since my job is to be the emissary delivering the words directly to each reader individually, the more I understand the writer, the better job I feel I can do representing their voice.
AF: Is it difficult to avoid foreshadowing, especially when recording a book with a twist?
MI: Well, frequently, I don't read the books in advance!! Which is wild. But sometimes the jobs come up last minute, and I'll be able to get in only about 50 pages before I start. I love recording cold! I really get to go on the ride as the listener and let my own surprise and experience be part of it. So in that case, no it's not! When I do know the whole book going in, I feel like I just try my best to stay in the moment and keep myself in the listener's shoes.
AF: What kinds of things do you do to protect your voice in your down time?
MI: When I'm not recording, I'm often working on another job, so I have to be continuously conscious of my vocal health. It's a lot of boring stuff like managing allergies properly and taking care of my immune system. When I used to go out, pre-pandemic, definitely no screaming, even if I'm at a concert and really feeling it!
AF: What do you always have with you in the recording booth?
MI: I get cold easily so I need a sweater or scarf and cozy shoes—even in summer I'll never wear open-toed shoes to the studio—and I have to clutch a small pillow (whatever they have in the studio) to my stomach for tummy noise. My secret weapon. It really helps!
--
Thanks so much for taking time out of your busy schedule to spend time with us, Marin. I love the idea of getting to know something about the author before you start recording; I think your connection to an author's style really shows in your work. Next time I have a scratchy throat, I'll have to try one of your cocktails—maybe it will become one of my go-beverages, too.
For more audiobooks performed by Marin Ireland, browse our reviews.
Marin Ireland photo by Jessica Glick