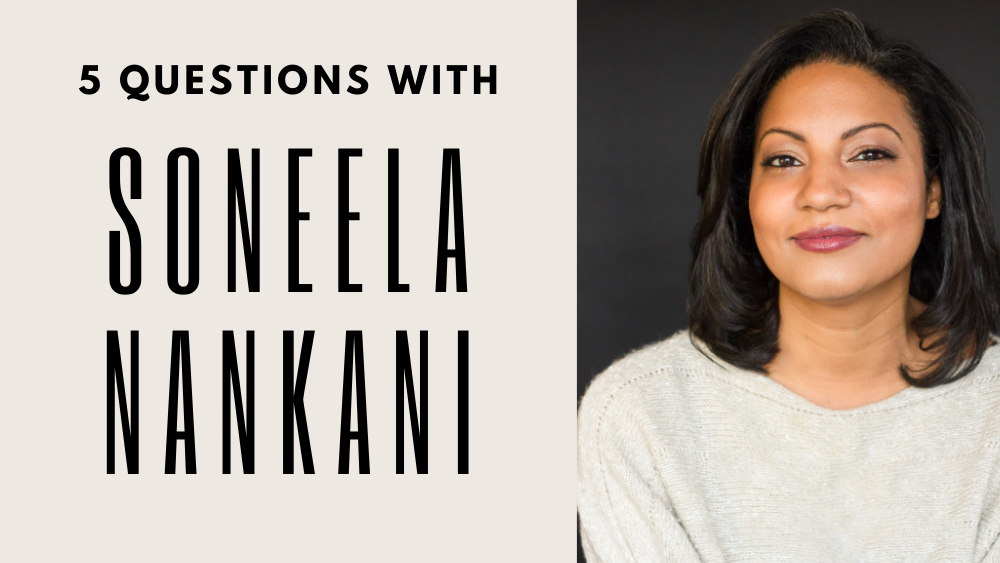 If you listen to audiobooks that explore the South Asian experience, then you're bound to be familiar with today's guest narrator, Soneela Nankani. What you might not know is that Soneela is not easily pigeonholed; she has performed a wide variety of genres, including fantasy, nonfiction, self-help, and children's titles.
I discovered Soneela through my love of non-Western fantasy, such as S.A. Chakraborty's Daevabad Trilogy (start with THE CITY OF BRASS) and Roshani Chokshi's middle-grade Pandava series (start with ARU SHAH AND THE END OF TIME), and have become a true fan over the years after listening to a wide range of her titles.
Soneela draws on her acting experience, love of travel, and multicultural background to enrich her work as a voice performer. The audiobooks featured today underscore her impressive talent.
5 Audiobooks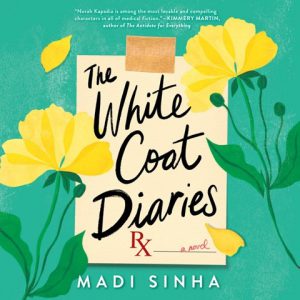 Set in Philadelphia, THE WHITE COAT DIARIES by Madi Sinha explores how a 20-something intern attempts to balance her multiple roles, especially those of doctor, daughter, friend, and lover. When her ideal job at a prestigious hospital begins to lose its shine, Norah must figure out her priorities and determine the kind of person, and doctor, she hopes to be. Soneela's performance teases out the characters' individual traits, especially Norah's growth from student to professional.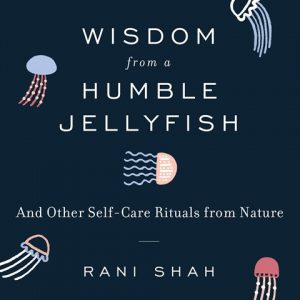 Nature lovers take note! Rani Shah's WISDOM FROM A HUMBLE JELLYFISH shows us how the observed behavior of animals and natural life of plants can help us find solace in our everyday life. This short audiobook reminds us that taking a moment to relax (like jellyfish) or to turn an annoyance into a positive (like oysters) can help us move forward and find gratitude. The overall message may not be unique, but Soneela's performance highlights the wonder of science and the author's lighthearted humor, offering an oasis from a troubled world.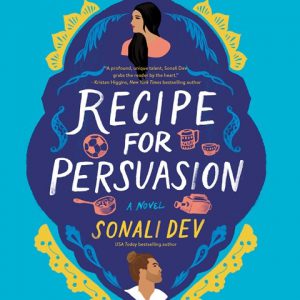 Sonali Dev's RECIPE FOR PERSUASION is a rom-com with the double fun of being both a modern retelling of Jane Austen's PERSUASION mixed and a wink to reality TV. In an effort to save her family's restaurant, Ashna agrees to participate in a "cooking with the stars" type of show, little knowing that the guy she will be paired with is her long-lost first love. Soneela meets all the challenges of this audiobook, balancing the characters' darker emotions with the story's humor and believably voicing the variety of accents needed in this satisfying romance.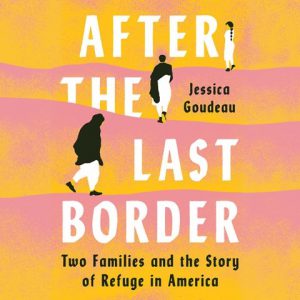 AFTER THE LAST BORDER by Jessica Goudea is a no-holds-barred investigation into what it's like to seek asylum in America in the 21st century. Journalist Goudea focuses on two women, Mu Naw from Myanmar and Hasna from Syria, who escaped war-torn countries under horrific circumstances to make a new home in Austin, Texas. As these two stories show, the families' commonalities didn't afford them equal opportunities in the United States. As a Christian, Mu Naw found a mostly welcoming community, whereas Hasna, a Muslim, faced distrust and fear. Soneela's sensitive performance of this important audiobook is emotionally strong and respectful.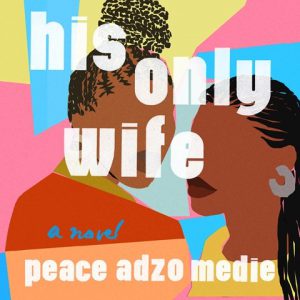 Set in Ghana, HIS ONLY WIFE, by Peace Adzo Medie, looks at what happens when a poor village girl accepts an arranged marriage to one of the richest, hottest catches of the big city. Unfortunately, Afi soon learns that her groom is not willing to give up his Liberian mistress. Not to be outplayed, and after being coached by a member of her in-laws' household, Afi embraces her new resources, creating a life she never dreamed possible. Soneela's spot-on pacing brings out the humor and pain of this African story of feminism, marriage, and family.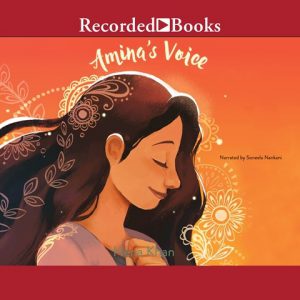 And an honorable mention for Soneela's children's audiobook performances. It's not easy being a middle schooler. AMINA'S VOICE, by Hena Khan, takes the universal middle-school themes of changing friendships, facing new challenges, and staying true to oneself and places them in a multi-cultural community. Amina struggles with embracing everyday American values while staying true to her Pakistani and Muslim roots, faces discrimination, and wonders about her friends' choices, all while trying to find her own inner strength. Soneela adapts her voice to the full cast of characters, taking on a youthful, lively tone for the children and appropriately deeper tones for the adults, bringing this sweet and relatable story to life.
5 Questions
Now that I've helped you add to your growing must-listen-to list, it's time to Take 5 and get to know more about Soneela Nankani, both professionally and personally.
AudioFile: What is the one thing you wish you knew before you recorded your first book?
Soneela Nankani: How much you have to prepare both mentally and physically to narrate for several hours, and how to take care of yourself during a long session. After my first full-day session, I went straight home and slept for three hours!
AF: Tell us something surprising about yourself.
SN: I do a lot of South Asian books, but a lot of people don't know that I'm both Indian and West African (from Ghana). I just did my first book by a Ghanaian author and it was so fun conjure up my maternal family in the telling of that.
AF: What are the pros and cons of recording a series?
SN: I've done a lot of series and I just love them. It's such a gift to be able to witness a character growing, changing, evolving. They start to feel like old friends! For instance, for the last three years, every February I've recorded an Aru Shah book (a hilarious middle-grade adventure series by Roshani Chokshi), usually right around my birthday. As my calendar fills up, I always make sure to hold a week or so for Aru, and I look forward to our time together. I can't wait to see what she's up to.
It can be challenging when there are several years between books. This doesn't happen too often, but once I had to narrate two books in a series that were published five years apart. Even though I had my old notes and voice samples, I had to go back and read through the first book just to make better sense of the plot in the second one.
AF: What are pros and cons of working on a multi-narrator audiobook?
SN: I love working on multi-narrator books. Especially now that I'm working from home. It's a wonderful way to meet new folks and to connect with old friends. It's a lot of fun, and we always end up bonding over the pleasures and challenges of the particular book. I often work on books that have accents or words or phrases in different languages. In multi-narrator situations it can be challenging to make sure everyone is pronouncing everything the same way. Sometimes the list of corrections for those books can be epic!
AF: What do you always wear and have with you in the recording booth?
SN: Well, these days I'm strictly in a T-shirt and shorts because it gets hot in my home studio. I always have a giant water bottle with me, and I'm partial to these little electrolyte tabs that you can drop into your water. It's cooler now, but in the summer, I would also take a large ice pack in with me. Coffee is officially banned from the booth. I've just spilled it one too many times.
—
Thanks so much, Soneela, for taking a moment to answer my questions. I hadn't thought about the continuity of the pronunciation of non-English words across a multi-narrator audiobook. I can only imagine the number of decisions and corrections!
For more audiobooks performed by Soneela Nankani, check out her audiography.

Soneela Nankani photo by Jody Christopherson.