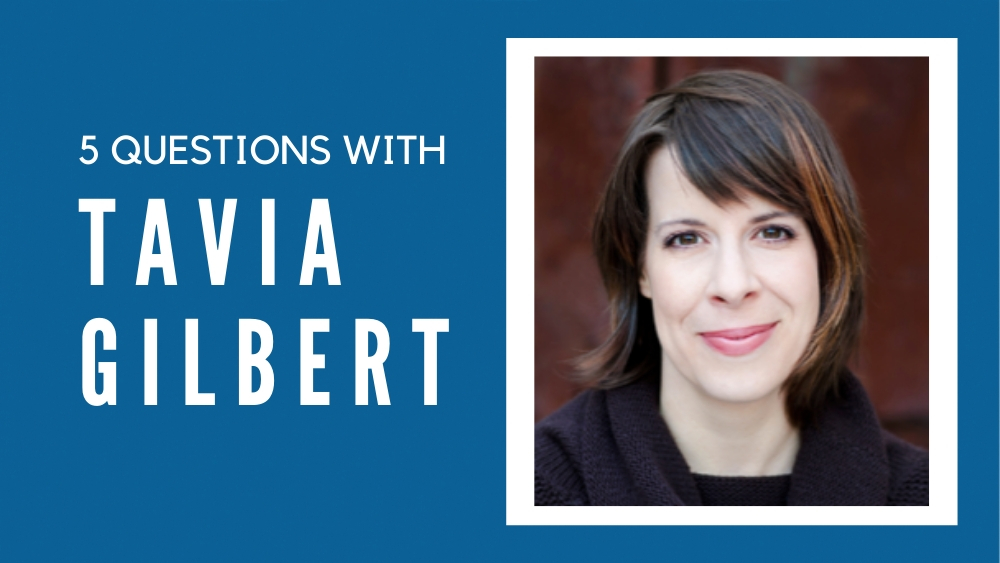 Help me give a big welcome to award-winning narrator Tavia Gilbert, my guest for today's Take 5 post. Like many of you, I'm a big fan of Tavia's work, and I especially appreciate her characterizations and the way she can draw me into a story. I can always count on Tavia to enhance the excitement of action scenes while also finding the emotional heart of the characters, no matter the genre.
Before I introduce you to some of Tavia's more recent solo performances, I can't help but mention two don't-miss multi-cast audiobooks that feature her voice. If you're looking for something to listen to with your family, then you simply must pick the latest audio edition of CHARLOTTE'S WEB, with its all-star cast. You'll love the way Tavia voices the barnyard geese. For some needed escapist listening, give THE BOOK CHARMER a try. In this sweet, small-town story, Tavia highlights a young woman's blossoming from guarded loner into loving aunt and friend.
The following audiobooks are great examples of Tavia's versatility. Through these performances, she takes us into the past, tests our faith, and helps us navigate a thriller. Enjoy!
5 Audiobooks
THE PERFECT LIAR, a domestic thriller by Thomas Christopher Greene, introduces us to an art-scene couple whose happy second-chance marriage is put in jeopardy after their well-buried secrets threaten to spill out. Max's hidden past may have caught the attention of a blackmailer, but Susannah hasn't been completely honest either. Tavia creates consistently believable characters, tweaking her delivery as the couple moves from wedded bliss to distrust and fear and keeping us on our toes as we wonder if anyone will survive this relationship unscathed.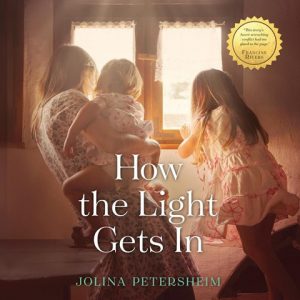 Jolina Petersheim's HOW THE LIGHT GETS IN is a the story of a young Mennonite family that is torn apart after Ruth's husband and her father-in-law are killed while doing missionary work in Afghanistan. Intending a short stay at her late husband's family farm to regroup and grieve, Ruth's plans are put aside when she's given a second chance at a new life with a new man, until she is presented with an almost impossible choice. Tavia's performance focuses on the contrasts between Ruth's past and present as well as the complex path we travel to grace and redemption. This audiobook was a 2020 Audie Award winner in the category of Faith-Based Fiction and Nonfiction.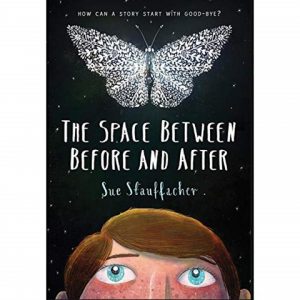 Tavia's skills at portraying characters of different ages, genders, and nationalities are clearly heard in THE SPACE BETWEEN BEFORE AND AFTER by Sue Stauffacher. This children's audiobook explores a number of tough issues from the perspective of a 10-year-old boy whose mother suddenly disappears when her depression becomes overwhelming. With the help of others, including an elderly neighbor, family, and friends, Thomas finds a way to cope with reality by relying on his imagination. This audiobook is appropriate for the whole family.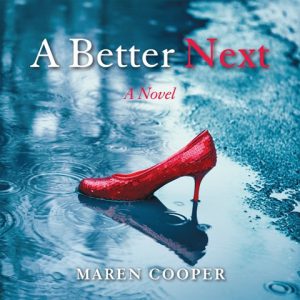 The crisis point in Maren Cooper's A BETTER NEXT is a failed marriage, but the focus is on strong female friendships and the possibilities of moving on and envisioning a better future. When Jess's husband leaves her for a new job in a new state with a younger woman, she turns to her friends for support and understanding. Tavia's delivery of Jess's very emotional journey to independence is powerful without becoming melodramatic, closing the distance between listener and characters.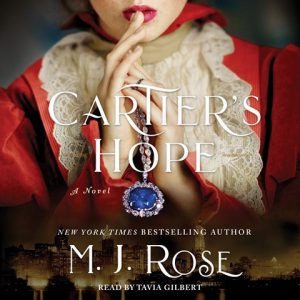 If you listen to historical fiction, then author M.J. Rose's newest, CARTIER'S HOPE, should be your next audiobook. On the surface, this is the story of how Vera, a budding journalist, hides her privileged background to report on social injustices and then later attempts to expose Cartier for trying to increase interest in his Hope Diamond via false tales about its ill-luck. On a deeper level, this audiobook explores several still-unresolved social issues, such as the socioeconomic gap, sexual identity, and tolerance. Tavia handles the needed accents and varied characterizations with aplomb.
5 Questions
I hope I've encouraged you fill your listening wish list with audiobooks read by Tavia Gilbert. Before you press play on the first one, take a moment to learn more about Tavia, including what she does when she's not in the recording booth.
AudioFile: What genre will you always say yes to and why?
Tavia Gilbert: Audible once named me the "Master of Memoir," and that was such a wonderful thing to hear, because I love narrating, reading, and even writing creative nonfiction. Memoir is what I studied in grad school. It's such an intimate form. I've been blessed to narrate memoirs or first-person narratives such as BEING MEAN by Patricia Eagle, HOUSE LESSONS by Erica Bauermeister, and NERVES OF STEEL by Tammi Jo Schults. These are all very different memoirs, but each is powerful and inspiring in its own way. I feel deep commitment to the author of any book I perform, but when I'm voicing someone's personal story of transformation, the task and the privilege are even greater.
AF: What are you doing when you're not working?
TG: I sing in a wonderful choir in New York City, The Choral Society of Grace Church. I've sung all my life and have been with the Choral Society for six years, after singing with Renaissance Voices in Maine for ten. We're scheduled to perform at Lincoln Center in May, and I'm crossing my fingers that we'll be able to continue with the concert. For now, though rehearsals are canceled, our choir conductor remains rigorous—we're practicing the material with online resources and new study guides, and we're continuing to advance as a choir of 150, because we are all devoted to the choir and to achieving the high quality for which we're known. Choral singing is a major part of my life.
I am also passionate about photography. JuniperStreetPhotography.com is a small but growing business, and it means a great deal to me to walk through the world looking for the peace, goodwill, and joy that I intend to shoot and share with the world. As things have become so surreal lately, and social distancing is the need for now, I'm enjoying time alone, photographing the newly budding crocus, daffodils, and tulips in my neighborhood. It's encouraging that life cycles continue, despite challenging and uncertain times. And the life force of a budding plant is so comforting and present. I am heartened by the practice of photography.
AF: What are the pros and cons of recording a series?
TG: If you love the series and you respect the worldview and the characters, and the women, particularly, are strong and independent and self-actualized, and the plot stays engaging and fresh over the long-term, a series can be a delight. It can be difficult to sustain character voice continuity over a long series—not because you lose track of characters, because a pro should keep clips and notes and be able to return to voices throughout the years. But our voices change over time, too, so even while attending to the technical aspects of character voice continuity, my voice is much richer and more textured and refined now than it was ten years ago, so a series I started a decade ago will just not quite sound the same. I'm very blessed to have Jeaniene Frost's NIGHT HUNTRESS series, as well as the spin-offs, in my repertoire, and I love them and recognize my good fortune in getting to perform them. Louise Luna has written two books in the Alice Vega series, and I hope she'll write 25 more. She's an absolutely exquisite writer.
AF: When reading for pleasure, do you find yourself creating voices and thinking about pacing and emphasis?
TG: No! It is very rare that I read for pleasure these days. I just don't have much time available, between recording books and prepping to record them. But when I do read just for the joy of reading, it is a completely different experience. I am not thinking about all the things I need to consider as a performer—I'm just luxuriating in the story. It's a joy, and I truly never get tired of reading. I'd be thrilled to read more for pleasure, for sure. Someday, I hope!
AF: What kinds of things do you do to protect your voice in your down time?
TG: I don't smoke or hang out near cigarettes. That would be vocal suicide. I try to get enough sleep—at least seven hours a night. I drink a gallon of water a day. I sing in the choir and take private singing lessons, as well. I stay physically fit and exercise regularly, including cardio, which is good for the strength of my lungs and my breathing capacity. I don't drink wine often, as I find that very drying. I see my doctor regularly, and I'm proactive about my overall health and well-being. All of this helps support a strong, flexible, responsive vocal instrument.
—
Thanks so much, Tavia, for taking the time to talk with us today about your narrating career. It's wonderful to hear that you've been able to maintain your singing and photography, even under the constraints of social distancing.
To find even more audiobooks performed by Tavia Gilbert, be sure to browse our reviews of her work.