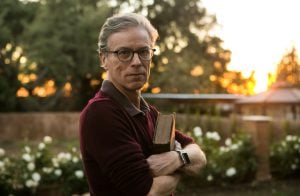 Is there genre or style today's Take 5 narrator can't handle? If there is, I haven't discovered it. Veteran narrator Simon Vance is one of the kings of audiobook performers and a favorite of thousands of listeners (me included).
Simon's voice has been my companion for many hours over the years, helping me navigate fantasy worlds as well as the very real past and contemporary culture. I'm sure you agree: If you see his name is on an audiobook cover, you know the performance will be fabulous.
My difficult chore was to select just five titles to showcase the extent of Simon's solo work. I wanted to give you a taste of audiobooks in different genres and geared to a variety of listeners. Instead of digging deep into Simon's vast backlist, I decided to focus on relatively newer releases, adding to my own wish list in the process.
Whether you're in mood for family listening, literary fiction, or a good mystery, Simon Vance will be there to take you through the story.
5 Audiobooks
A sudden plague affects the population of a cold, isolated outpost. Dystopian future? No. Jody Shields's novel THE WINTER STATION is based on the true story of a highly infectious disease that overtook a Manchurian town in 1910. Simon's affecting performance will have you shivering in the Russian winter, checking your body for symptoms, and rooting for the doctor who is desperately trying to contain the outbreak.
Elizabeth George's new mystery, THE PUNISHMENT SHE DESERVES, tackles contemporary issues (such as alcoholism) along with murder as Detective Lynley and Sergeant Havers leave London to track down a killer in rural England. Simon differentiates among a large cast of characters and handles both the tension and the humor perfectly.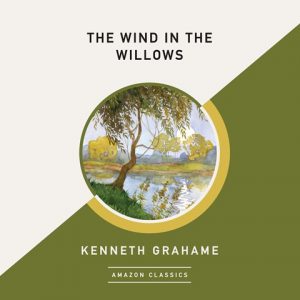 I couldn't resist listening to Simon read one of my favorite childhood books, Kenneth Grahame's THE WIND IN THE WILLOWS. His characterizations for the beloved animal friends are suburb, capturing Toad's recklessness and Rat's wonder at all he sees and hears. Simon's heartfelt performance makes Grahame's prose shine, and you and your family will want to listen to this audiobook again and again. In a Behind the Mic video, Simon talks about the joy of narrating children's classics.
True-life heroes can be found everywhere; you may have even grown up with one. Sarah Kaminsky's biography of her father, ALDOFO KAMINSKY: A FORGER'S LIFE, recounts how he devoted almost three decades to saving the persecuted from certain death by providing them with fake passports and other documents that could help win their freedom. Simon's work on this audiobook strongly connects listeners to this amazing and inspiring story.
I imagine that reading a short story collection could be tricky for a narrator, because characters and mood and settings change after only a handful of pages. Simon is well up to challenge, as proven by his delivery of William Trevor's LAST STORIES. Simon skillfully projects the range of emotions and relationships embodied in these tales, many of which focus on everyday struggles to stay afloat.
5 Questions
Have you finished downloading your next Simon Vance-narrated audiobook? Before you start listening, take a minute to get to know the man who brings all those different stories to life, just for us. I'm thrilled that Simon agreed to Take 5 out of his busy life to answer my questions.
AudioFile Magazine: What is the one thing you wish you knew before you recorded your first book?
Simon Vance: I don't think there is any "one" thing that would have meant I did a better job . . . or maybe there was—but I'm not sure I would have wanted to have known it. It's important to serve your apprenticeship, learning from those around you as well as from your own experience. Maybe I wouldn't have become the narrator I am had I been handed the answers early on. Of course, I had the advantage of time—these days narrators need to get up to speed, to excel, as it were, so much more quickly. So I'd probably feel very differently if I were entering the profession now.
AFM: Tell us something surprising about yourself.
SV: I meditate every day.
AFM: What are you doing when you're not working?
SV: I've been trying to improve my guitar playing for 50 years. I love listening to music (when I'm not completely mangling it by playing stuff myself). I love gardening, and we're in the process of designing and planting our garden in our new house (we have bare-root roses and fruit trees coming at the end of the month). There's so much good drama on television that I'd be lying if I didn't add that I love watching some of the best dramas and comedies.
AFM: What's your most embarrassing moment in the recording booth?
SV: I work alone 99 percent of the time, so nothing I do in the booth is embarrassing as it's entirely under my control and no one sees/hears me. . . . But "around" the recording, I think it's something that happened as a result of my being one of the first adopters of computer recording and editing back in 1996. I recorded a biography of Ian Fleming, and in one part of the book he says the F word. No problem. But, for some reason, I had accidentally copied that part of the audio file (that word in particular) into an entirely unconnected and innocent part of the recording, and it passed through proofing. It took a couple of calls to the publisher from somewhat surprised listeners to have it sent back to me for correction.
Oh, and around the same time I mispronounced "Hoboken" in a biography of Sinatra—duh! That was caught in proofing (many, many times), and I felt very foolish.
AFM: What do you always wear in the recording booth?
SV: I always wear clothing. Sometimes more, sometimes less.
Thanks so much, Simon, for playing along. I love the story of the F word. Oops! It sounds like you have a lovely out-of-studio life, with the calming effects of meditation, gardening, and music. Good luck with your upcoming plantings.
For more audiobooks performed by Simon Vance, check out his reviews on the AudioFile website.