Today's guest narrator, Thérèse Plummer, reigns supreme in the court of audiobook series. You may be most familiar with her performances of romantic fiction, but Thérèse's voice is also recognizable to fans of paranormal, mystery, thriller, and fantasy series. Thérèse, of course, has narrated plenty of standalone audiobooks, including general fiction, children's stories, and nonfiction.
Reviewers and casual listeners alike count on Thérèse to home in on the key mood of the story. She delivers all the feelings in a romance and builds the tension and drama in a thriller, while simultaneously capturing the characters' personalities. The audiobooks I recommend today highlight Thérèse's talents and the range of her work.
5 Audiobooks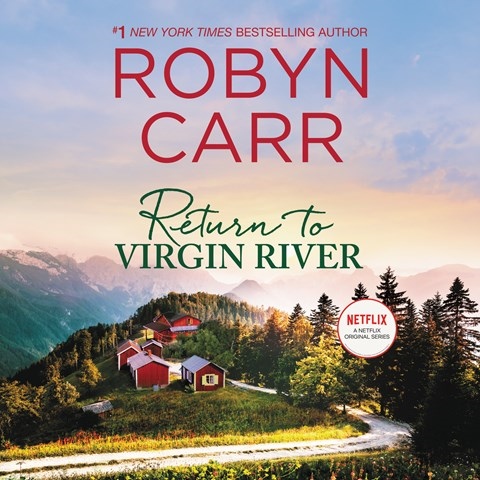 It's impossible to talk about Thérèse without mentioning Robyn Carr. The connection between narrator and author is near-perfect, and though Thérèse has performed many of Carr's novels, the Virgin River series is usually the first to come to mind. Starting with VIRGIN RIVER, which introduces listeners to the town and to central characters, this feel-good romantic fiction series set in northern California is a fan favorite. Thérèse's consistent characterizations, heartfelt delivery, and respect for Carr's work shine across all 21 audiobooks. The most recent entry, RETURN TO VIRGIN RIVER, features a woman who moves to town to work and heal after her mother's death. What she's surprised to find is new friends, a love of animals, and a budding romance.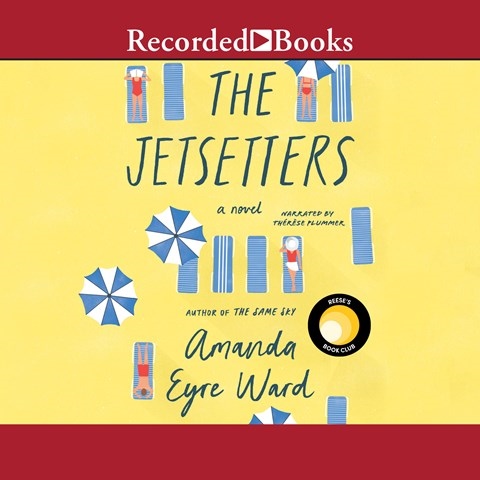 The dysfunctional Perkins family is the focus of Amanda Eyre Ward's THE JETSETTERS. This Reese's Book Club pick and AudioFile Earphones Award winner is about a widowed mother of a certain age who hopes to reconnect with her grown children on a Mediterranean cruise. Each family member has a secret—for example, the son is gay, and the younger daughter is contemplating divorce—which is revealed over the course of the shipboard vacation. Thérèse successfully portrays the characters' complex emotions and links listeners to the tough contemporary issues faced by the Perkinses.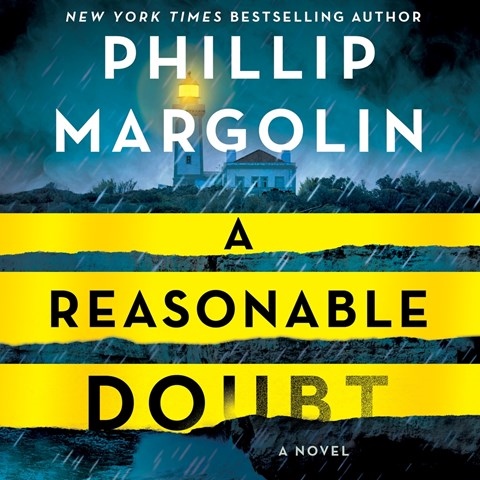 Although A REASONABLE DOUBT is the third installment in Phillip Margolin's Robin Lockwood thriller series set in Portland, Oregon, it can easily be listened to as a standalone story. When a Las Vegas magician asks Lockwood, a top-notch lawyer, to help him obtain a patent on an illusion, she ends up becoming involved in a complicated case of murder, theft, and deception. Thérèse, who also narrated the earlier books in the series, creates distinct voices for the characters, keeping listeners engaged and on track as they try figure out whether Lockwood's disappearing acts are sleight of hand or something more sinister.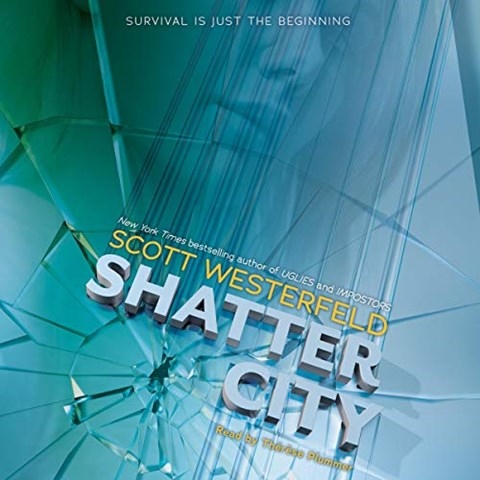 Scott Westerfeld's SHATTER CITY, the second audiobook in the young adult science fiction/dystopian Imposter series, gives Thérèse a platform to highlight her skills in voice acting. While Frey is on a mission to find her missing twin sister, she learns that the citizens of a neighboring realm are able to control their emotions through an arm patch: Press "calm" when stressed or "buzz" when feeling drained, for example. Thérèse meets the two main challenges of this audiobook: spot-on pacing to match the action scenes and changes in vocal tone to mimic the effects of the synthesized emotions.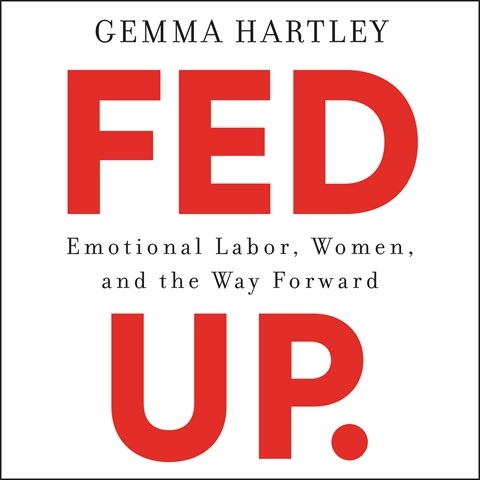 Most women can relate to the issues explored by journalist Gemma Hartley in her FED UP: Emotional Labor, Women, and the Way Forward. In this accessible audiobook, Hartley examines the narrow path women travel when balancing personal fulfillment with the fact that they're—still—the primary managers of their family's physical and emotional spaces. Through science, interviews, and personal stories, Harley offers both empathy and advice for rising above outdated cultural norms. Thérèse takes a conversational tone, clearly distinguishing between quotes and narrative text, making it easy for listeners to get the most out of this important text.
5 Questions
Whether I pick up romantic fiction or a treatise on true-life relationship politics, I count on Thérèse Plummer to skillfully guide me through the audiobook. After many hours of listening to her performances, I thought it was time to get to know her. Read on to see how she answered my questions.
AudioFile: What is the one thing you wish you knew before you recorded your first book?
Thérèse Plummer: That I am going to mess up and make mistakes and to not take myself so seriously but to have fun telling the story. I suffer from perfectionism and was so hard on myself in the beginning to do everything "right." What I wish I could tell myself in that first session recording Susan Mallery's DELICIOUS was to have fun and just tell the story. Mike Charzuk at Audible was my engineer and helped me keep a good sense of humor. To this day, if I am not laughing during a session with my engineer and/or director, I know something is wrong.
AF: Tell us something surprising about yourself.
TP: I worked for five years as an adolescent counselor after I graduated from King's College with my degree with High Honors in Psychology. I utilized the arts in my therapeutic treatment plans. I came to New York City at 26 years old to pursue acting as a profession, knowing I could always be of love and service to young people in this new capacity. The universe has given the gift of storytelling and telling my own story through podcast interviews, and I hope I have helped at least one person along the way.
AF: What are the pros and cons of recording a series?
TP: I was so lucky to narrate Robyn Carr's Virgin River series, which then let to Carr's Thunder Point and Sullivan's Crossing series. Pros are an amazing relationship with Robyn Carr and the fans after all these years. Cons are becoming attached to the characters and series, and it's sad when the series ends. The fans keep it all worthwhile—and now that Virgin River is heading into season 3 on Netflix, it is an absolute blast to watch Robyn's stories stake another form. I landed a small role in season 1, and the transition from playing every character in the audiobooks to one role in the television series was so easy! LOL.
AF: What's your go-to beverage when recording? How about after recording?
TP: I will have multiple beverages in the booth with me and hope to God I will not spill anything. Some of my favs are water, coffee, tea, and kombucha as well as pomegranate Burt's Bees balm for my lips. Talking all day makes for a dry lip. This combo has helped me tell many a story. After my session it's usually room temperature water, and a lot of it. I won't talk much either.
AF: Is it difficult to avoid foreshadowing, especially when recording a book with a twist?
TP: I love this question. Personally, there is nothing worse than figuring out who the killer is early on because of giveaways. I have learned, even though I know who the killer is and how the book will end, to stay in the moment and stay with the story. Honoring the text and the plot, with all its twists and turns in real time, makes it so enjoyable for the listening. I am a huge crime fan and love to honor these stories with all the acting chops I got.
-----------------
Thanks so much, Thérèse, for taking time out of your day to talk with us. I bet your psychology background has informed your portrayals of all kinds of characters over the years. I haven't yet watched the streaming series Virgin River, but I can't wait to look for you in the first season.
For more audiobooks performed by Thérèse Plummer, browse her audiography.