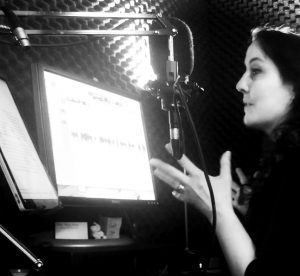 This month I welcome Xe Sands to the Take 5 stage. Xe's soft voice and emotionally deep performances have enhanced hundreds of audiobooks across many genres. She is particularly skilled at tightening the gap between author and listener while still leaving enough room to let us experience our own reactions to the story, whether it's literary fiction, mystery, or romance.
As I picked five audiobooks to showcase Xe's work, I couldn't help but be biased by my own favorites, which lean heavily toward literary fiction. I should point out, though, that Xe has many devoted romance-loving fans and has earned much praise for her performances of a variety of nonfiction titles as well.
5 Audiobooks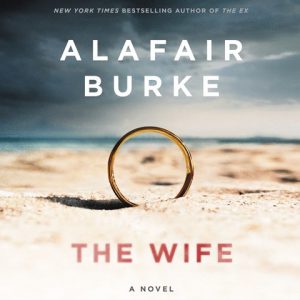 In THE WIFE by Alafair Burke, a woman must make the choice to hide her own secrets or defend her husband against unthinkable accusations. Xe's Earphones Award–winning performance amps up the tension as Angela's marriage begins to teeter and the truth becomes hard to pinpoint. At the same time, Xe gives nothing away, leaving listeners to guess the ending all on their own. Is "the husband" really as charming as he seems?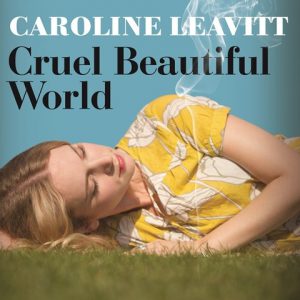 Xe beautifully meets the challenges of narrating Caroline Leavitt's CRUEL BEAUTIFUL WORLD, a story about a high-school student who ran away from home with her English teacher. Not only does Xe provide believable voices for characters of different ages and temperaments but she subtly changes her tone to convey teenage Lucy's loss of innocence, her lover's true colors, and her sister's increasing desperation to find her. In a Behind-the-Mic video, Xe tells us what it was like to record this novel.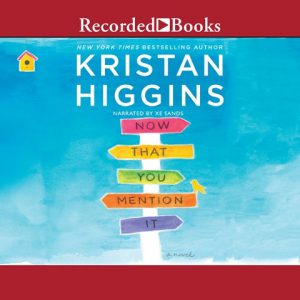 Kristan Higgins's NOW THAT YOU MENTION IT provides a good vehicle for spotlighting Xe's skills at portraying convincing emotional tangles. After surviving both an accident and a romantic breakup, Nora decides to take a leave from her Boston medical career, returning to her native Maine to heal. Her island home, however, is no haven, and there she's forced to confront the people who made her childhood so miserable. Xe's heartfelt performance takes us from tears to laughter as Nora learns to tap her inner strength.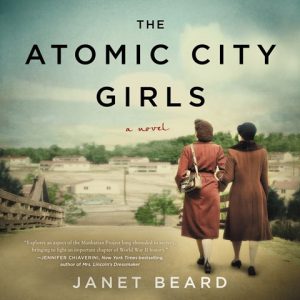 THE ATOMIC CITY GIRLS by Janet Beard introduces us to some of the people who lived and worked at the secret Oak Ridge, Tennessee, atomic bomb research center in the 1940s. Xe gives each of the main characters—a country girl and her street-smart roommate, a lonely older janitor, and a conflicted physicist—a distinct voice and accent, perfectly capturing their personalities and keeping listeners connected to their choices and fate.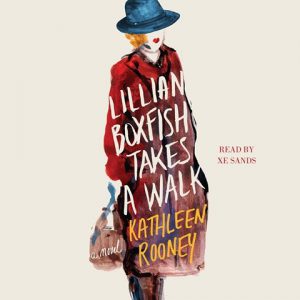 LILLIAN BOXFISH TAKES A WALK, by Kathleen Rooney, is told by a single character over the course of a stroll through Manhattan on New Year's Eve. Xe virtually embodies Lillian as the 84-year-old woman both conducts an inner dialogue of the unfolding of her life and meets and chats with random people she crosses paths with on her journey. The audiobook concludes with a discussion between Rooney and Xe that illuminates the author-narrator relationship.
5 Questions
Now that you've filled up your audiobook wish list, it's time to get to know Xe Sands a little bit better. Who is that woman whose voice has read us so many great stories?
AudioFile Magazine: What is the one thing you wish you knew before you recorded your first book?
Xe Sands: I wish I had heard Ira Glass's thoughtful and inspirational 2009 interview with Current TV on the nature of storytelling, in which Glass delivers a bit of absolute truth on the "gap," that space that exists between your "taste" or sense of what you want to accomplish creatively and what you can actually accomplish when you first start out. As he calls out with compassionate bluntness (and forgive the long but truncated quote), "What nobody tells people who are beginners—and I really wish someone had told this to me . . . is that all of us who do creative work, we get into it because we have good taste. But there is this gap. For the first couple years you make stuff, and it's just not that good. It's trying to be good, it has potential, but it's not. . . . It's gonna take a while. It's normal to take a while. You've just gotta fight your way through." The point is that when we start out, we are full of passion for storytelling and are pretty convinced that we've got something to offer that is just amAZing, if someone would just give us a chance. And while that is often true, what we're still missing is the honing of that raw talent into smooth, steady skill. It takes time and continuous education to bridge that creative "gap" between our desire and our execution. And if we don't realize that it's an ongoing process, it can be demoralizing for folks starting out when they rush right up to the edge of that gap and don't know how to get across.
So the one thing I wish I knew is actually a two-parter: Don't rush in in a fit of impatience, because it's going to take some time to get from where you are now—with all that raw talent and passion—to where you will be after you start working to hone that raw talent and passion into a professional skill. And those early audiobooks? They are out there . . . forever.
AFM: What genre will you always say yes to and why?
XS: Literary fiction! I'll always say yes to literary fiction . . . stories that are beautifully written about complex characters who don't always do/say what I want them to? Heaven.
AFM: What are you doing when you're not working?
XS: I love taking road trips to the various ghost towns and abandoned sites in the Pacific Northwest: Bordeaux, Bodie, a church out in Grass Valley, a shipwreck on a beach in Oregon. There's something about the combination of beauty and ruin that resonates. My poor husband . . . I spend an inordinate amount of time taking endless pictures of such derelicts sites and tossing them up on Instagram.
AFM: What's your first reaction when someone asks you how they can become an audiobook narrator?
XS: That they likely have little idea what it will really be like in the early years. Then we have a very honest conversation, and after, if I haven't accidentally scared them off, we get into the nuts and bolts (and how much it will cost)  of how to do this challenging but incredibly rewarding thing.
AFM: What's your most embarrassing moment in the recording booth?
XS: This is a little tough to answer . . . as I work solo, there is usually only the quiet embarrassment of having to read "sexy times" (as my family refers to them) that go way beyond my personal comfort zone. However, when my recording booth was in our garage, I would often be interrupted while recording by large, loud trucks passing by my house, or airplanes flying overhead. And one day, when I had been interrupted multiple times while just trying to get through this one line, I . . . well, I finally lost it and stormed out of my booth, flung open the garage door and shouted into the "outside" at no one in particular, some nonsense about the trucks existing to torment me. It's at those moments that I'm very glad most of my neighbors do NOT work at home during the day. After I calmed down and got back in the booth, yet another series of cars and then a truck cruised by and I decided to just turn it into an outtake for listeners, so at least a small, amusing silver lining is there.
Thanks so much, Xe for agreeing to talk with me today. Besides laughing at the image of you shouting to the universe about trucks, I'm asking myself this: How is it that I didn't know about your Instagram feed? I'm following now. And I'm also following your career, awaiting your next audiobook performance.
For more audiobooks from Xe Sands, be sure to check out our reviews.