A good book read by a talented narrator is a beautiful thing, but a good book performed by a full cast of talented narrators can bring a whole new dimension to the listening experience. Here are a few examples where the full cast really elevates the audiobook.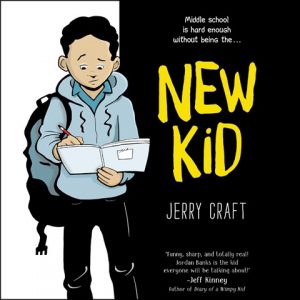 NEW KID
by Jerry Craft, read by Jesus Del Orden, Nile Bullock, Robin Miles, Guy Lockard, Peyton Lusk, Rebecca Soler, Dan Bittner, Phoebe Strole, Marc Thompson
Harper Audio, Ages 8+
Jordan is anxious about starting seventh grade at an upscale private school where he is one of only a few kids of color. From the start, listeners can tell this is not a traditional audiobook, which is fitting because it's based on a graphic novel. But what is lost without the illustrations is made up for by immersive sound effects, music, and a dramatic reading by a full cast.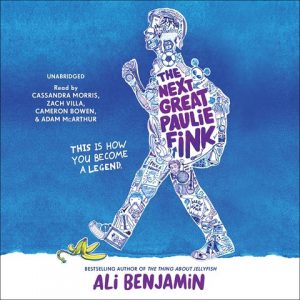 THE NEXT GREAT PAULIE FINK
by Ali Benjamin, read by Cassandra Morris, Zach Villa, Cameron Bowen, Adam McArthur
Hachette Audio, Ages 8+
When legendary prankster Paulie Fink doesn't return for seventh grade, his classmates miss him so much that they hold a contest to name the next great Paulie Fink. The new girl, Caitlyn, acts as organizer and judge. Four narrators bring to life an unusual rural school in Vermont as they tell their hilarious stories about the infamous Paulie.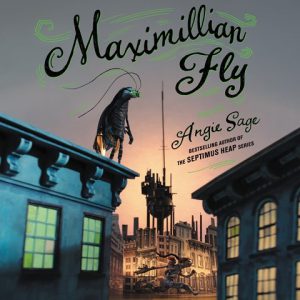 MAXIMILLIAN FLY
by Angie Sage, read by Fred Berman, Tavia Gilbert, Sean Welsh Brown, Jennifer Nittoso, Josh Hurley
Harper Audio, Ages 8+
Gentle homebody Maximillian Fly looks like a human-sized cockroach in his bleak dystopian world. When he harbors two fugitive children, his quiet life takes an adventurous turn. All of the narrators in the ensemble cast contribute to the richness of the story's characters and help listeners keep track of the story's different perspectives.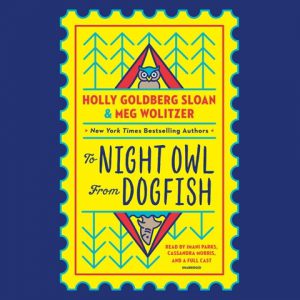 TO NIGHT OWL FROM DOGFISH
by Holly Goldberg Sloan, Meg Wolitzer, read by Imani Parks, Cassandra Morris, and a Full Cast.
Listening Library, Ages 10+
In a story composed entirely of emails and letters, narrators Imani Parks and Cassandra Morris capture the indignation and then increasing enthusiasm of two 12-year-old girls, Avery and Bett, who are thrown together when their fathers enter a relationship. Other narrators from the ensemble vividly portray several other memorable characters, including Avery's high-strung father and Bett's lively grandmother.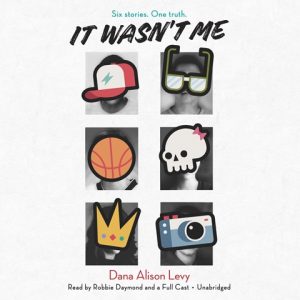 IT WASN'T ME
by Dana Alison Levy, read by Robbie Daymond, Ramon de Ocampo, Emily Woo Zeller, Jorjeana Marie, Adenrele Ojo, JB Adkins, Caz Harleaux
Listening Library, Ages 10+
Seven narrators portray a diverse cast of characters in this seventh-grade version of The Breakfast Club. When Theo's photography project is mysteriously vandalized at school, he and the five suspects must come to school over vacation for "Justice Circle." Robbie Daymond portrays Theo with authenticity and heart. "Status reports" read in the voices of the teacher and each suspect help reveal their deeper personalities.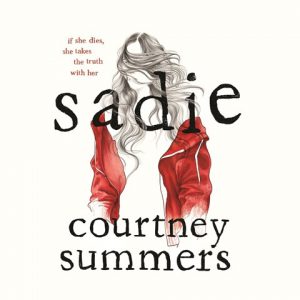 SADIE
by Courtney Summers, read by Rebecca Soler, Dan Bittner, Gabra Zackman, and a Full Cast
Macmillan Audio, Ages 14+
AudioFile Earphones Award
Winner of the 2019 Odyssey Award and the 2019 Audie Award for Young Adult, Sadie is a tense story of abuse and revenge narrated by a cast of more than 30 voices. The multiple voices bring a whole new dimension to the listening experience, amplifying the power of this unforgettable audiobook.
Jesus Del Orden photo courtesy of Harper Audio, art courtesy of Jerry Craft.