In honor of Asian American and Pacific Islander (AAPI) Heritage Month, which we celebrate in May, I wanted to highlight a selection of audiobook mysteries written by AAPI authors and featuring characters who are of AAPI descent that take place in the U.S.
An NBC News article titled Why it matters that Asian representation is growing in audiobooks (March 9, 2020) points out that "For Asian American authors, casting the right narrator for their audiobook can be a make-or-break decision. An actor who is familiar with a book's language, nuance and customs ensures a story is told authentically, while someone inexperienced may mispronounce foreign words or perform an accent where one isn't required."
The audiobooks below certainly support that statement.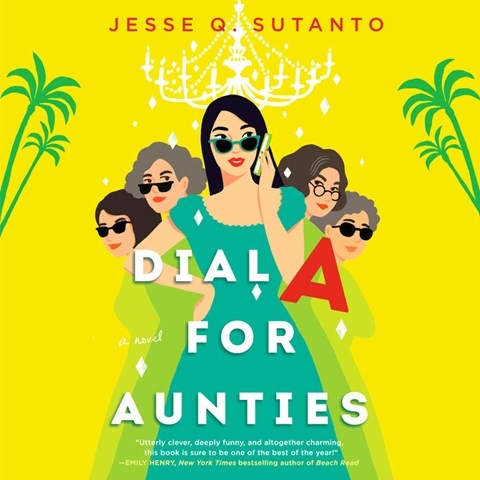 DIAL A FOR AUNTIES by Jesse Q. Sutanto and read by Risa Mei functions on many levels. First, it's a funny, madcap, fast-paced adventure. It's also a romantic comedy with the traditional formula of girl meets boy; girl rejects boy because of feelings of familial obligations; girl bumps into boy years later in the middle of trying to hide a dead body. And it's an exploration of the cultural demands on a young Chinese Indonesian American woman living in Southern California. Narrator Risa Mei expertly speaks the Indonesian and Chinese words sprinkled throughout as well as the broken English Sutanto uses for the Aunties. I appreciated Sutanto's author's note that explains, "Their grasp of the English language is not a reflection of their intelligence, but a reflection of the sacrifice they have made for us. They are, in essence, trilingual, and I am so proud of this heritage." Sutano expands on this point in a recent piece in Cosmopolitan. While the audiobook is undeniably entertaining, serious topics of filial piety, saving face, and strong belief in curses and superstition are woven into the plot.
Also set in Southern California, and with a twenty-something female heroine growing up in a multi-cultural and multi-lingual environment, is the Lily Wong series by Tori Eldridge, narrated by Natalie Naudus. THE NINJA DAUGHTER introduces listeners to Lily Wong, a martial arts expert. Lily's father is of Norwegian descent, and her mother is Chinese. Naudus has to render a wide variety of accents including Mandarin, Ukrainian, and Korean. The second book in the series, THE NINJA'S BLADE, takes listeners into the underworld of teenage sex trafficking. The third audiobook in the series, THE NINJA BETRAYED will be released in September 2021. Author Tori Eldridge has a similar background to her heroine. Eldridge is of Chinese-Norwegian heritage and holds a fifth-degree black belt. As an aside, Eldridge grew up in Honolulu and graduated from Punahou School with former president Barack Obama. You can hear an interesting interview with Tori Eldridge on the Crime Writers of Color podcast.
Narrator Natalie Naudus is also the voice for the cozy Sassy Cat Mysteries series by Jennifer J. Chow. The first audiobook in the series, MIMI LEE GETS A CLUE, was a 2021 Lefty Award Finalist for Best Humorous Mystery. The series features a talking cat, Marshmallow. The second audiobook, MIMI LEE READS BETWEEN THE LINES was released in November. Mimi, the owner of a dog grooming salon, Hollywoof, finds herself in predicaments which require that she, along with her helpful cat, become amateur sleuths. These are light, entertaining listens which could be just the ticket if you need an audio escape.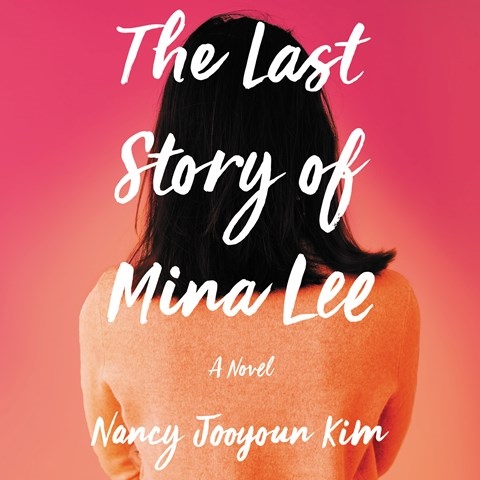 My final recommendation is more a suspenseful novel than a mystery, THE LAST STORY OF MINA LEE by Nancy Jooyoun Kim and read by Greta Jung. Jung has many audiobooks in a variety of genres to her credit, several of which have won Earphones Awards. This novel explores the immigrant experience and the mother-daughter relationship. The audiobook weaves between Margot in 2014 and her mother Mina's life in 1987 before coming to the U.S. from Seoul, having fled North Korea, and her experiences coming to America. In the NBC News article mentioned earlier, Greta Jung points out that she pays close attention to intonation and is uniquely tuned into the subtle differences in how cultural rituals are reflected in language. This knowledge, experience, and language skill can make all the difference in creating an authentic listening experience. You can also read AudioFile's own recent interview with Greta Jung.