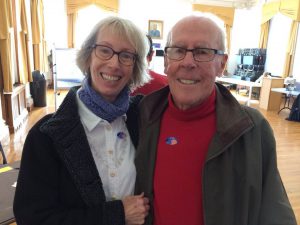 I'm one of those election clerks you'll encounter on November 6, checking off your name and handing out ballots. (And as you can see, my husband and I are voters.) After the polls close, we clerks stay late to check our records and tally ballots that must be hand-counted. Perhaps a voter's marks were too faint for the machine to read or perhaps they voted for Mickey Mouse as a write-in. No matter. Every vote counts, and every election is precious because we have the right to vote.  Personally, I'd also call it a duty. So, herewith, 7 great voting history listens to get you to the polls on Tuesday, November 6.
I'm starting with two audiobooks about women's suffrage because I'm a woman, and because my grandmothers did not have the right to vote until ratification of the 19th Amendment in 1920. Elaine Weiss frames her new history of the fight to win the vote, THE WOMAN'S HOUR, around the battle for Tennessee, poised to become the majority needed for ratification. Importantly, she doesn't shirk from discussing the complex dynamics and pervasive racism among groups for and against the amendment. Tavia Gilbert's clear narration and audio portraits of opposition activists, politicians, and proponents make this an excellent listen.
Serendipitously, Angela P. Dodson's 2017 "REMEMBER THE LADIES" offers an added historical perspective on the same topic by examining the movement well before the era of such famous suffragettes as Susan B. Anthony and Elizabeth Cady Stanton. It's a fascinating and fact-filled listen to which Suzanne Toren's Earphones Award performance brings a personable, engaging tone.
While the 15th Amendment in 1870 gave male citizens of any race the right to vote, it wasn't until the Voting Rights Act of 1965 that the majority of African Americans in the South were able to fulfill that right. Russell Freedman's terrific short history of the era, BECAUSE THEY MARCHED, is movingly read by Rodney Gardiner. It's a young adult book for everyone.
If you'd like a summary of it all, Michael Waldman's THE FIGHT TO VOTE is the audiobook for you. It's a primer on all the ways in which American elections have been manipulated (so many!) and folks have fought for the right to cast a ballot. It's a head-shaking and inspiring listen, which Joe Barrett's stirring narration only improves.
Barrett is also the voice of Geoffrey Cowan's LET THE PEOPLE RULE, an entertaining deep dive into the creation of the primary election system. Yes, I know that primaries now seem to go on forever, but 100 years ago, they didn't exist, and candidates were chosen at national conventions, often in smoky back rooms.  Barrett won an Earphones Award for his outstanding ability to keep all the real-life characters straight and have them, including the irrepressible Teddy Roosevelt, jump off the proverbial page.
Finally, two audiobooks to bring you hope in a time when politics and elections feel so divisive: Jon Meacham's THE SOUL OF AMERICA offers the comfort of history to encourage us to breathe deep and stay calm. Very well read by Fred Sanders, with Meacham reading his own foreword, the book examines all that the country has survived, including voter-exclusion, to share the good news that because "we have come through such darkness before," we will make it.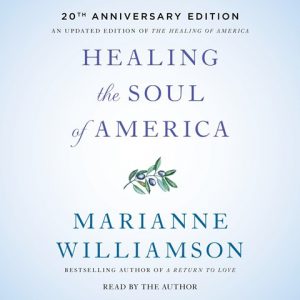 And once you know that we'll survive, let's celebrate the new 20th anniversary edition of Marianne Williamson's HEALING THE SOUL OF AMERICA, read by the author. Thoroughly updated, it's a call by the spiritual writer for all of us to become involved in the political system and thereby make it once again by the people and for the people. Amen. See you at the polls November 6.