The last few years have been a lot. Are you looking to make a change, or maybe to get a head start on your resolutions for the upcoming new year? Attempting to jump start a "new and improved" version of yourself can risk having short-lived, and discouraging, results. But is it possible that you don't need to thoroughly re-create yourself to find contentment or your purpose-driven life? Let these audiobooks help you to discover that you may already have the secret ingredients to shift your perspective and tap into the life you desire.
LIVING ON PURPOSE: Five Deliberate Choices to Realize Fulfillment and Joy
by Amy Eliza Wong, read by the author
Greenleaf Book Group
With a performance that's smart but never preachy, leadership coach Amy Eliza Wong narrates her book about choosing inner dialogue and patterns in life that allow us to move from surviving to thriving, with gentle encouragement. Using her mathematical background, she provides guidance to listeners on how to move from self-doubt to authenticity.
DO HARD THINGS: Why We Get Resilience Wrong and the Surprising Science of Real Toughness
by Steve Magness, read by Mike Chamberlain
Harper Audio
Looking for a better way to deal with challenges? Steve Magness's re-definition of toughness and an optimistic message about resilience may be helpful in finding ways to handle adversity. Mike Chamberlain's exuberance conveys positivity, and his confident delivery infuses a sense of credibility and reliability into the insightful research revealing how we respond to situations that test us.
HAPPY MIND, HAPPY LIFE: The New Science of Mental Well-Being
by Rangan Chatterjee, read by the author
Ascent Audio
Rangan Chatterjee delivers a positive philosophy on improving one's quality of life through shifts in outlook and small lifestyle changes. This doctor's cordial and relaxed delivery of his message reflects a charming bedside manner that is elevated by his mellow tones and British accent.
A LOVELY LIFE: Savoring Simple Joys in Every Season
by Melissa Michaels, read by Natasha Soudek
Oasis Audio
Listeners who want a hands-on approach to bringing serenity into their life may find solace in this audiobook from home decorating expert Melissa Michaels. Narrator Natasha Soudek's sweet, conversational tone instructs listeners on homemaking tips and shares suggestions and reminders about the importance of self-nurturing and balance.
IF YOU COULD LIVE ANYWHERE: The Surprising Importance of Place in a Work-from-Anywhere World
by Melody Warnick, read by Katie Schorr
Blackstone Audio
For those contemplating a sea change as well as a "see" change, Melody Warnick explores the possibilities and practicalities of relocating with your remote or freelance work. There's a soft, quixotic quality to Katie Schorr's performance that is perfect for this title, considering all of the many places that one might consider. This dreaminess nicely contrasts with the grounding information regarding aligning a new location with your values and practical needs.
HOW TO KEEP HOUSE WHILE DROWNING: A Gentle Approach to Cleaning and Organizing
by KC Davis, read by the author
Simon & Schuster Audio
If expectations for a perfect home and transformed self are already causing panic, this audiobook might be just the life preserver that you need. Author Davis narrates with a compelling urgency and tender firmness that are conducive to her call for a reorganization of one's mindset that also allows for self-care.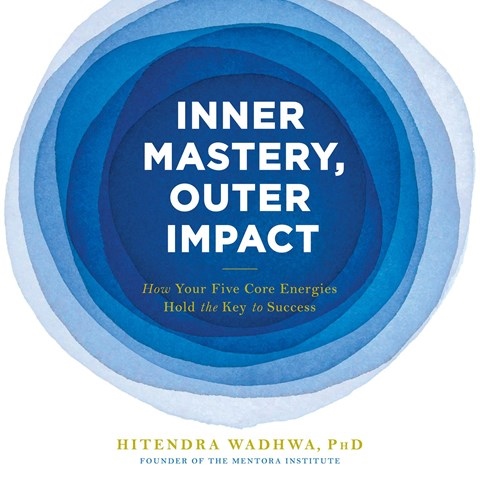 INNER MASTERY, OUTER IMPACT: How Your Five Core Energies Hold the Key to Success
by Hitendra Wadhwa, read by the author
Hachette Audio
Columbia Business School professor Hitendra Wadhwa may be an excellent guide for those needing to find their outer goals and fulfillment by rediscovering their personal values. Wadhwa's encouraging voice heightens the significance of his metaphors and stories and principles of transformation.
Maya Fleishmann is an AudioFile reviewer, freelance writer, and artist living in Florida.