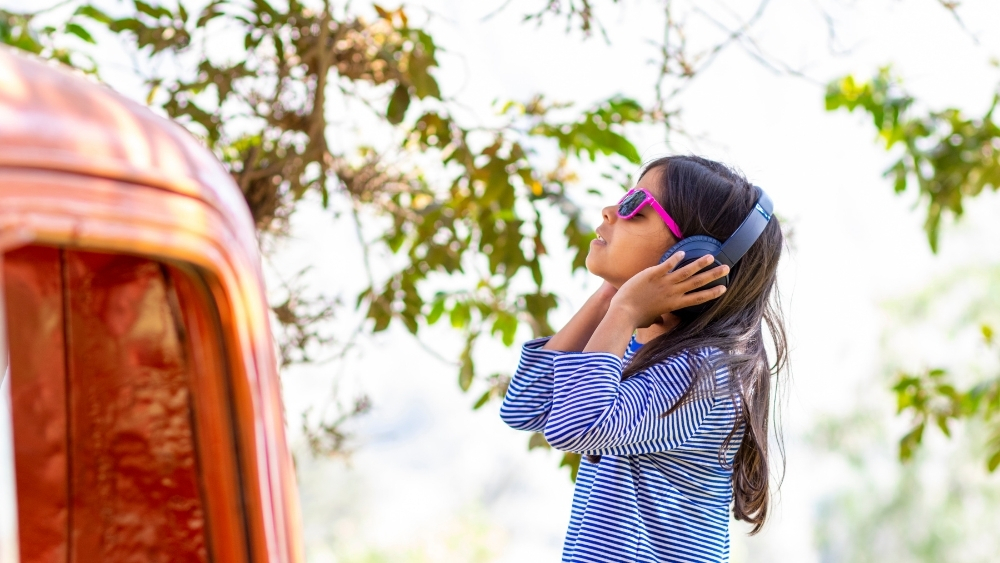 What I love about a good fantasy is its ability to immerse me in another world. While these audiobooks don't all fit the strict definition of high fantasy, i.e. wizards and magic spells, they all take listeners to worlds that are completely different from the one we're in now.
KENNY & THE BOOK OF BEASTS
by Tony DiTerlizzi, read by Alan Cumming
Simon & Schuster, Ages 6+
Kenny Rabbit and other small animals join forces to rescue Kenny's best friend, Grahame the dragon, from a witch who traps rare legendary creatures inside a magical book. Alan Cumming is clearly having lots of fun, giving distinct comical voices to a cast of anthropomorphic animals and mythical creatures. But best of all is his portrayal of Grahame. With a deep, droning bass, Cumming conveys the beast's physical presence and personality in a way that will delight listeners.
THE TOTAL ECLIPSE OF NESTOR LOPEZ
by Adrianna Cuevas, read by Anthony Rey Perez
Dreamscape, Ages 8+
Anthony Rey Perez's expertly pronounced Spanish gives authentic flair to this story of a Cuban-American boy with a secret ability to communicate with animals. Perez's fast-paced narration and distinct voices for each animal, from a sinister snake to an obnoxious bird, enliven this vibrant audiobook based on Panamanian and Costa Rican folklore.
HOLLOWPOX: The Hunt for Morrigan Crow
by Townsend Jessica, read by Gemma Whelan
Hachette Audio, Ages 8 +
Gemma Whelan returns to narrate this third book in the series, immersing listeners again in the magical world of Nevermoor. With a talent for different voices, Whelan's English accented narration will remind listeners of Jim Dale's performances in the Harry Potter series. Nevermoor fans will be thrilled by this production, but listeners new to the series should start with Book 1.
PAOLA SANTIAGO AND THE RIVER OF TEARS
by Tehlor Kay Mejia, read by Frankie Corzo
Listening Library, Ages 8+
Narrator Frankie Corzo brings relatable warmth to this supernatural adventure as 12-year-old as Paola and her friend Dante embark on an adventure into a magical dreamworld full of frightening chupacabras and ghostly drowned children. Corzo's intensity matches the nonstop action, and her effortless pronunciations of Spanish words and phrases add authenticity to the Mexican American legend.
THE WHISPERING WARS
by Jaclyn Moriarty, read by Edward Killingback, Sarah Ovens, Imogen Wilde
Recorded Books, Ages 8+
Three narrators amplify the fun in this delightful fantasy about rivalry and teamwork. When Spindrift becomes embroiled in a war with the Whispering Kingdom, two rival bands of kids join together to fight dark magical forces. Each narrator enlivens a variety of quirky characters with distinct voices. Listeners will love them all.
A GAME OF FOX & SQUIRRELS
by Jenn Reese, read by Sarah Franco
Macmillan Audio, Ages 10 +
When Sam finds a fascinating card game, she discovers that the fox and squirrels in the game are real, and if she wins, the fox, Ashander, will grant her a wish. With a slow pace and deliberate tone that becomes more animated as the fantasy plot gains momentum, Franco seamlessly pulls listeners from Sam's inner reality into the allegorical fantasy world, and back again.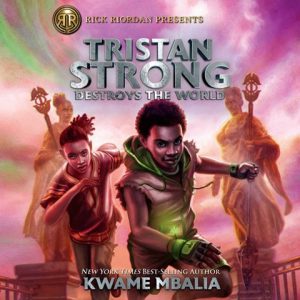 TRISTAN STRONG DESTROYS THE WORLD: Tristan Strong Series, Book 2
by Kwame Mbalia, read by Amir Abdullah
Listening Library, Ages 10+
Tristan, with the reluctant help of the trickster god Anansi, goes on a quest to rescue his grandmother, who has been kidnapped by creatures from another world. Abdullah keeps up with the fast-paced story, propelling listeners from one action scene to the next. Fans of the first Tristan Strong audiobook are in for a treat.