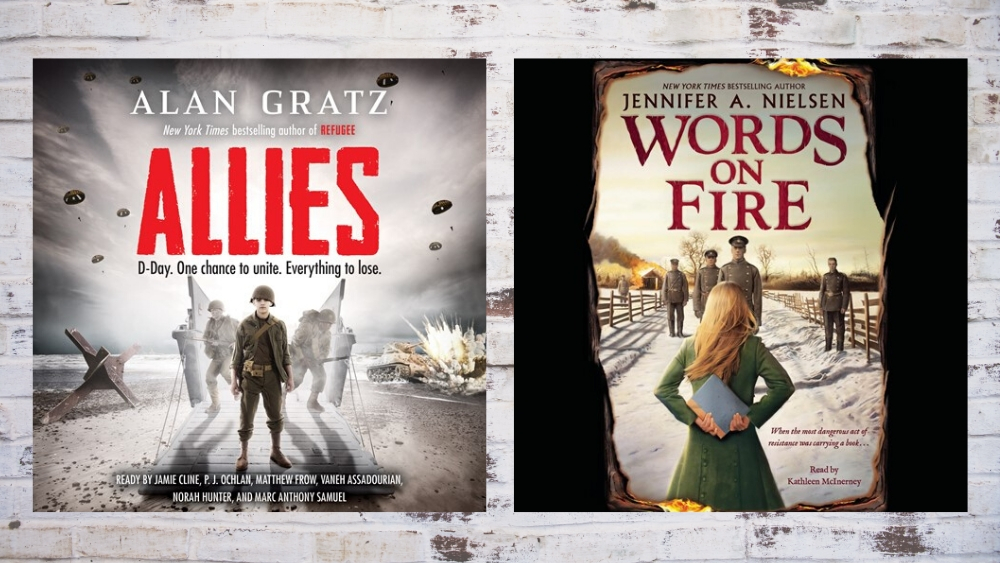 I love how a good audiobook can pick me up and take me far away from my current reality. While we can't travel back in time (or even outside our houses right now), these audiobooks allow us to travel through space AND time, as narrators enliven different eras, characters, and events for young listeners.
ALLIES
by Alan Gratz, read by Jamie Cline, Vaneh Assadourian, PJ Ochlan, Matthew Frow, Marc A. Samuel, Norah Hunter
Scholastic Audiobooks, Ages 8+
The story of the Allied invasion of France during WWII is told from the perspectives of a diverse cast of characters. Each character is effectively voiced by a different narrator, helping listeners understand the shifting points of view. Listeners will be captivated by the weaving of individual accounts to tell the full story of D-Day.
WORDS ON FIRE
by Jennifer A. Nielsen, read by Kathleen McInerney
Scholastic Audiobooks, Ages 8+
Narrator Kathleen McInerney transports listeners to Russian-occupied Lithuania in 1893 in this historical fiction told from the perspective of 12-year-old Audra. Listeners will be swept into the action as Audra bravely decides to join an underground network of book smugglers who are trying to preserve their Lithuanian history and culture.
A PLACE TO BELONG
by Cynthia Kadohata, read by Jennifer Ikeda
Ages 10+
When Hanako and her parents are released from U.S. internment camp at the end of WWII, they leave America to live with Hanako's elderly grandparents outside devastated Hiroshima. Narrator Ikeda, who shares Hanako's Japanese ancestry, delivers an extensive emotional range for characters from children to seniors.
GOLD RUSH GIRL
by Avi, read by Sarah Naughton
Ages 10+ 
Avi is the master of historical fiction, and narrator Sarah Naughton imbues 13-year-old Victoria with all the pluckiness of the spirited heroines of nineteenth-century novels. With a light tone and brisk pace, Naughton keeps listeners engaged as Tory embarks on her adventure from upper-class Rhode Island to the Wild West.
WHEN THE GROUND IS HARD
by Malla Nunn, read by Bahni Turpin
Ages 12+
With a musical African English accent, Bahni Turpin beautifully voices the shifting emotions and priorities of a biracial teen girl at a 1960s Swaziland boarding school as she learns about her past and finds her true self.
BUTTERFLY YELLOW
by Thanhhà Lai, read by LuLu Lam
Ages 14+
AudioFile Earphones Award
LuLu Lam gives culturally authentic voice to the sometimes funny, often sad, and frequently horrific life of 18-year-old Vietnamese Hang. A refugee in Texas, Hang speaks Vietnamese (fluently) and English (haltingly) and tries to reconnect with her brother.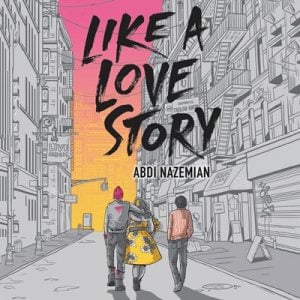 LIKE A LOVE STORY
by Abdi Nazemian, read by Lauren Ambrose, Michael Crouch, Vikas Adam
Ages 14+
Three narrators depict a trio of creative, intelligent New York City teens in 1989 searching for love and self-identity amid the fear and homophobia rampant during the AIDS crisis.