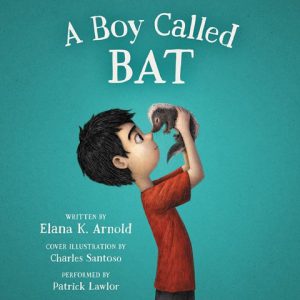 As the step-parent of an autistic boy, I understand firsthand the challenges—and joys—of living with someone on the autism spectrum, and I often worry that neurotypical people will not recognize his kind heart and amazing mind. These audiobooks show autism from many different perspectives and offer opportunities for families to listen together and learn about understanding and accepting the neurodiversity of all people.
A BOY CALLED BAT
by Elana K. Arnold, read by Patrick Lawlor
Harper Audio, Ages 8+
Patrick Lawlor charmingly narrates this heartwarming story of Bixby Alexander Tam—otherwise known as Bat—an autistic third grader who bonds with an orphan skunk brought home by his mom, a veterinarian. Lawlor captures Bat's emotional range perfectly—from his raw enthusiasm at caring for a real animal to the affection he shows in his conversations with the skunk's kit.
JUST MY LUCK
by Cammie McGovern, read by Kirby Heyborne
Harper Audio, Ages 8+ 
Fourth grader Benny is the most compassionate member of his family, especially when it comes to handling his autistic older brother, George. The book's sometimes heavy-handed messages are tempered by Heyborne's sympathetic depiction of a tenderhearted boy who is honestly trying to understand life's complexities.
BECAUSE OF THE RABBIT
by Cynthia Lord, read by Kate Reinders
Scholastic Audiobooks, Ages 8+
Kate Reinders's youthful voice is perfectly suited to fifth-grader Emma, who befriends Jack, an autistic boy in her class. Reinders gives Jack a gravelly, flat monotone that differentiates him from the neurotypical kids as he and Emma bond over stories of her pet rabbit, Monsieur Lapin. See also RULES by Cynthia Lord.
MOCKINGBIRD
by Kathryn Erskine, read by Angela Jayne Rogers
Recorded Books, Ages 8+
Fifth-grader Caitlin has Asperger's syndrome, and narrator Angela Rogers helps listeners see the world through that prism. Rogers's performance rings with honesty, as does the book itself, creating a portrayal that brings empathy and understanding to Caitlin's life.
THE REAL BOY
by Anne Ursu, read by Chris Sorensen
Harper Audio, Ages 8+ 
Eleven-year-old Oscar is content being assistant to the magician, Master Caleb, but social situations make him uncomfortable in ways reminiscent of autistic children. When his master disappears, Oscar and Callie, the healer's apprentice, are challenged to deal with a contagious illness and a ravaging monster. Chris Sorensen executes Oscar's paralyzing social anxiety with his intonation and gives him a soft tone with his beloved cats.
TEMPLE GRANDIN: How the Girl Who Loved Cows Embraced Autism and Changed the World
by Sy Montgomery, read by Meredith Mitchell
AudioGO, Ages 10+  
The true story of Dr. Temple Grandin's long journey from autistic child to professor of animal science is articulately delivered in this audiobook biography. In a distinctive voice, Meredith Mitchell describes Grandin's ability to think visually, which led to her ability to comprehend how animals view their experiences.
RAIN REIGN
by Ann M. Martin, read by Laura Hamilton
Brilliance Audio, Ages 10+ 
Laura Hamilton gives listeners insight into the bond between a girl with autism and her dog. When a hurricane hits and Rain gets lost in the storm, Rose must let go of her routines and make up new rules to find her beloved pet. Hamilton's narration adds the right amount of emotion to each scene in this powerful story of love and loss.