Time can feel like it's passing very slowly for kids on long summer car trips, so it helps to bring along some entertainment. These seven audiobooks will keep kids engrossed and help the whole family enjoy the ride.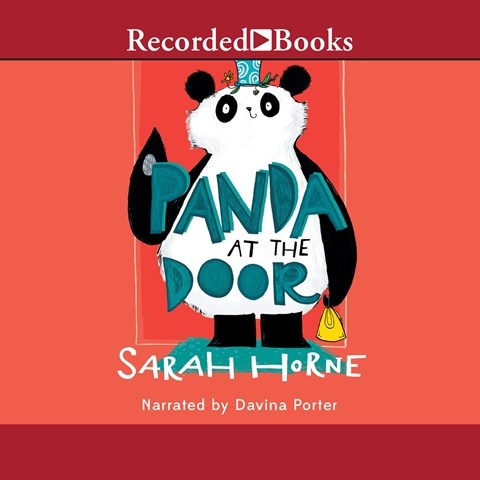 PANDA AT THE DOOR
by Sarah Horne, read by Davina Porter
Recorded Books, Ages 6+
Davina Porter is a narrator who can enchant listeners with her voice and acquaint them with wonderfully memorable characters. In this audiobook, charming panda Pudding, a resident of the Edinburgh Zoo, becomes a nanny like Mary Poppins and ends up changing the lives of a dysfunctional family. Porter makes the family unforgettable as they come together to keep Pudding from being sent to China.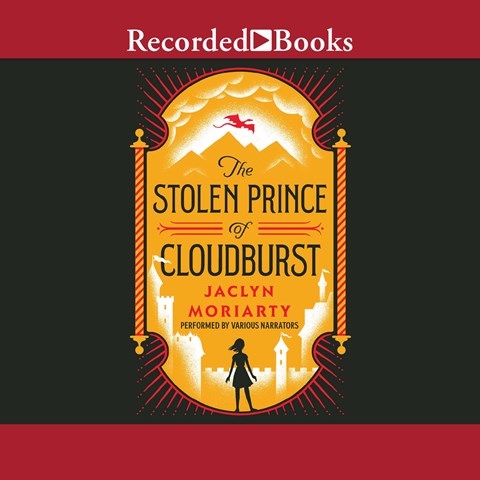 THE STOLEN PRINCE OF CLOUDBURST
by Jaclyn Moriarty, read by Sarah Ovens, Edward Killingback, Imogen Wilde
Recorded Books, Ages 8+
AudioFile Earphones Award
Jaclyn Moriarty is one of my favorite writers, and this audiobook—full of heart, clever humor, and magical imagination—is a complete joy to escape into. Narrator Sarah Ovens exudes charm and vulnerability as quirky 12-year-old Esther, who is contending with a bullying teacher who might actually be an ogre, a recurring nightmare, a mother who forgets about her, and constant attacks against her school by shadow mages, witches, fiends, and sterling silver foxes.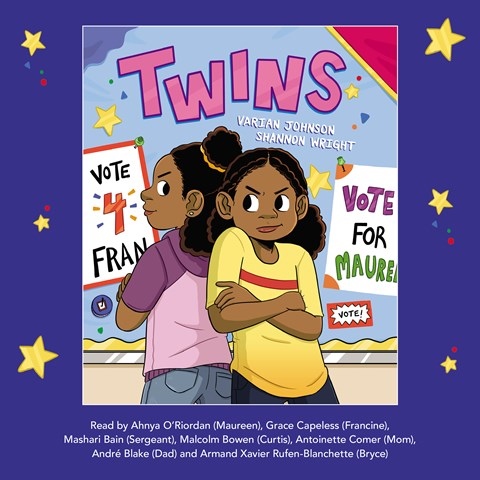 TWINS
by Varian Johnson, Shannon Wright, read by Ahnya O'Riordan, Grace Capeless, Mashari Bain, Malcolm Bowen, Antoinette Comer, André Blake, Armand Xavier Rufen-Blanchette
Scholastic Audiobooks, Ages 8+
AudioFile Earphones Award
A full cast brings this middle-grade graphic novel to life. Maureen and Francine are Black twin sisters starting middle school. Ahnya O'Riordan's youthful voice captures Maureen's anxieties about change and her frustration when her outgoing sister, voiced with confidence by Grace Capeless, decides to run for class president. Sound effects and upbeat music add to scenes in bustling school hallways, at the mall, and at the dinner table with the girls' supportive family.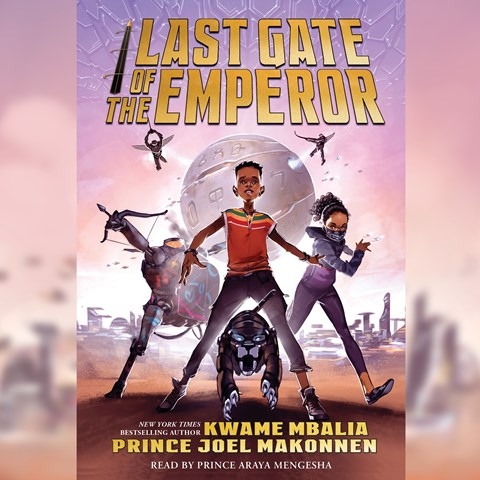 LAST GATE OF THE EMPEROR
by Kwame Mbalia, Prince Joel Makonnen, read by Prince Araya Mengesha
Scholastic Audiobooks, Ages 8+
AudioFile Earphones Award
Princes Joel Makonnen and Araya Mengesha are members of the Ethiopian imperial family, so they bring real history to this Afrofuturist sci-fi fantasy packed with detailed world-building and fast-paced action. When 12-year-old Yared's augmented-reality gaming tournament is interrupted by a giant robotic beast, he must team up with his gaming rival to save their homeland.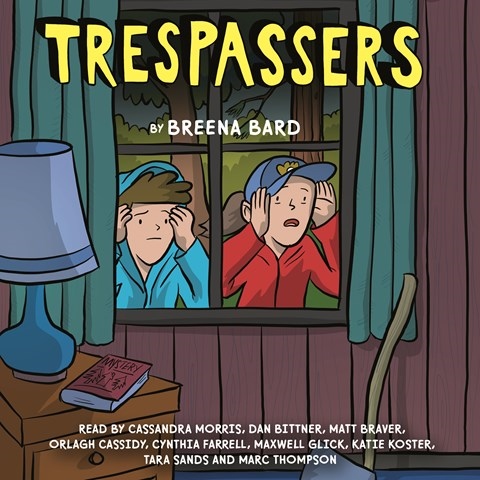 TRESPASSERS
by Breena Bard, read by Cassandra Morris, Dan Bittner, Matt Braver, Orlagh Cassidy, Cynthia Farrell, Maxwell Glick, Katie Koster, Tara Sands, Marc Thompson
Scholastic Audiobooks, Ages 8+
Sound effects and a full cast lift this graphic novel off the page to create an immersive audio experience. While vacationing at her family's lake house, 13-year-old bookworm Gabby decides to write a mystery story about the old, empty house nearby that's at the center of a celebrity disappearance. When her rebellious neighbor Paige pushes Gabby to trespass on the property to hunt for clues, Gabby has to decide how far she is willing to go to uncover a story.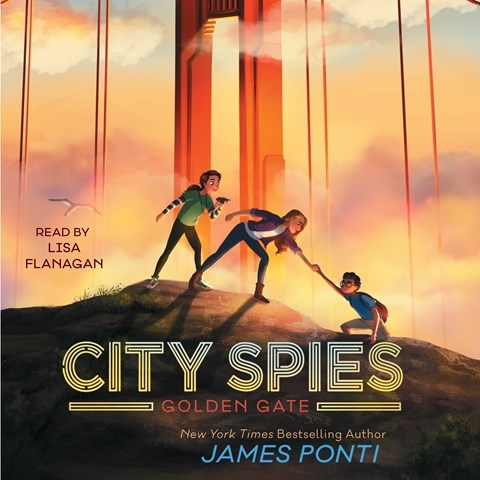 GOLDEN GATE
by James Ponti, read by Lisa Flanagan
Simon & Schuster Audio, Ages 8+
Lisa Flanagan returns to narrate Book 2 of the City Spies series. In Book 1, an internationally diverse group of teen prodigies was recruited as secret agents for MI6, and this audiobook immediately drops listeners right into their next mission. While on board a marine biology program, Brooklyn and Sydney thwart a kidnapping plan before reuniting with the rest of the group in Scotland. Their next mission takes them to California to investigate a potential double agent. Flanagan keeps the action moving in this fast-paced spy adventure perfect for existing fans and those new to the series.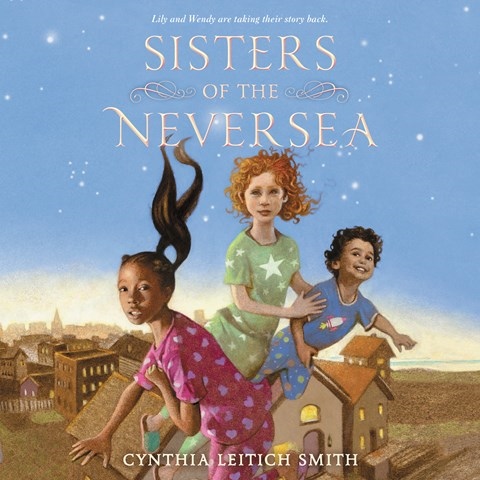 SISTERS OF THE NEVERSEA
by Cynthia Leitich Smith, read by Katie Anvil Rich
Harper Audio, Ages 8+
Narrator Katie Anvil Rich brings vibrant characters to life in Smith's Indigenous retelling of PETER PAN. Through multidimensional portrayals of Native children, the Lost, and the Pirates, listeners delve deeper into the magic and cruelty of Neverland, seen in a completely new way. Rich's inventive delivery, warm tones, and fervent pacing bring out the heart and intensity in this stunning adventure.
Looking for more ideas for road trip listening? Check out AudioFile's list of Audiobooks for Kids & Teens!