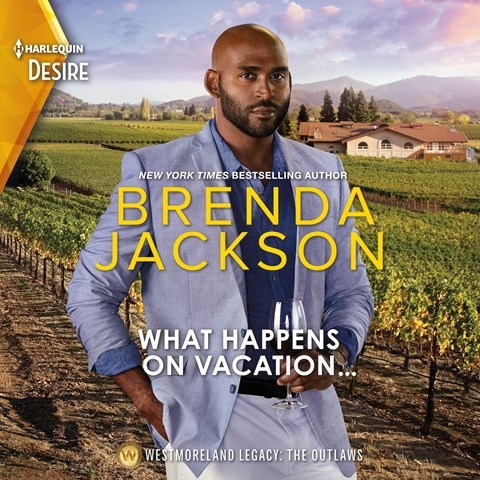 Whether you're planning a summer road trip or a staycation, it's time to load up your list with getaway audiobooks.
For something breezy and fun, try WHAT HAPPENS ON VACATION... by Brenda Jackson, read by Leon Nixon. It's set at a California vineyard, and Nixon gives it that laid-back, chill atmosphere that will immediately drop your blood pressure and put you in the vacation mood.
If you want something more high energy and on-the-go, you can't go wrong with SEATMATE by Cara Bastone and read by Amanda Ronconi and Zachary Webber together with a full cast. Gwen and Sam are on a Boston-to-New York City bus for different reasons but end up making a lasting personal connection. If you like vacation stories where plans go awry, Ronconi and Webber will keep you laughing and rolling with the changes to the itinerary.
Although SOMETHING FABULOUS by Alexis Hall and read by Nicholas Boulton is a historical romance, it shares SEATMATE'S hectic, adventurous quality, complete with memorable character voices. Boulton's Earphones Award-winning performance features both the pacing and the emotional intensity listeners look for.
Rachel's life is equally tumultuous in THE SUITE SPOT by Trish Doller, read by Sarah Naughton, but she ends up where she's supposed to be—on Kelleys Island in Ohio, running a boutique hotel for a man she connects with. The tight-knit community vibe and process of settling into a new life make for an audiobook with lots of fun moments and revelations.
And for those who love stories with family revelations, press play on THE SECRET LOVE LETTERS OF OLIVIA MORETTI by Jennifer Probst, read by Thérèse Plummer, Ann Marie Lee, and Edoardo Ballerini. Three sisters travel to Italy's Amalfi coast to investigate letters their mother wrote before her death. With Lee narrating from the mother's point of view and Ballerini her mysterious correspondent, Plummer introduces listeners to three sisters struggling with grief and new discoveries.
THE SUMMER GETAWAY by Susan Mallery, read by Tanya Eby, is another family-centric romance, although Robyn is running away from hers, taking refuge in her great-aunt Lillian's California mansion. Eby deftly creates voices for Robyn, her 94-year-old aunt, her frighteningly bridal daughter, and Mason, Robyn's new love interest.
Delphine is running away, too, in THE GIRL IN THE MIST by Kristen Ashley, read by Hillary Huber—but for far more ominous reasons. As an actress and writer, Delphine is used to fans, but a serial killer has her holed up in rural Washington surrounded by bodyguards. As Delphine gets to know her neighbors, she becomes involved in another criminal case and the small town that hosts her. Huber plays up all the local characters, including Delphine's love interest next door.
Our final pick is another Earphones Award-winning audio, BOOK LOVERS by Emily Henry, read by Julia Whelan. An homage to the publishing industry, the opposites-attract audiobook features Nora and Charlie, a book agent and an editor who hit it off during a chance meeting on vacation in North Carolina. Whelan successfully evokes the story's tension, which draws characters apart and brings them back together, framed by Henry's love of all things literary.