2019 marks the centennial of Congress approving the 19th Amendment, which gave many women the right to vote—a change that was brought about by a brave group of activists. The audiobooks in this list celebrate female activists—from more than 100 years ago all the way up to today. These inspirational true stories show ALL young listeners the importance of, and the power that comes from, speaking up for the rights of all people.
BEFORE SHE WAS HARRIET
by Lesa Cline-Ransome, read by SiSi Aisha Johnson, January LaVoy, Lisa Renee Pitts, Bahni Turpin
Live Oak Media, Ages 4-6
Four African-American women narrate in turn to describe Harriet Tubman's voice rising in protest as a suffragist, as General Tubman, as a Union spy, and as an enslaved child when her father taught her to read the stars. Sounds of horse-drawn carriages, marching soldiers, spirituals, and rushing rivers help listeners imagine the many roles that Tubman played over her lifetime.
SHE PERSISTED AROUND THE WORLD
by Chelsea Clinton, read by Chelsea Clinton
Listening Library, Ages 4-6

Following up SHE PERSISTED with this new collection of biographies, Chelsea Clinton introduces readers to thirteen international women who have shaped history. She narrates her own words in a measured tone with deliberate emphasis on the refrain, "she persisted." Female voices singing cheerful, wordless tunes separate each short biography and add to the upbeat tone.
SO TALL WITHIN: Sojourner Truth's Long Walk Toward Freedom
by Gary D. Schmidt, read by Channie Waites
Recorded Books, Ages 6+

Narrator Channie Waites captures the pain, struggle, and ultimate triumph of a New York slave named Isabella, who later became known as Sojourner Truth. With precise, clear diction, Waites delivers the dramatic story of Isabella's fight for her and her son's freedom, emphasizing the impassioned quality of Schmidt's evocative prose.
BOLD & BRAVE: Ten Heroes Who Won Women the Right to Vote
by Kirsten Gillibrand, read by Kirsten Gillibrand
Listening Library, Ages 6+

Senator Kirsten Gillibrand narrates with conviction as she introduces 10 suffragists, some familiar and some less well known, spanning eras, socioeconomic backgrounds, and professions. Her passion and admiration for these women are clear from her enthusiastic reading and will help young children relate to the subject.
BRAVE GIRL: Clara and the Shirtwaist Makers' Strike of 1909
by Michelle Markel, read by Lesa Lockford
Dreamscape, Ages 8+

In 1909, Clara Lemlich, a Jewish immigrant from Ukraine, organized the largest women's strike in United States history. Lesa Lockford's narration is as quiet and firm as heroine Clara, who navigated the hardships in the New York garment industry and resolved to change the working conditions of American women.
CHASING FREEDOM: The Life Journeys of Harriet Tubman and Susan B. Anthony, Inspired by Historical Facts
by Nikki Grimes, read by Lizan Mitchell
Recorded Books, Ages 8+

This historical fiction imagines the backstory as Susan B. Anthony and Harriet Tubman meet for tea before the 28th annual convention of the New York Suffrage Association. Mitchell's vocal range enlivens the historical stories, the women's remembrances, and the interplay of their conversation about slavery, women's rights, and other historical events and people.
ROSES AND RADICALS: The Epic Story of How American Women Won the Right to Vote
by Susan Zimet, Todd Hasak-Lowy, read by Cassandra Campbell
Listening Library, Ages 10+ 
The passion in Cassandra Campbell's delivery brings historical figures like Elizabeth Cady Stanton, Susan B. Anthony, and Alice Paul to life and highlights the outrageous treatment of the activists, who were spat upon, beaten, imprisoned, and force-fed by those against their cause. Although the outcome is never in doubt, listeners will be on the edge of their seats in this engaging history.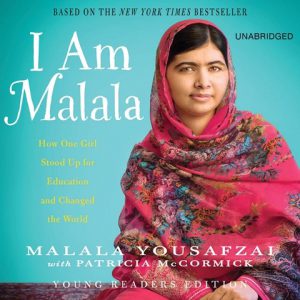 I AM MALALA: How One Girl Stood Up for Education and Changed the World (Young Readers Edition)
by Malala Yousafzai, Patricia McCormick. Read by Neela Vaswani, Malala Yousafzai.
Hachette Audio, Young Adult
AudioFile Earphones Award

Neela Vaswani engages the listener and renders an authentic interpretation of this memoir from Nobel Peace Prize winner Malala Yousafzai, who was shot by the Taliban when she spoke out in favor of girls going to school.