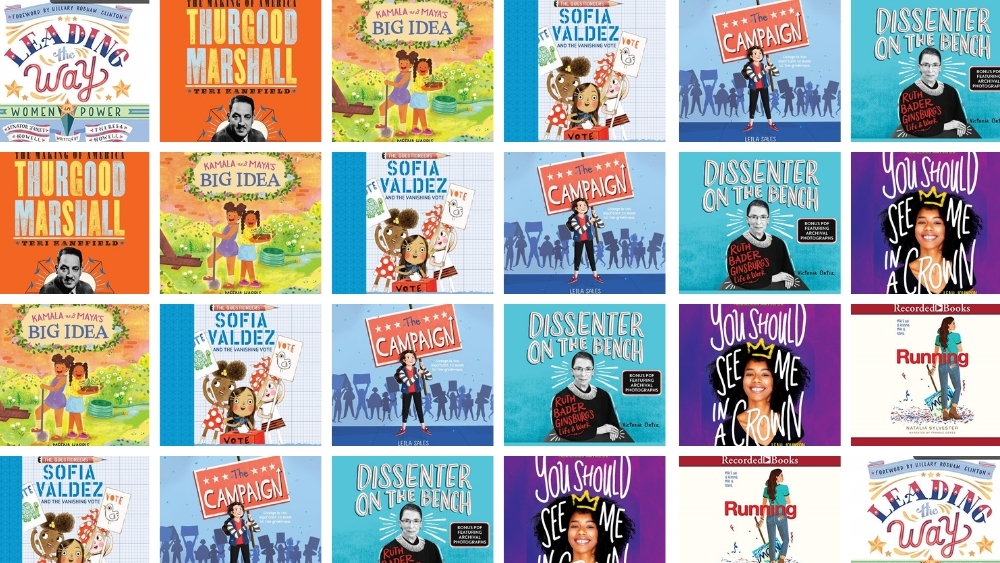 The upcoming presidential election has lots of people talking about voting. The audiobooks in this list can help kids understand more about the issues and the process surrounding elections and voting in America, from school elections to local politics to the groundbreaking women who first stood in American elections, and even a personal story from Kamala Harris's childhood. And because it's hard to talk about the 2020 election without talking about the Supreme Court, this list also includes some audiobooks that help kids understand the impact Justices have had on American democracy.
KAMALA AND MAYA'S BIG IDEA
by Meena Harris, read by Meena Harris
Harper Audio, Ages 4-6
Written and narrated by the niece of vice presidential candidate Kamala Harris, this uplifting audiobook was inspired by a true story from Kamala's childhood. With a fast pace and a bold, confident tone, Harris brings a dramatic flair to her narration that will engage listeners even if they aren't familiar with the real-life characters.
SOFIA VALDEZ AND THE VANISHING VOTE
by Andrea Beaty, read by Marisa Blake
Dreamscape, Ages 6+
Narrator Marisa Blake's sweet voice will charm listeners as second-grader Sofia Valdez is named Election Commissioner and must ensure a fair election as her classmates vote for the class pet. Child-friendly topics and easily understood concepts, coupled with Blake's well-paced narration, make this story perfect for any young listener with questions about elections and democracy.
LEADING THE WAY: Women In Power
by Janet Howell, Theresa Howell, Hillary Rodham Clinton [Fore.], read by Cassandra Campbell
Brilliance Audio/Candlewick, Ages 10+
This collection of biographies introduces listeners to 50 diverse women in leadership positions throughout history in the United States, examining each woman's significance and prestige.
THE CAMPAIGN
by Leila Sales, read by Emily Eiden
Listening Library, Ages 10+
Emily Eiden's narration captures the humor and relatable emotion in this nonpartisan audiobook about local politics and civic activism. Twelve-year-old Maddie mobilizes a grassroots campaign at her middle school to help her babysitter get elected as town mayor. With a youthful voice and a light touch, Eiden brings to life a group of passionate young campaigners fighting for what they believe in.
THURGOOD MARSHALL: The Making of America #6
by Teri Kanefield, read by David Sadzin
Dreamscape, Ages 10+
Narrator David Sadzin tells the story of Thurgood Marshall, best known for his court victory ending legal racial segregation in public schools and for later becoming a Supreme Court justice. Marshall's trailblazing personality and inclusive nature shine through Sadzin's narration.
DISSENTER ON THE BENCH: Ruth Bader Ginsburg's Life and Work
by Victoria Ortiz, read by Lisa Larsen
Dreamscape, Ages 12+
Those who listen to this paean to the late Ruth Bader Ginsburg will come to understand how the Supreme Court justice's devotion to connotational rights, gender equality, and personal principles characterized "RBG" throughout her life and career. Larsen's steady narration is delivered with warmth and enthusiasm that reflect the audiobook's subject.
YOU SHOULD SEE ME IN A CROWN
by Leah Johnson, read by Alaska Jackson
Scholastic Audiobooks, Ages 12+
Listeners will definitely want to cast their vote for Liz Lighty in this audiobook for teens. Narrator Alaska Jackson's relaxed, natural-sounding delivery makes Liz instantly relatable. She might not seem like prom queen material at her wealthy Indiana high school, but Liz is determined to win the crown because it comes with a scholarship that will ensure she can attend the college of her dreams.
RUNNING
by Natalia Sylvester, read by Frankie Corzo
Recorded Books, Ages 14+
In this first-person YA look at what life is like for the children of politicians, listeners hear the fictional story of Mari Ruiz, a 15-year-old Cuban-American whose father, loosely based on Florida senator Marco Rubio, runs for president. Frankie Corzo's narration clearly conveys the message of this audiobook about standing up for what you believe.