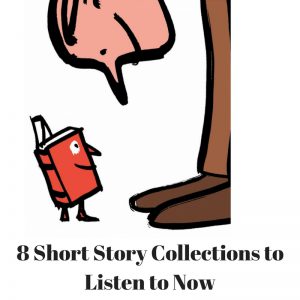 Short stories have often gotten the short straw in audiobooks. With audio publishers producing more titles each season, and podcasts gaining more and more listeners, short story collections may be getting more attention. Eight new collections, just reviewed, are worth your listening time. I've split them into essays (nonfiction) and fiction stories.
Ramona Ausubel's AWAYLAND showcases the voices of a dozen narrators in a collection that's both fantastical and familiar. Scott O'Connor's stories in A PERFECT UNIVERSE are all set in California. Two narrators, Bronson Pinchot and Thérèse Plummer, take us outside the bright lights of Hollywood with very human and complex characters, and pick up an Earphones Award for their performances.
Another ensemble of narrators performs ALL THE NAMES THEY USED FOR GOD by Anjali Sachdeva. One story, "All the Names For God," beautifully narrated by Zainab Jah, puts a magical realism spin on the headlines of the schoolgirls kidnapped by Boko Haram. In GOING FOR A BEER, one narrator—Charlie Thurston—performs metafiction author Robert Coover's whole collection.
Jumping to nonfiction and what's new in essays and commentary, Marilynne Robinson tops my list with WHAT ARE WE DOING HERE? The author does not deliver this collection of of speeches or articles, giving that job to Carrington MacDuffie, who does an admirable job.  I just listened to a recorded conversation between Robinson and President Barack Obama in 2015—this will totally inspire you to listen to the audio collection.
An important historical release is the newly revised and expanded THE COLLECTED ESSAYS OF RALPH ELLISON. Narrator Dominic Hoffman gives an essential texture to the works. Reflecting more contemporary culture with reviews and astute commentary, you might check out Lorrie Moore's SEE WHAT CAN BE DONE. A single narrator, Bernadette Dunne, presides. To move out of the literary world for my last choice, and the one with the most beguiling cover (I am a sucker for images), TAMED AND UNTAMED: Close Encounters of the Animal Kind. Celebrated animal writers Elizabeth Marshall Thomas and Sy Montgomery read their own essays.
A great array of choice listening here in 8 collections—and I'd love to know what story or essays collections you've been listening to.