Do you start thinking about the winter holidays in July? (Guilty!) Now's the time to curl up and unwrap these holiday-themed romance audiobooks.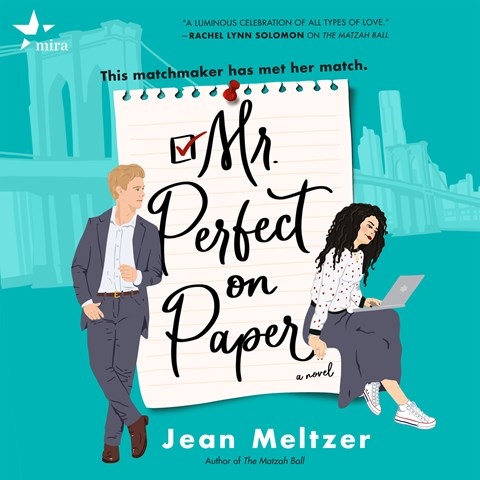 Start with MR. PERFECT ON PAPER by Jean Meltzer, read by Dara Rosenberg. When the owner of a Jewish dating app appears on television with her Bubbe Miriam, nothing is off limits. Soon the world knows Dara Rabinowitz's's "Perfect Jewish Husband" list . . . and that she doesn't have one yet. In another comic tour de force, narrator Rosenberg leads Dara on a hilarious series of televised dates from Rosh Hashanah to Hanukkah, with a voice that alternates between anticipation and disaster. Neither are far away in this hilarious Earphones Award-winning audiobook where even minor characters get full narrative attention.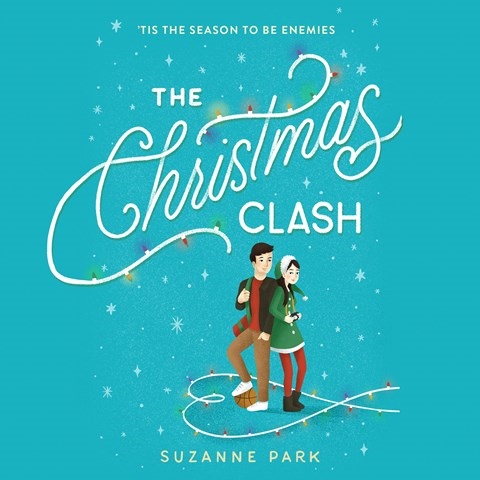 In the teen romance THE CHRISTMAS CLASH by Suzanne Park and read by Jay Lai and Jennifer Sun Bell, Korean American Chloe and Chinese American Peter put aside a mall food court family feud to save their retail home away from home. Bell and Lai reflect the emotions and ages of the young protagonists trying to keep the mall from closing with an upbeat empathy. Listeners will surely like their festive holiday work at the mall—Chloe is a photographer for Santa and Peter runs a virtual sleigh ride booth at the "North Pole."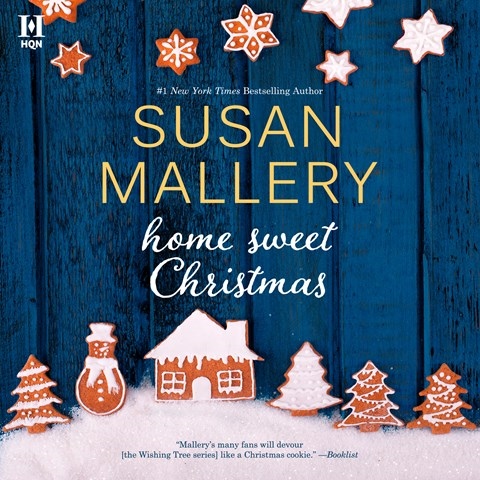 Step up holiday preparations with HOME SWEET CHRISTMAS by Susan Mallery, read by Tanya Eby. In Mallery's second Wishing Tree novel, set in the eponymous town in Washington, wrapping paper guru Camryn Neff warns local resort owner Jake Crane about his mother Helen's matchmaking plans, only to agree to date him anyway. Mallery also tells the story of computer genius River Best being crowned Snow Queen and tentatively enjoying holiday festivities alongside Snow King Dylan Tucker. Cozy is the best way to describe both Mallery's holiday inspired town and Eby's narration. Sure, there are bumps on the road to romance, but Eby's expert phrasing and emotional range are perfect companions for your own wrapping party.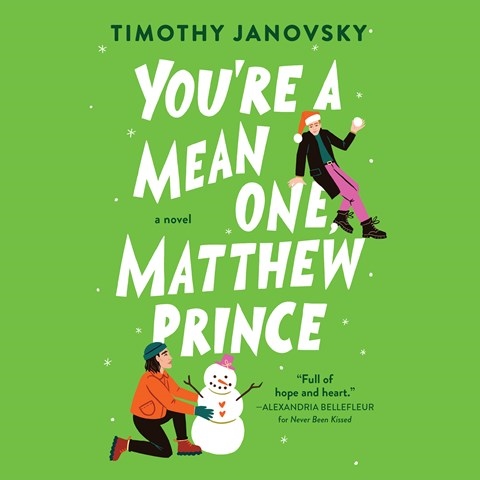 For those who like their holidays a little green and Grinchy, go for YOU'RE A MEAN ONE, MATTHEW PRINCE by Timothy Janovsky, read by Mark Sanderlin, an Earphones Award winner. Twenty-one-year old Matthew Prince, New York City social media darling, gets cut off from his parents money when he buys an island. Bundled off to Wind River, Massachusetts, in the Berkshires, Matthew is stuck rooming with his grandparents' lodger, Hector Martinez. As the two work together on a holiday charity gala, Matthew discovers the joy of giving back. Narrator Sanderlin is perfectly suited to Janovsky's twenty-something hero, with a younger sounding voice. He tracks Matthew's gradual personal growth over the course of the audiobook, and his dialogue and secondary voices are stellar. Being a Grinch has never been so much fun.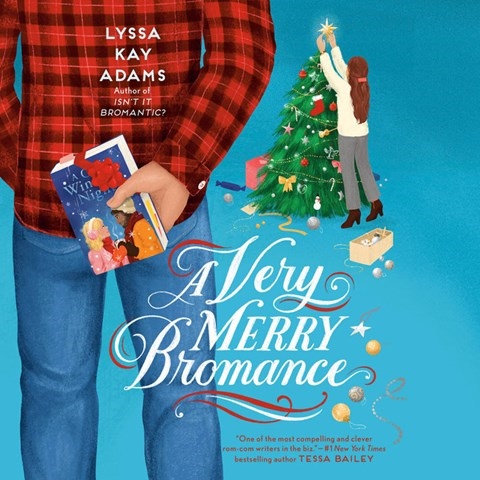 Rediscover the joy of Christmas with A VERY MERRY BROMANCE by Lyssa Kay Adams, read by Andrew Eiden. Colton Wheeler makes a bargain with lawyer Gretchen Winthrop—three dates for his participation in her family business media campaign. Discovering Gretchen isn't excited by Christmas, Colton decides to share the delights of the season with her, even as they both address personal challenges. Narrator Eiden has a talent for sharing the inside scoop with listeners—you feel you are right there with the characters, hearing things from their points of view.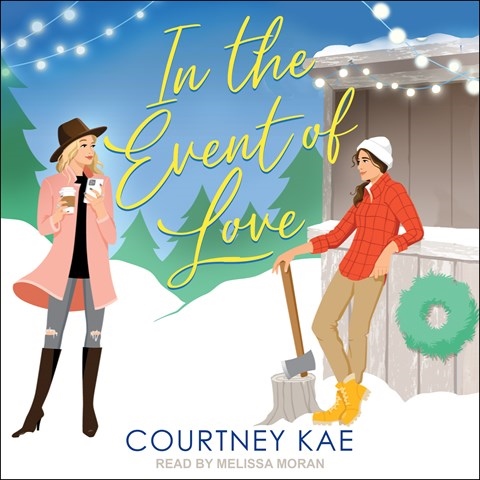 No holiday romance list would be complete without the theme of "saving a small town from the evil developer," and so we bring you IN THE EVENT OF LOVE by Courtney Kae, read by Melissa Moran. Event planner Morgan Ross takes a job in her hometown of Fern Falls, California, only to find out her client is her teenage crush Rachel Reed. Morgan and Rachel work together to save Rachel's Christmas tree farm from being turned into an outlet mall. Morgan is a competitive, driven professional, and narrator Melissa Moran taps into that part of her personality with a decisive, bold voicing. Listeners will love the holiday-themed setting and the mud-splattered meet cute that serves as Morgan's welcome home.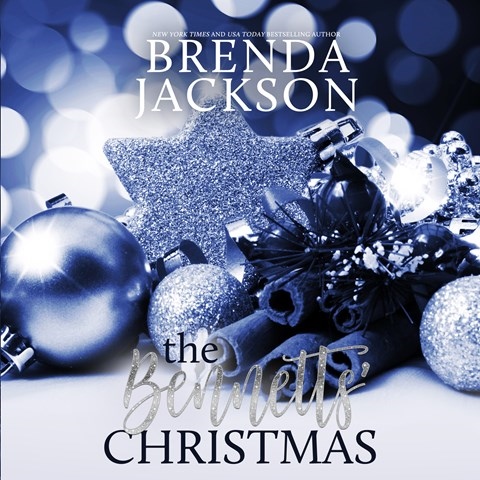 Moving into the Christmas home stretch, queue up THE BENNETTS' CHRISTMAS by Brenda Jackson, narrated by Kim Staunton. Jackson's story is actually two in one—sisters Monica and Sebrina both find love during the Christmas season. Monica while working as a journalist on a singles cruise with private eye Landon, and Sebrina with her new housemate and fellow doctor, Parker. Staunton's arch narration shows subtle amusement at the defensive position both sisters take on the subject of romance.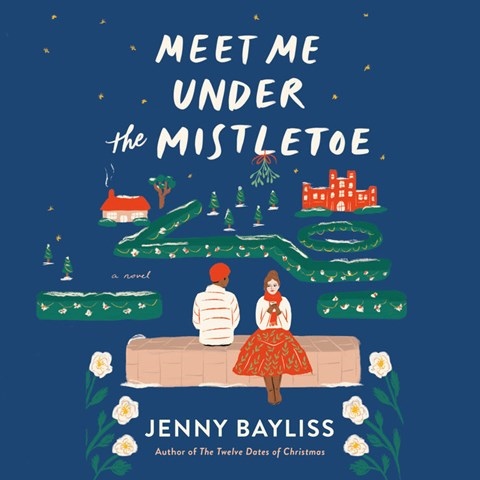 Attend a Christmas week house party in a castle with MEET ME UNDER THE MISTLETOE by Jenny Bayliss, read by Shakira Shute. London bookseller Nory Noel is ambivalent about attending her engaged friends' pre-wedding party, mostly because she hooked up with their other friend Guy without realizing he was married. As the high school friends find themselves under one giant roof, drama emerges from every corner. Shute excels at emoting embarrassment and regret, both of which are on full display in Nory's small hometown village, sandwiched between wedding and holiday festivities. Listeners will also get a kick out of how miserable Nory is every time she sells—ahem, has to give up a favorite!—book.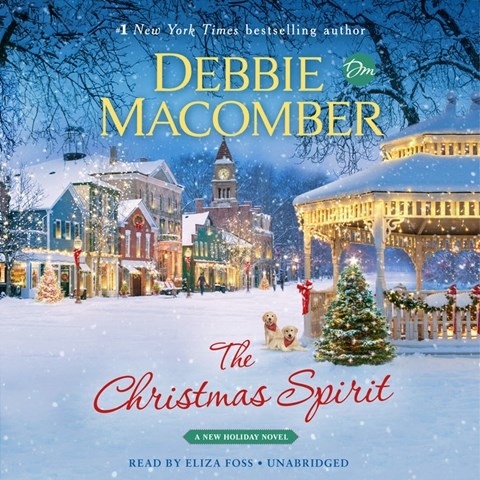 When it's the week before Christmas, turn to THE CHRISTMAS SPIRIT by Debbie Macomber, read by Eliza Foss, for last-minute holiday cheer and reflection on the meaning of the Christmas season. Listeners meet pastor Pete and bartender Hank who decide to switch places the week before Christmas in the year 1977. Narrator Foss keeps it simple with a heartfelt reading that sees both men finding love as they celebrate the most wonderful time of the year. Macomber's message of faith and care for others is echoed by Foss's performance.