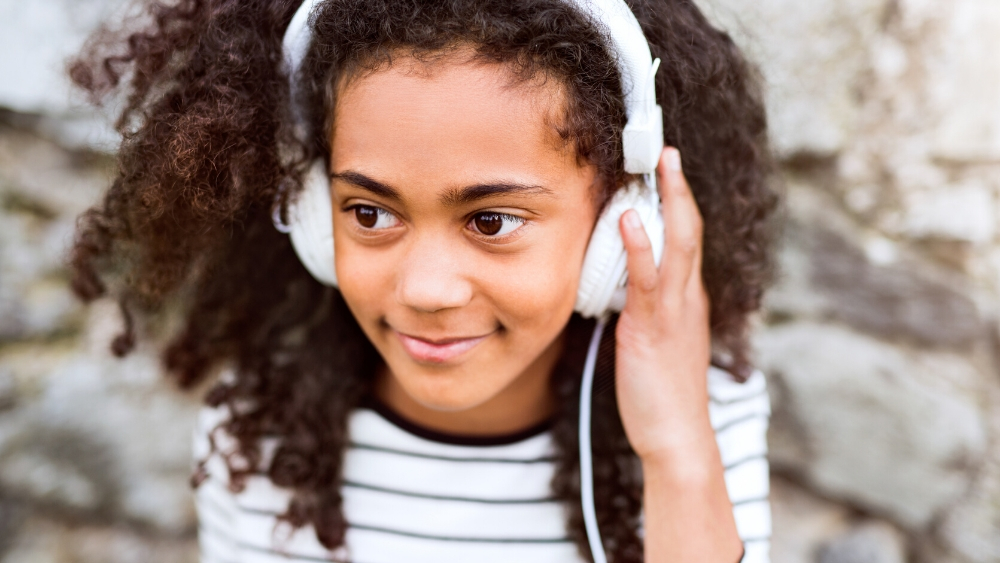 It should be obvious now that we ALL need to be having conversations with our children about antiracism and how unjustly Black people have been treated in America. This collection of fiction and nonfiction audiobooks from authors and/or narrators of color shows Black people as heroes of their own stories. These audiobooks are all perfect for family listening to spark important discussions about fairness in America, a concept which all children inherently understand.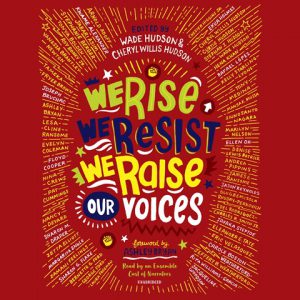 WE RISE, WE RESIST, WE RAISE OUR VOICES
Edited by Wade Hudson, Cheryl Willis Hudson, Foreword by Ashley Bryan, read by Bahni Turpin, Guy Lockard, N'Jameh Camara, Darrell Dennis, Kyla Garcia, Sullivan Jones, January LaVoy, Jennifer Lim, Soneela Nankani, Adenrele Ojo
Penguin Audio, Ages 8+
This powerful anthology of essays, poems, and songs provides children with hope and courage when they're confronted with injustice, racism, and hate. The diverse narrators' voices are filled with understanding, conviction, and heartfelt emotion.
A GOOD KIND OF TROUBLE
by Lisa Moore Ramée, Read by Imani Parks
Harper Audio, Ages 8+
Shay avoids trouble, but after attending a Black Lives Matter protest with her family, she begins to consider her African American identity and injustice around her in new ways. Tweens and families alike will be drawn into this affirming, thought-provoking audiobook.
WHAT LANE?
by Torrey Maldonado, read by Torrey Maldonado
Listening Library, Ages 10+
Torrey Maldonado brings warmth and empathy to the narration of his novel about an urban, mixed-race sixth grader, Stephen. Caught between his best friend Dan and Dan's racist cousin, Stephen is finding it difficult to navigate life amid his growing understanding of the racism around him.
BOX: Henry Brown Mails Himself to Freedom
by Carole Boston Weatherford, read by Dion Graham
Dreamscape, Ages 10+
AudioFile Earphones Award
Dion Graham delivers this narrative poetry with understated passion, giving dignity to Henry Brown's story of escape from slavery by mailing himself to Philadelphia in a box. Graham transports listeners to a painful time in our history, blending a Southern accent with Weatherford's hybrid of modern and period language.
GENESIS BEGINS AGAIN
by Alicia D. Williams, read by Alicia D. Williams
Simon & Schuster Audio, Ages 10+
Williams sensitively portrays 13-year-old Genesis's deep hurt as she undergoes risky treatments to lighten her skin and soften her hair in the hope that she will someday be beautiful. Listeners feel her agony as she slowly begins to see herself differently and believe in her own worth.
LIFTING AS WE CLIMB: Black Women's Battle for the Ballot Box
by Evette Dionne, read by Karen Chilton
Recorded Books, Ages 10+
Karen Chilton brings solemn dignity to the overlooked history of African American women's fight for suffrage. Beginning with the start of the abolitionist movement in the 1830s and continuing to today, this audiobook demonstrates how African American women had to battle both sexism and racism in their quest for the right to vote.
THE VOTING BOOTH
by Brandy Colbert, read by Robin Eller, Cary Hite
Dreamscape, Ages 12+
Making sure their votes get counted leads two Black teens on a long and winding journey over the course of a single election day as they try to vote for the first time. This audiobook delivers a satisfying blend of character development and lessons about voter suppression, grief, and activism.
STAMPED: Racism, Antiracism, and You
by Jason Reynolds, Ibram X. Kendi, read by Jason Reynolds, Ibram X. Kendi [Intro.]
Hachette Audio, Ages 12+
AudioFile Earphones Award
Jason Reynolds wrote and narrated this young reader's edition of Kendi's STAMPED FROM THE BEGINNING. It is essential listening for teens, those who are raising them, and their teachers. Even with the intense subject, Reynolds speaks directly to listeners in an engaging style, compelling us to be critical thinkers and to take action. You can hear more about the audiobook from Reynolds himself on AudioFile's podcast.
STOLEN JUSTICE: The Struggle for African American Voting Rights
by Lawrence Goldstone, Read by James Shippy
Scholastic Audiobooks, Ages 14+
The Fourteenth and Fifteenth Amendments were intended to guarantee civil rights to formerly enslaved people, but many states were systematically dismantling these rights. Shippy's narration conveys anger over the segregationist legislation and the judicial renderings that allowed it. If this audiobook doesn't offend your sense of justice, you're not listening hard enough.