"In principle and reality, libraries are life-enhancing palaces of wonder."

― Gail Honeyman, ELEANOR OLIPHANT IS COMPLETELY FINE
There's secrecy, seductiveness, and salvation in the world of books. If you are a listener who loves settings involving books, you're in for a treat. The following compilation of tantalizing titles revolves around life inspired by books, on several levels. Many include library settings; all are about books, the people who write them, and/or the mystery behind the story.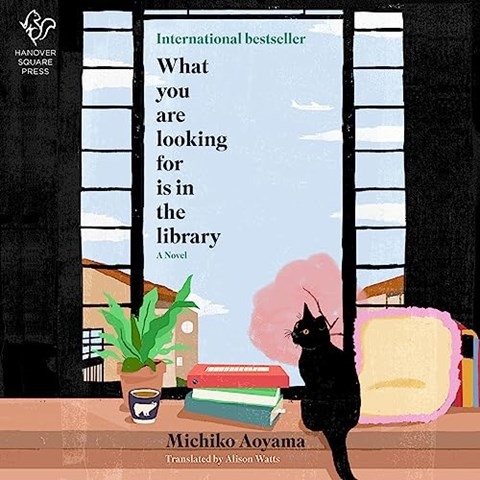 WHAT YOU ARE LOOKING FOR IS IN THE LIBRARY
by Michiko Aoyama, read by Hanako Footman, Susan Momoko Hingley, Kenichiro Thomson, Winson Ting, Shiro Kawai
Harlequin Audio
This collection of tales revolves around a mysterious library and librarian. Each story is performed by a single narrator who portrays a character who ends up in a library that is tucked away in the local community center. The accent of each narrator brings an international feel to characters' dilemmas. In addition, each narrator gives a unique portrayal of the enigmatic librarian who is pivotal in every story. She mysteriously knows which book to suggest to each protagonist that encourages them to follow their aspirations. Fans of Coelho's THE ALCHEMIST may find precious insight in these five deceptively simple parables about how libraries inspire the pursuit of one's passions.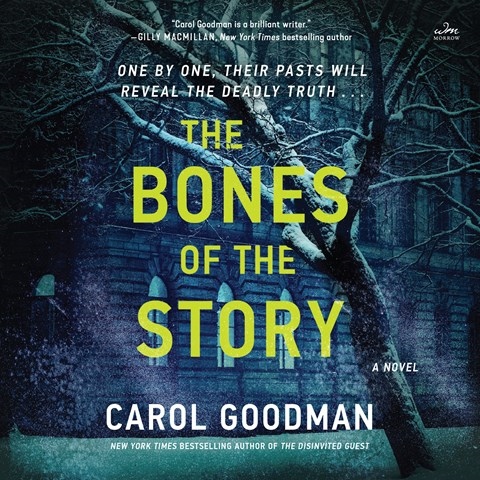 THE BONES OF THE STORY
by Carol Goodman, read by Elisabeth Rodgers
Harper Audio
Next, we dig deep to explore a locked-room mystery, where narrator Elisabeth Rodgers sets the tone with a convincing Long Island accent. Alumni and faculty at Briarwood College gather on a December evening to honor a student and a writing professor who disappeared twenty-five years earlier in nearby caves. When a snowstorm prevents the group from leaving campus, the dean draws eerie connections with the past. Rodgers's menacing whispers heighten the dramatic tension of this enthralling tale.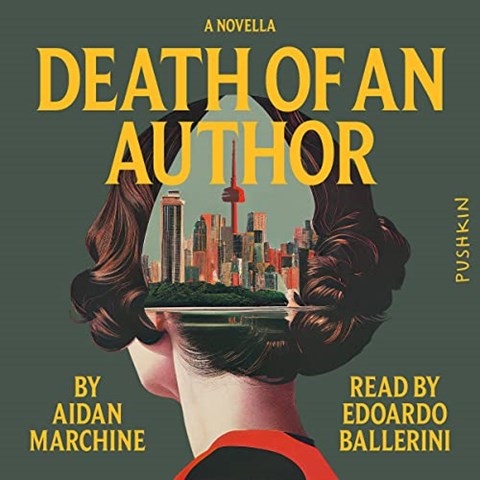 DEATH OF AN AUTHOR
by Aidan Marchine, read by Edoardo Ballerini
Pushkin Industries
Golden Voice Edoardo Ballerini adds dimension to the protagonist Gus Dupin, a literary critic who gets entangled in the murder investigation of a Canadian writer involved with clandestine AI projects. This mystery novella has a title that's a double entendre and rides the current waves of controversy regarding the role of AI in story creation. This title is written largely by several AI programs. Ballerini's matter-of-fact tone gives this serviceable mystery a bit of a hard-boiled detective feel.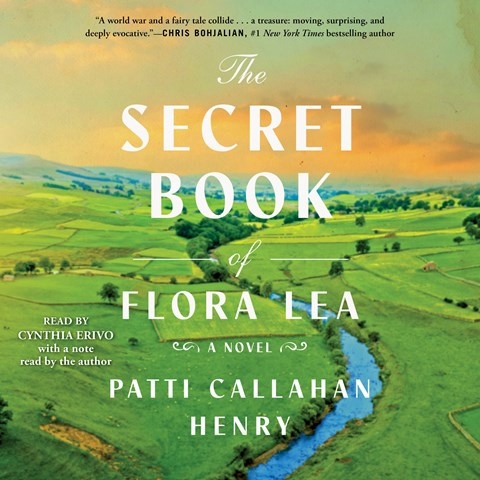 THE SECRET BOOK OF FLORA LEA
by Patti Callahan Henry, read by Cynthia Erivo, Patti Callahan Henry [Note]
Simon & Schuster Audio
Next up is a haunting story about a woman finding connection between past and present when she discovers the writer of a mysterious book of stories. Cynthia Erivo's performance adds to the power of this dual-timeline audio about the alchemy of storytelling. In 1939 sisters Hazel and Flora Lea are separated when evacuated from London to escape the war. In 1960, Hazel, now a clerk at a rare book shop, finds a book of the stories she once made up for her sister. Erivo's quiet assurance conveys Hazel's tender memories of her sister and Hazel's determination to find her.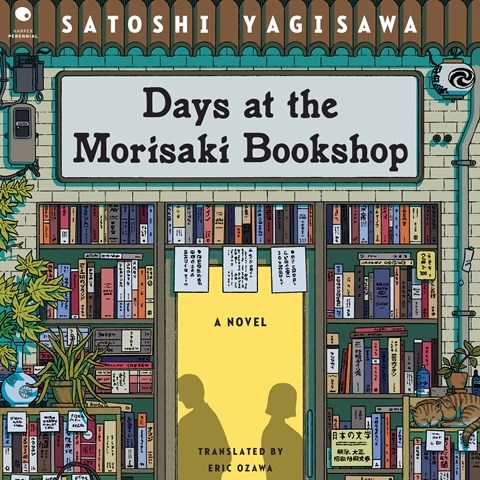 DAYS AT THE MORISAKI BOOKSHOP
by Satoshi Yagisawa, Eric Ozawa [Trans.], read by Catherine Ho
Harper Audio
Catherine Ho brings her composed and compelling voice to this newly translated, prize-winning 2009 Japanese novel. When a depressed young woman begins working in her uncle's used bookstore, her newly-discovered hunger for books restores her appetite for life. Twenty-something Takako quits her job after she finds out that her colleague and boyfriend is getting married . . . to another woman he's been dating for years. Ho's restrained and meticulous performance perfectly portrays Takako's reserved nature and her transformation as she finds her place in the bookstore.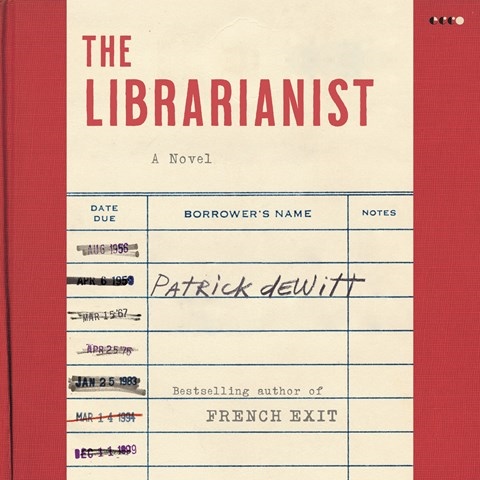 THE LIBRARIANIST
by Patrick deWitt, read by Jim Meskimen
Harper Audio
Jim Meskimen is convincing as 71-year-old Bob Comet, a retired librarian who yearns for a seaside hotel he visited once, when he was 11. With an unhurried pace and warmth, Meskimen deftly reflects Comet's habitual observations of life around him. Meskimen brings out humor in his portrayal of the characters that interact with Comet, especially Linus from the care home. There's also a beautiful irony as Comet reflects on his uneventful bookish life which is, in fact, quite rich with experience. Meskimen's portrayal of Comet will appeal to fans of Paul Auster's BAUMGARTNER, and THE UNLIKELY PILGRIMAGE OF HAROLD FRY by Rachel Joyce.