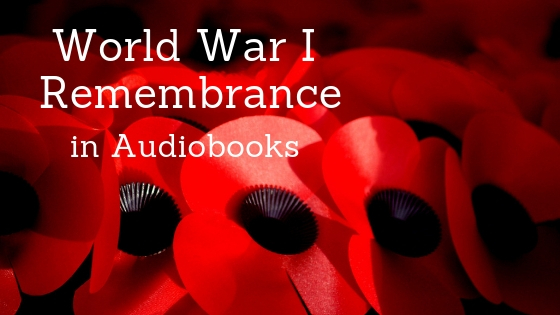 Each week I often "go down the rabbit hole" in pursuit of audiobooks for this blog post. Perhaps this week it's a "foxhole," as my topic is the World War I Centenary—the Great War Forum even has a discussion of when and where the term foxhole originated. We've collected a varied group of audiobooks about WWI. Solve editor Ellen Quint just posted Reflecting on Remembrance Day through WWI Mysteries, and Aurelia Scott's post My Grandfather's War offers a good group of fiction and nonfiction audiobooks. Aurelia includes THE WORLD REMADE: America in World War I by G.J. Meyer. Narrator Rob Shapiro made a compelling video for us noting how relevant Meyer's history remains.
Two Earphones Award-winning history audiobooks that weren't included in the two other posts are Grover Gardner's performance of THE LAST OF THE DOUGHBOYS by Richard Rubin, which was also a Best Audiobook of 2013, and THE FALL OF THE OTTOMANS: The Great War in the Middle East by Eugene Rogan and read by Derek Perkins, which gives a excellent perspective on WWI that we don't often hear.
I was delighted to find three audiobooks about the contributions of women in the First World War: THE HELLO GIRLS by Elizabeth Cobbs, read by Susan Ericksen, about America's first female soldiers—in the Signal Corps; THE SECOND LINE OF DEFENSE: American Women and World War I by Lynn Dumenil, read by Susan Hanfield, which gives us first-person accounts of women—including suffragettes, pacifists, African-Americans, and immigrants; and the Australian nurses of THE ANZAC GIRLS: The Extraordinary Story of Our World War I Nurses by Peter Rees, read by Anna McGahan.  
Aviation during WWI was in its infancy, with every pilot a pioneer. In another audiobook of first-person accounts, narrator Sean Runnette captures the excitement and the reality of these early fliers in THE UNSUBSTANTIAL AIR: American Fliers in the First World War by Samuel Hynes. More about American airmen here: FIRST TO FLY: The Story of the Lafayette Escadrille, the American Heroes Who Flew for France in World War I by Charles Bracelen Flood, read by Tom Perkins.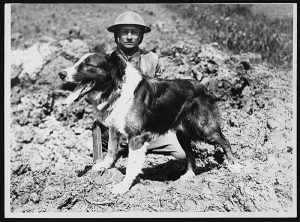 I want to add a bit of fiction with an Earphones Award-winning audiobook from Alexander McCall Smith, THE GOOD PILOT PETER WOODHOUSE, read by David Rintoul, about a border collie who became a mascot for the U.S. Air Forces based in London. Dogs were used as messengers in WWI—perhaps Smith saw this photo of "Bruce" from the National Museum of Scotland. 
For teen listeners or families that want to learn a bit of WWI history, two audiobooks are at the top of my list: first, THE GREAT WAR by David Almond, John Boyne, Tracy Chevalier, Ursula Dubosarsky, Timothee de Fombelle, Adele Geras, et al. These compelling stories performed with an ensemble of narrators consider loss, luck, patriotism, and perseverance at war and at home. For ages 10+, consider Michael Morpurgo's WAR HORSE, the inspiration for the brilliant stage play. Narrator John Keating's resonant performance has stayed with me since I heard it years ago.
Whether you are committed to serious history or want a more personal look at the men and women of the conflict, the choices here or on our other blog posts give you plenty of recommendations for good listening. Have other favorites? Please share!
Messenger dog photo courtesy of National Library of Scotland