Daring, funny, relatable, eye-opening, moving, and filled with gorgeous prose. Those are some of the adjectives I'd use to describe the two novels that won top honors in this year's British Book Awards. I'd also say finally, because for the first time, both novels were written by Black female authors.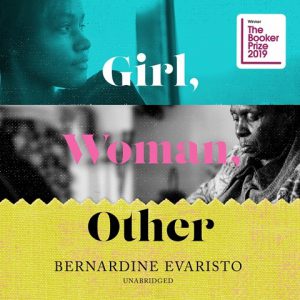 GIRL, WOMAN, OTHER by Bernardine Evaristo was named Novel of the Year and garnered its author applause as Author of the Year. The audiobook won an Earphones Award for Anna-Maria Nabirye's warm rush of a narration. Ambitious and captivating, the book follows the loosely interwoven lives of twelve Black women and their associated loved ones from the London of the 1980s to today's Britain and America.
Described by The Washington Post as a "symphony of Black women's voices," the story explores issues of gender, race, social class, immigration, and identity while also entrancing readers with surprising plot twists and memorable characters. Despite the wealth of personalities from England, the Americas, and the Caribbean, the narration by Nabirye, who is herself a writer as well as an actress, never falters.
Born to a Black Nigerian father and white English mother, Evaristo, who began her career in theater, has inventively examined the phenomenon of being Black and English in many of her previous seven novels, as well as in poetry and radio and theater plays. Currently Professor of Creative Writing at Brunel University, London, she was awarded an MBE in 2009.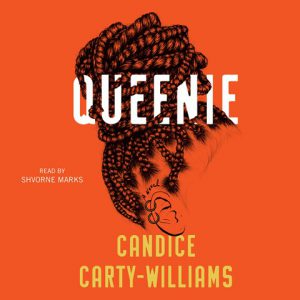 QUEENIE by Candice Carty-Williams won the British Book Awards' Debut Book of the Year and Overall Book of the Year. AudioFile's reviewer lauded the audiobook's narrator, Shvorne Marks, for her powerful performance in voicing the unforgettable Jamaican-British millennial, Queenie, who will capture, break, and lift your heart. Told in the first person and starting off in the midst of a gynecological exam, the tough and funny story uses humor to explore racial and social politics—the white women who touch Queenie's hair without asking, the date who says that Queenie tastes like chocolate. As the author told the Guardian newspaper, the novel depicts "a version of me if I'd let things get out of hand. I wanted to explore how, in the case of myself and lots of women like me, our sexual agency is still defined by someone else wanting something from us."
Carty-Williams, who works as a marketing executive in publishing, created the Guardian's BAME short story prize for Black, Asian, and minority ethnic writers, but didn't believe that she could write a novel while working full time and sharing an overcrowded group-house. Then she applied for author Jojo Moyes's free weeklong writing retreat and was accepted. By the end of the week she'd written 40,000 words of Queenie's story.
Onward and ever upward to Bernardine Evaristo and Candice Carty-Williams. May your fine, award-winning novels be vanguards of a more inclusive, expansive, and exciting future for publishing.
Bernardine Evaristo photo (l) by Jennie Scott and Candice Carty-Williams photo by Lily Richards.