Novelist Adriana Trigiani joins us to talk about her latest audiobook, TONY'S WIFE, and narrator Edoardo Ballerini's engaging performance. In a story about the music of the last century—the Big Band music of the 1940s—two talented working class kids, Tony & Chi Chi, marry and become a successful singing act until time, temptation, and the responsibilities of home and family derail their dreams. Inspired by Adriana's father's record collection, the music of Henry Mancini, and the orchestras of Glenn Miller and Benny Goodman.
Adriana astutely notes what audiobook narrators bring to the party of an audiobook experience. She shares thoughts on how hearing a story differs from a text reading, and the importance of hearing stories aloud. We learn about Adriana's career as a dramatist and playwright, and her work in films and on the stage. She explores how her rich Italian-American-Appalachian heritage informs and influences her work. Adriana and Jo talk about the importance of literacy, and Adriana shares her work on The Origin Project, an in-school writing project for students to find their voices about their Appalachian origins. Listen to the whole conversation below.
"Edoardo just brings you into that world, and it tells the story of the last century . . . through flawed people, but loving people."—Author Adriana Trigiani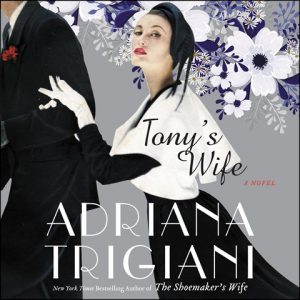 TONY'S WIFE
by Adriana Trigiani, read by Edoardo Ballerini
Harper Audio
One is delighted by Edoardo Ballerini's warm narration of this audiobook. First, time and place slide into focus as Ballerini navigates regional accents, male and female dialogue, and slang. Then, the timely song lyrics of protagonist Chi Chi set the mood. Finally, the larger themes of love, sacrifice, ambition, and independence emerge like the crescendo of a big band number.
Photo courtesy of the author.