Narrator Kimberly Farr goes Behind the Mic with AudioFile to share her thoughts about recording Anne Tyler's new novel CLOCK DANCE, which once more explores the evolution of the American family.
"If you've been feeling a little blue about the state of the world in general lately—have I got a book for you!"—Narrator Kimberly Farr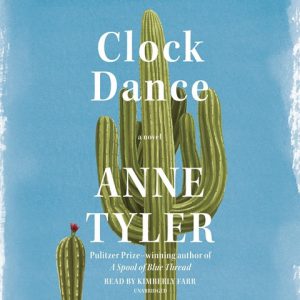 CLOCK DANCE
by Anne Tyler, read by Kimberly Farr
Random House Audio
AudioFile Earphones Award
Anne Tyler's novel reminds us that families come in all shapes and sizes and that not all those we call family are bound to us by biology. Listeners and readers love Anne Tyler, and Kimberly Farr gives a subtle and connected narration of CLOCK DANCE—much as she did with Tyler's A SPOOL OF BLUE THEAD. The story takes us to Baltimore, where Kimberly treats listeners to regional accents that enliven the characters. Listen to a sound sample and read AudioFile's full review.
Kimberly's audiography features a broad range of titles, including Elizabeth Strout's novels ANYTHING IS POSSIBLE and MY NAME IS LUCY BARTON. Listeners will also find biographies and memoirs and contemporary culture titles.