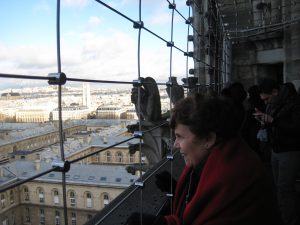 Watching the spire of Notre Dame go up in flames and finally collapse left me gasping. Like many of us who have been fortunate enough to travel to Paris, I have gazed up in awe at that beautiful cathedral. When I was a student in Paris (many years ago), I would walk around Notre Dame every morning on my way to school. On our most recent visit, I climbed the steps to the top of the towers to be face to face with the gargoyles and peer down across the rooftops of this amazing city. While feeling heartbroken over this disaster, I've been encouraged to see the social media response reflecting the connection that people all over the world feel to Notre Dame.
Cathedrals, synagogues, mosques, and all houses of worship are so much more than bricks and mortar. They capture beliefs, spirits, faith, hope, fears, celebrations, and grief. They can provide sanctuary and they can divide. And they also inspire. Perhaps that is why they are at the center of so many mysteries and thrillers.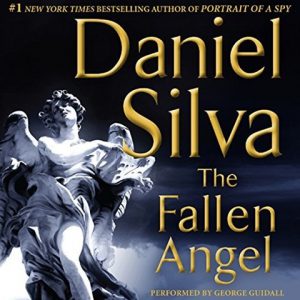 As an art restorer specializing in European Renaissance painters, Gabriel Allon, the Israeli spymaster of Daniel Silva's creation, spends much of his time working in churches. The audiobooks allow us to accompany Gabriel as he contemplates the historic works of art. One of my favorite audiobooks in the series is THE FALLEN ANGEL, narrated by Golden Voice George Guidall. The plot starts in the Vatican, takes us into the Sistine Chapel, and ends in Jerusalem beneath one of Islam's holiest sites, the Dome of Rock, with the discovery of the remains of Solomon's Temple. Guidall's sensitive performance of biblical archaeologist Eli Lavon's reaction to seeing the ancient pillars dramatically conveys the sense of awe inspired by holy sites. While Gabriel Allon is pleading with his friend to leave the dangerous site, he says, "They are just stones, Eli." "I know," Eli responds. "But they are my stones."
Another audiobook that begins with the Vatican is Steve Berry's THE MALTA EXCHANGE. The plot is driven by the battle between forces looking to uncover deep secrets of the Catholic Church—and those looking to keep them hidden.  Narrated by Golden Voice Scott Brick, the thriller takes us from the Vatican to World War II memorials in Rome to Malta in search of documents hidden in the vaults of the rarely visited churches on that intriguing island.  Again, the sites themselves become players in the stories.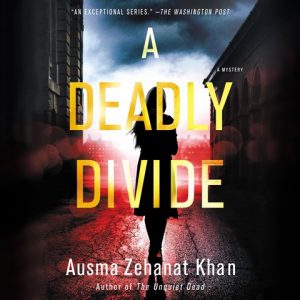 And these sites don't all have to be elaborate cathedrals, as we can see in A DEALDY DIVIDE by Ausma Zehanat Khan and narrated by Peter Ganim. I was recently introduced to the Rachel Getty and Esa Khattak series through this latest audiobook (Book 5), which involves a mass shooting in a small mosque in a small town in Quebec. The mosque is described as "modestly asserting its presence," but it is at the center of tensions that are ripped from the headlines. Ganim meets the challenge of voicing men and women with various French and English Canadian accents and dialogues that consists of messages back and forth on a social media site where all kinds of hateful thoughts are freely conveyed.
Just as these authors have been inspired by houses of worship, they also intrigue and inspire us as listeners. I started my thoughts with the beauty and power of Notre Dame to draw people together around the world, and I end with the hope that she will continue to do so.