One of the privileges of being part of the AudioFile team is the opportunity to rub elbows on special occasions with stars of the audiobook universe. Imagine being in a New York recording studio surrounded by the people who have thrilled you with their performances again and again. That was me this week at the reception in honor of our five new Golden Voice recipients who have joined this very special class of narrators. A full cadre of Golden Voices was there to welcome their fellow narrators.
Let me focus on new Golden Voice honoree January LaVoy. You can read more about January in the latest issue of AudioFile Magazine and in her narrator profile. January has recorded more than 200 audiobooks: biographies as diverse as ELIZA HAMILTON and QUEEN BEY (about Beyoncé and Jay Z); science fiction, including VERSION CONTROL; and, of course, mysteries. January has one of those voices you would follow anywhere. As with her Golden Voices colleagues, she can make any genre come alive for the listener. That takes true talent.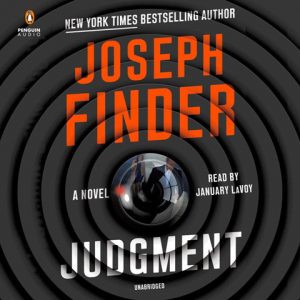 I recently reviewed JUDGMENT by Joseph Finder, in which January succeeded in one of the biggest challenges for all narrators—portraying both men and women convincingly. In fact, she did such a good job, I truly thought there must be a male narrator who stepped in to perform the male characters.
Mystery fans can also enjoy January's performance in Lyndsay Faye's PARAGON HOTEL; John Grisham's CAMINO ISLAND (an AudioFile Best of Mystery/Suspense 2017); and SAVE ME FROM DANGEROUS MEN by S.A. Lelchuk.
January is so successful at mystery narration because she's able to convey tension, fear, and conflict through her pace and tone. January LaVoy is a narrator I will actively search for when looking for my next audiobook. I could have her voice in my ears all day long. Be sure to listen to AudioFile's Behind the Mic podcast for a new interview with January.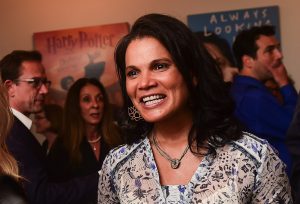 Besides having the thrill of speaking with January live at the reception, I also had the chance to meet a number of the narrators who have made me the audiobook fan I am.
I got to shake hands with Dion Graham, whose voice thrilled me in Walter Mosely's DOWN THE RIVER UNTO THE SEA. He actually recalled my review of the book, which garnered him an Earphones Award.
I spoke with Simon Vance (a star among stars) and asked him a question that has been on my mind: Why did he change his pronunciations of some names and places in "The Girl Who" audiobooks since author David Lagercrantz took over the series? In my next blog post I will share his answer and other tidbits I picked up from speaking with the best of the best narrators.
What an evening!
Photos by Max Flatow Photography