It's no secret that our AudioFile team loves Philip Pullman and the worlds he built in the HIS DARK MATERIALS trilogy about Lyra Belacqua, the clever young protagonist we first met in THE GOLDEN COMPASS. We were thrilled by his most recent audiobook, THE BOOK OF DUST: La Belle Sauvage, the first in a new trilogy set in the same world. We brought together some of the creative team behind these audiobooks: Orli Moscowitz, Penguin Random House executive producer; Garrick Hagon, the director of the first trilogy and the voice of Lee Scoresby; and Tim Ditlow, the publisher of Listening Library who produced the unabridged multicast recording of the original.
"When I walked in the studio with Orli to watch the magic happen, the chemistry was a certain ingredient that I think we've all witnessed first-hand when we've seen a Broadway show, or a symphony orchestra."—Tim Ditlow
The audio production of the first trilogy was a momentous undertaking and an extraordinary success — a beautiful example of the power of full-cast performances. THE BOOK OF DUST was a departure from the full-cast production, though Michael Sheen's brilliant narration fully rendered each and every character. In DUST, we explore that world with Malcolm Polstead, an eleven-year-old son of innkeepers who meets the infant Lyra and winds up being her protector when sinister forces and a historic flood threaten her safety.
"Michael Sheen did such a beautiful job! You forget that it's a single person creating all of these really richly varied characters."—Orli Moscowitz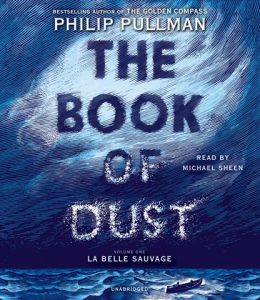 Listen in to the conversation to learn more about the production of these magical audiobooks, and to get a behind-the-scenes take on audiobook production in general. It goes without saying that if you haven't ever listened to Philip Pullman's audiobooks before, don't hesitate to listen! We think this discussion, and the tantalizing sound clips, will convince you to dive in.