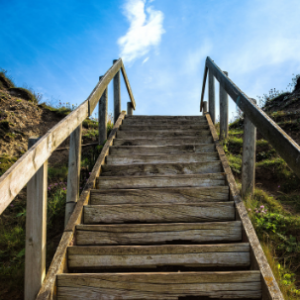 Now that I'm no longer young, I climb every flight of stairs I can find, memorize whichever numeral strings present themselves, and recite the alphabet backwards for fun. I don't drink the extra glass of wine or eat the third donut anymore. But here's the thing about aging—if I did want that donut, I'd eat it guiltlessly, even if you disapproved.
As 92-year-old Jan Morris makes clear in her splendid new memoir, IN MY MIND'S EYE, despite the insult of stiffer joints and occasional lapsing memory, age has compensations, including the right to do as you wish without guilt. I totally believed narrator Jennifer M. Dixon, who dons an excellent facsimile of Morris's pleasant British voice, and reads with an appreciation that increased my own enjoyment. Sixty-six years ago, the author accompanied Edmund Hillary and Tenzing Norgay to Everest. For the past 47 years, Jan Morris has delighted readers with celebrated history and travel books. Now unable to voyage to the far reaches of the globe, she has produced a "thought diary" from her desk at home in Wales. Its sharp, kind, funny entries are a gift for listeners of many ages.
Seventy-one-year-old psychology professor and prolific author Mary Pipher brings a personal and professional interest to WOMEN ROWING NORTH, her look at how she and other women experience their later years. The result, which is full of practical and inspiring advice, is enhanced by Suzanne Toren's Earphones Award narration, which acknowledges some of the gloominess while emphasizing all that's possible with age, including a shedding of inhibitions. Walk about unselfconsciously naked and sagging in the gym locker room?  Absolutely! I can't imagine why my 20-year-old self was so uptight.
A few years ago at the age of 95, New Yorker editor and frequent sports columnist Roger Angell wrote THIS OLD MAN, an engaging grab-bag of commentary on thrilling ball games, fascinating famous colleagues, and the experience of "great age." The result will charm avid readers, sports fans, and anyone interested in what life as a 95-year-old guy feels like. Arthur Morey's  thoughtful narration adds extra depth to the writing. While I've long enjoyed Angell's accessible prose, Morey's performance made me appreciate it even more.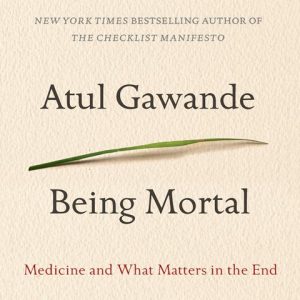 Let's finish with that drop-off at the end of life. And let's make it a good one by listening to Robert Petkoff's Earphones Award performance of BEING MORTAL by renowned surgeon and author Atul Gawande. Gawande's powerful and moving bestseller about how consumers and physicians can improve the traditional Western approach to illness and death is a book to be cherished. In truth, I think it's one of the best and most important books of the last twenty years. The audiobook is a fine complement to the writing. Narrating crisply and emotively, Petkoff takes us into the heart of Gawande's deep research coupled with personal storytelling. Full of enlightening anecdotes, BEING MORTAL can help make the final illness and death of a loved one, including one's own self, as pain-free, dignified, and meaningful as possible.