Sometimes I'm in the mood for a breezy, lighthearted listen that will make me laugh out loud. Other times I'm in the mood for something more challenging, an audiobook that unflinchingly confronts the hard stuff. And sometimes what I really want is a book that does a little of both. I love books that delve into the lovely and the less-than-lovely, that make space for both grief and joy. I've listened to a few books recently that do this brilliantly. They're not intense, depressing listens that will leave you feeling hopeless. Neither are they pure escapist fun. These three books are a wonderful messy mix of it all—funny and heartbreaking, silly and serious, painful and celebratory.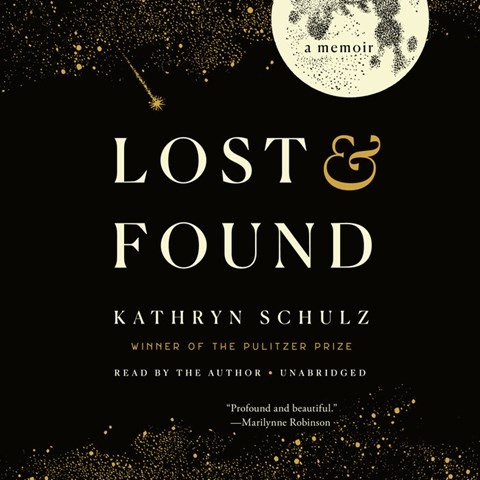 In Kathryn Schultz's beautiful memoir LOST & FOUND, which she reads with infinite care and generosity, grief and love are intimately, inextricably interwoven. The first section is about the death of her father; the second section is about meeting the woman who would become her wife. These life-changing events happened in a span of eighteen months. In the third section, Schultz explores the idea of "and"—of what it means and how it feels to live in a world full of so much happiness, so much heartbreak, so many continuing contradictions.
Her narration, like her prose, is assured, moving, open. The love she feels for the people in her life spills over in every word. There's something exuberant in the way she speaks. Her voice isn't loud or flashy or dramatic, but it is deeply present. The stories she tells have a magnetic pull. She writes about beauty and delight with the same attentiveness and consideration she gives to seemingly weightier concerns: death, the grieving process, despair. The balance is extraordinary.
If you're not in the mood for something so contemplative—maybe you're looking for an audiobook that feels more like a celebration—you might want to give R. Eric Thomas's debut YA novel KINGS OF B'MORE a listen. It's a hilarious and joyful coming-of-age romp about two Black queer best friends adventuring through Baltimore on the day before one of them moves away. Torian Brackett's excellent narration captures the silly, affirming essence of this book. He gives distinct voices to the two teens, Harrison and Lionel, and easily slips into an array of other voices, too—parents, teachers, friends, and strangers they meet on the street.
The story centers Black queer joy, and Brackett excels at translating this for audio—he incorporates squeals of delight, laughter, excited yelling, amused sighs, and more into his narration. But while it's full of funny moments, tender declarations of friendship, and the raucous freedom of Pride celebrations, KINGS OF B'MORE doesn't shy away from depicting grief and hardship, either. Lionel and Harrison encounter numerous instances of racism and homophobia just walking around the city as Black queer boys. They're both dealing with complicated emotions—anxiety, fear, grief about what Lionel moving away will mean for their friendship. None of this detracts from the hopefulness of the book—it just makes the sweet moments that much sweeter.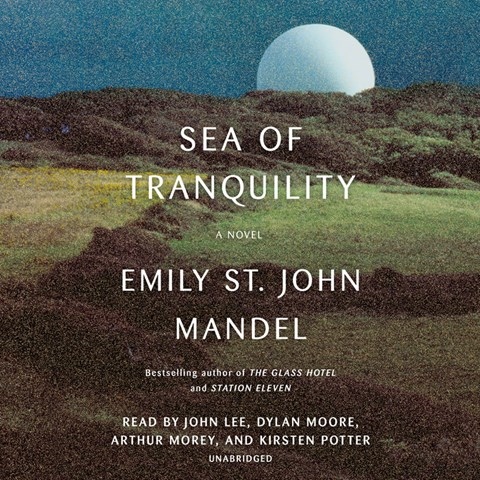 SEA OF TRANQUILITY by Emily St. John Mandel is also full of moments of connection and love made sweeter by the chaos of the world in which they unfold. This dizzying, poignant novel is made up of interlocking stories set centuries apart. All of Mandel's characters, no matter where or when they're living, experience bright and unexpected joy, even as they deal with the particular challenges of their time—pandemics, social isolation, economic turmoil. Four incredible narrators capture all the ups and downs of the different lives of these intriguing characters. Kristen Potter, who portrays an author on a book tour during the early days of a pandemic in the 2200s, is wistful, nostalgic, and sad. Arthur Morey's portrayal of a man living on the moon colonies in the twenty-fifth century is eerily relatable—his grumblings, petty concerns, growing fears, and occasional bravado all hit close to home. Dylan Moore voices a young woman in 2020 New York City, and John Lee, an exiled English aristocrat making his way in 1918 British Columbia, and both narrators give equally memorable performances.
It's a story rich in detail, one that hones in on the small heartbreaks and surprising pleasures of everyday life, the things that keep on happening, day in and day out, even as the world falls apart. It's particularly well-suited to audio; each narrator adds depth and interest to the characters they bring to life. Their enlivening performances drive home the truth at heart of the book—that to be human is to know grief and joy in equal measure.