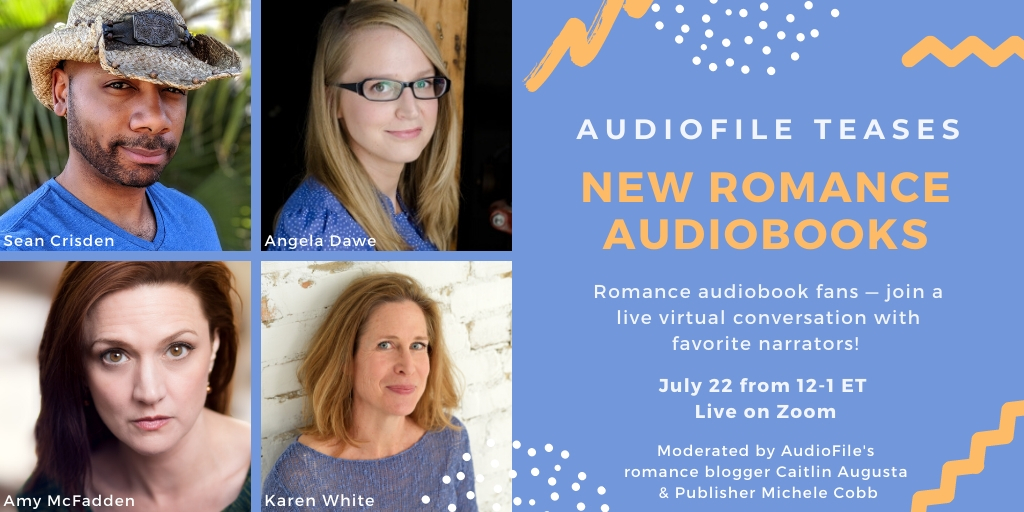 Last week, AudioFile was delighted to host a live (and lively!) conversation with four romance narrators to learn more about their craft and to hear excerpts from new and upcoming romance audiobooks. Tease blogger Caitlin Augusta and AudioFile publisher Michele Cobb hosted a panel discussion as Sean Crisden, Angela Dawe, Amy McFadden, and Karen White each shared their insights into making the magic happen inside the recording booth. Watch the recorded video below and join the fun!
Many thanks to all the narrators who participated and to the publishers for sharing their new audiobooks! During the event, Sean Crisden read a selection from Adriana Herrera's forthcoming HERE TO STAY, published by Harlequin Audio, and discussed the subtleties of recording dual narrations. Angela Dawe read from Nalini Singh's ALPHA NIGHT, published by Tantor Media, and shared her thoughts on narrating with accents.
Amy McFadden narrated a selection from THE NEW NORMAL by Tracy Brogan, published by Brilliance Audio, and made us laugh as she shared her thoughts on narrating romance and comedy. Karen White narrated a selection from the forthcoming ENVY, by Lana Pecherczyk, published by Prism Press, and discussed her thoughts on narrating series.
Find reviews for more audiobooks from Sean Crisden, Angela Dawe, Amy McFadden, and Karen White on the AudioFile website, and stay tuned for future narrator conversations!