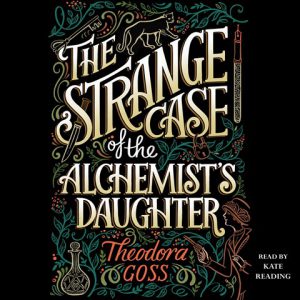 If you're in the mood for a little escapism, this week's audiobook reviews have some great options. The first to catch my eye, and ear, is THE STRANGE CASE OF THE ALCHEMIST'S DAUGHTER. The premise is that daughters of Victorian literary villains—Dr. Jekyll, Mr Hyde, and Rappaccini—collaborate to solve Jack-the-Ripper-like murders with some help from Sherlock Holmes. Narrator Kate Reading has a grand time with this romp.
A different sort of collaboration was the brainchild of the authors of INDIGO. Nine high-profile fantasy authors including Charlaine Harris, Kelley Armstrong, and Jonathan Maberry create a crime-fighter urban myth with super powers drawn from shadows. Just one narrator, Christina Delaine, takes this on. She gets high praise for handling the many male characters as well as the female ones, and for keeping us emotionally engaged. For X-Files fans, this one's for you—THE X-FILES: COLD CASES. This elaborate original production with a creative soundscape and a huge cast of voices also brings back the original Mulder and Scully actors, David Duchovny and Gillian Anderson. Just the chance to travel through X-Files land again should delight listeners.
My last choice this week is slightly different but a true AudioFile staff pick, WHEN DIMPLE MET RISHI. This sweet, immersive teen romance is dynamically read by two narrators, Vikas Adam and Sneha Mathan. The banter between the teens is perfected by the two actors who get the characters, and their world, just right. Dimple and Rishi both struggle with pressures and expectations from their families and society at large, and these nuances add depth to the story of ambition, romance, and tradition, while still keeping things fun.
What audiobook is taking you "out of your world" this week?