When I first visited rural England in late August about twenty years ago, I was prepared for hedgerows, pubs, village greens, and vicars and their requisite belfries. Also dead bodies, likely in the belfries, and detective superintendents.
Yes, it's true. Much of my knowledge about the country across the pond came from my copious consumption of mysteries (and reverential watching of BBC's Upstairs Downstairs). What's remarkable is how useful my "research" proved.
Accents, for example. "We really have everything in common … except, of course, the language," wrote Oscar Wilde about America and England in his 1887 comic story THE CANTERVILLE GHOST, about an American family in an English haunted house.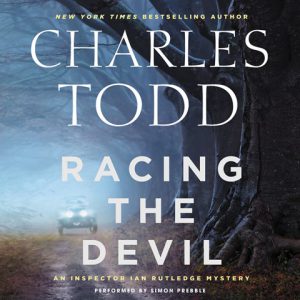 And so it was when the butcher greeted us on our first day in the Norfolk village where were staying, "Driv Yanks?," I knew from WATCHERS OF TIME, an early Inspector Rutledge set in Norfolk, that he meant, "Are you the Americans we've been expecting and did you drive here?" Yes and yes, I said, and all was delicious after that. Most of the moody and evocative Rutledge series by Charles Todd, set post-WWI, is narrated by that Golden Voice, Simon Prebble, whom I'd secretly like to have narrate my life. Barring that, I recommend everything, including the most recent Rutledge, RACING THE DEVIL, in which war's emotional wounds wreak havoc years later.
Speaking of racing, I'd imagined whipping along rural lanes in an MG two-seater à la private detective Maisie Dobbs in Jacqueline Winspear's best-selling WWI/WWII series. (The most recent is IN THIS GRAVE HOUR, wonderfully narrated as always by Orlagh Cassidy.) Instead, we puttered along in the jalopy included with our two-week house exchange. A few white-knuckle drives on single-lane roads thicketed by hedgerows revealed why long scratches festooned the car instead of racing stripes. I'm proud to report that we did not add to the decoration, despite some near misses.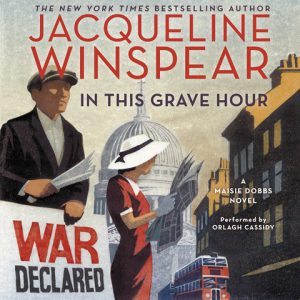 Those close encounters led to restorative quaffs of hard cider in our local pub. I love saying "local pub," thus joining such favorite detectives as Peter Robinson's Inspector Banks (SLEEPING IN THE GROUND); Susan Hill's Superintendent Simon Serrallier (SOUL OF DISCRETION); and Peter Lovesey's Detective Peter Diamond (DOWN AMONG THE DEAD MEN).
And even though they're gone, I still like to sit with Ruth Rendell's iconic Inspector Wexford, often read by Steven Crossley and Nigel Anthony, and Reginald Hill's unforgettable Yorkshire team, Dalziel and Pascoe, whose final investigation was MIDNIGHT FUGUE. They always welcome me, and thanks to them, I know to order at the bar and ask for the local brew. Also, chicken vindaloo is often better than bangers and mash, and cheese and pickle is a reliable lunch in a pub you don't know.
What have your favorite foreign detectives taught you?  Let us know!